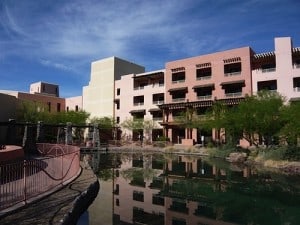 When I booked our stay at the Sheraton Wild Horse Pass Resort and Spa, we decided not let our 5 and 9 year old know until it got closer to our time to travel. I didn't want to hear the "When do we get to go?" refrain. We were especially excited about the Rawhide Western Town and stagecoach rides, the 2 ½ mile replica of the Gila River, the water slide and pools, plus the interpretive nature trail outlined on their website. I was also intrigued that the resort is "designed to be an authentic representation of the Gila River Indian heritage and culture." So off I went to the library to do a little research before our short weekend trip. I wanted to give the kids some background on the Pima and Maricopa (Pee Posh translates to 'The People') tribes which are descendants of the Hohokam Peoples.  I learned Pima – Akimel O'otham translates to 'The River People' because many of their traditions are based upon the Gila River which was more than five miles wide in some areas. The Maricopa – Pee Posh translates to 'The People.'
Did I mention we enlisted the grandparents to join us on our excursion? When we travel as a family, we REALLY travel as a family.
In the car, I read the kids a book called The Same Sun Was In the Sky by Denise Webb.  It's about a boy and his grandfather who go on an Arizona desert outing together. The boy imagines what life was like for the Hohokam and interprets things he sees in the desert with guidance from his wise grandfather. It was an awesome experience, because when we got to the resort my 5 year old immediately pointed out the rock paintings in the lobby and explained their significance to her grandparents. We also read a collection of tales called Tortoise's Flying Lesson by Margaret Mayo to learn about the Blue Coyote. It's also the name of the Aji Spa's signature treatment which I was to receive the next morning. We learned all about not being too proud and the importance of taking others at their word.
Read more about the learning opportunities in my review of the Sheraton Wild Horse Pass Resort and Spa.
So Much Food, So Little Time
Food choices might seem staggering at this resort, but Sheraton's website does an excellent job of sharing menus from all the options so you can make your decisions before you are hungry. I'd recommend the Hanyo Poolside Bar & Grill or the lower Lobby Bar as the easiest ones for families with young kids to navigate. We had some yummy Chicken Quesadilla "Cigars" with Jicama Slaw and also shared the Berry Smoothie which was refreshing and sweet in the heat. Vasip has coffee and breakfast goodies. Ko'Sin has a Sunday buffet brunch, but not many tables so make sure you make a reservation. Kai Restaurant is the resort's most highly-rated restaurant known for using indigenous ingredients.  I'm kicking myself for not heading over to the nearby Whirlwind Golf Club's Sivlik Restaurant. They have a menu with very reasonably priced breakfasts and lunches with views of the golf course.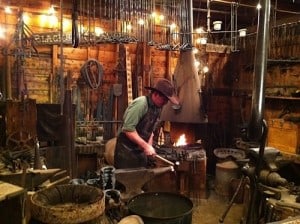 Rawhide Steakhouse & Saloon really deserves its own blog post. Read my extensive reviews of the restaurant and Rawhide Western Town.  We stayed from 6pm to 9:30pm on a Friday night and didn't get to do everything wanted.  Remember to pack the kids some Western wear and allow them to take their cowboy boots out of the toy box for a night on the town. It's almost like visiting a Western theme park for an evening. The kids will crash when you get them back to the hotel. Check www.rawhide.com for calendar and coupons.
Summer and the Sheraton Adventure Club
Families can benefit from deep discounts in May, June and July. A room that costs $350 during the high season might be $99 during times of lower demand. Green fees at the Whirlwind Golf Club are also reduced from $150 during the high season to $55 in the summer months.
The Sheraton Adventure Club hosts a full schedule of poolside and resort-wide family activities including: The resort features four sparkling swimming pools with cascading waterfalls, a waterslide designed after the ancient Casa Grande Ruins and full schedule of family activities including; Storytelling & Smores, Dive-In movies, horseback rides, watermelon eating contests and more. Our leaders at Sheraton Adventure Club work with genuine passion to develop complimentary seasonal activities that are sure to create lasting family memories.
Beyond the normal Adventure Club activities, Sheraton offers a chance for the kids to connect with Pima Indian artisan, Amil Pedro. He leads a Cultural Scene Investigator (CSI) course where he teaches kids 5-12 how to read tracks and nature clues to find treasure on the trail. Children receive a personalized feather from Amil after they complete their missions. There is also a Cinema-Splash with a Native-American themed feature, a night scavenger hunt utilizing black-lights and flashlights, a traditional Pima Chumuth making (hands-on) breakfast session hosted by our award-winning Executive Chef, Michael O'Dowd and pottery painting. Some of these activities will have special event pricing with all information and payment options readily available on-site. Just look for the Cultural Scene Investigator package when you book your room. Space is limited to ensure the kids have an awesome, once-in-a-lifetime experience. Mr. Pedro's artisanship is also featured prominently in the guest rooms with his designs ensconced on the throw blankets available for purchase.
On Father's Day weekend in June and again in July (22nd-23rd), Sheraton is inviting families to book their LEGO Experience package for 5-12 year olds. Offered from $115, families receive one night in a luxurious guestroom (Friday check-in), access for two children into the LEGO mini-build workshop, two LEGO welcome amenities, a $10 LEGO gift-card, a 2-year LEGO Club Membership, a $5 off coupon redeemable at the LEGO Store at Chandler Fashion Center and access for two children and two adults to Arizona Science Center to go explore and continue creating memories as a family. Each participating family is welcome to enter additional children into the mini-build workshop, if paid in advance and up to class capacity, for $15 per child.
4th of July is a popular night at this resort because of its premium vantage point for viewing the fireworks at Rawhide Western Town.
Winter, Golf, Horses and Relaxing at the Aji Spa
Pima storytellers are the highlight from mid-November through mid-March. The seasons of stories are dictated by the animals themselves. Children gather around the outdoor fire pit to hear native fables filled with meaning and significance for how to act and how to treat our natural resources.
The Whirlwind Golf Club features two on-site 18-hole courses designed by Gary Panks and managed by Troon Golf. Each of the 18 holes is named after a significant legend or landmark of the Pima and Maricopa Indians.  For instance, Hole #2 on the First 18 is called Where the Dog Spoke because it faces the Superstition Mountains to the east. In the Pima tribe's story of creation, there is a legend that tells of a great flood and the dog that spoke to them urging them to move to higher up the mountain to escape the floodwaters. The course is home to the PGA Buy.com Gila River Golf Classic in October. The website for golf information and reservations is: www.whirlwindgolf.com. Incidentally, green fees are greatly reduced during the summer months.
Mother's Day and birthdays are potential occasions warranting a trip to the Aji Spa for mom. I can honestly say the Blue Coyote Body Wrap was the best spa treatment I've ever experienced. With my husband and the grandparents along for the visit, the kids were in good hands and I had a rare opportunity for some pampering. I arrived 30 minutes before my treatment and stayed another half hour after it was done. However, if I had it to do over, I'd head to the spa building right when it opened. I would remember to bring my bathing suit and take a swim. I'd spend lots of time lounging around, drinking the spa water, snacking on the special seed and nut mixes, and grabbing a refreshing bite to at the Aji Café for lunch. My massage therapist highly recommended the Pasilla Flat Bread Pizza.
All spa treatments include complimentary day use of their fitness and motions studios, as well as their private indoor and outdoor whirlpools, steam rooms, saunas, spa pool and relaxation lounge with fireplace. You are allowed to participate in any or all exercise classes for the day. You can also use the facility without experiencing a spa treatment, but you have to pay a daily or per stay fee.
We didn't take advantage of the Koli Equestrian Center during our stay, but you can take scenic rides if your kids are 6 and older. Check www.koliequestrian.com for times.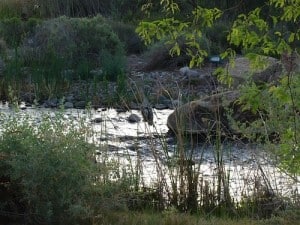 The 2.5 mile Interpretive Trail runs alongside the resort's replication of the storied Gila River. More than fifty signs detailing the culture, history and plant life of the Gila River Indian Community can be found along the trail. The construction of the trail was a three year project. My husband and dad walked the trail in the early morning hours and captured some gorgeous photographs of the desert reflected in the "river."
What about the Pool?
Although we saw families with much younger children and babies, I'd recommend this hotel to families with kids over 4 or 5. Preschoolers and up will get the most out of the lessons to be learned. The pools were a big hit with our kids, but it required some parental participation and pool hopping. Each water play session was marked by a trip to the 3 foot pool, then hopping into the 5 foot pool with fountains, then a couple rides down the water slide.  Then we'd start our rotation all over again. There was a large beach entry pool, but we were told that was the adult pool. The pool at the Aji Spa is exclusively for adults.
Connect with a Culture
Find Sheraton Wild Horse Pass Resort, Aji Spa and Kai on Facebook where they highlight their specials and often offer discounts not available anywhere else.
Disclosure: The author received a complimentary stay and meals at the resort in order to complete an unbiased review and this subsequent article. The resort did not request that any specific opinions be expressed.
Michele Whiteaker blogs at FunOrangeCountyParks.com where she promotes play and encourages family outdoor time.  She's a California beach girl who fell a little bit in love with the desert on this trip. The sunrises and sunsets were amazing. She's also a 2011 Superoo who's taken to putting "-roo" at the end of anything travel-related.