7AM came early this morning. Luckily, it also came with a ton of excitement. Today was the day I had been hoping for since we first decided to participate in the Country Inns and Suites 1K adventure; we were going to the Gateway Arch! After spending the night in the beautiful riverfront town of St Charles (Main Street was incredibly charming. I had no idea St Charles had so much to offer!), I was excited to step foot in St Louis and see one of country's most famous landmarks. Two of the main travel goals I was hoping to accomplish while on this journey were to visit a state I had never been to (and I have been to the vast majority of them) and to visit a National Park installation that I had never been to. Seeing the Jefferson Memorial in Missouri accomplished both of those goals.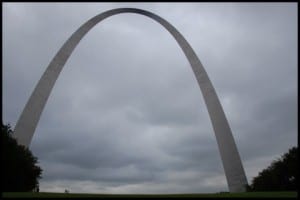 We arrived at the Jefferson Memorial (see our video clue here) just before nine and were greeted by a television camera man who was there to film a story about our adventure (you can see the online version of the story here). As excited as I was to see the television camera pointed in our direction, I couldn't help but be distracted by the fact that we were STANDING UNDER THE GATEWAY ARCH!!! It was even more impressive than I had imagined. Most of the time when I visit monuments, I tend to think they look smaller in person than the do on television. This time it was the opposite. The arch is massive and truly beautiful. We went under the arch and into the museum below to get our National Park Passports stamped and buy tickets to go up to the top of the arch. Tip– if you have plans to go up in the arch, get there when it opens. We went up at 9 AM and by the time 10 AM rolled around, the crowds were forming.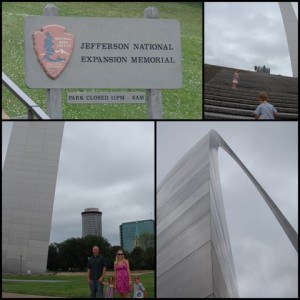 The elevator trip up to the top of the arch was unlike any other elevator I had ever been in. Families sit in small pods that seat 6 and go up at a slight angle (since it is an arch) until they reach the top. From the top you can walk through the middle of the arch and peer at the world from 630 feet above. Everyone but Ben loved entire experience. I don't think he was a huge fan of the elevator pod.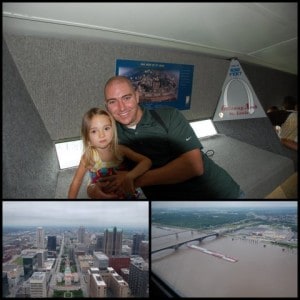 When we got back down to the bottom of the arch, we took some time to explore the Museum of Western Expansion. The museum is filled with great exhibits about the Lewis and Clark Expedition and what life was like for early western settlers. Lewis and Clark began their infamous journey in St Louis, and there is a statue of the pair near the shore of the Mississippi River not far from the arch itself (though when we were there, most of the statue was under water. As a matter of fact, most of the parking lot was under water! We parked our Ford Flex about a foot from the Mississippi River).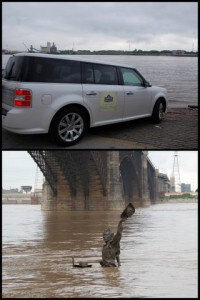 After we had thoroughly explored the park around the arch, we dialed in for our secound clue (here). This stop was nothing more than a rest stop along the side of the interstate, but as always this Suite Stop had significance. We were driving down the very first stretch of interstate highway ever built, Interstate 70, and stopping at the rest stop was paying homage to the interstate system that helps make so many road trip vacations a possibility.
The third stop of the day (here) was the first ever Suite Stop to give us options. Our choices? Putt or pedal. We chose pedal because after all, we just hadn't spent nearly enough time in a vehicle lately. Our stop was at Perche Creek in Columbia, MO, and our mission was to ride the go-karts. We put the pedal to the medal and had an absolute blast whipping around the curves of the racetrack. After our go-kart time was over, we just couldn't leave the Perche Creek without doing a little putt putt as well. Perche Creek was generous enough to let us ride the go-karts and play mini golf free of charge. If you are ever in Columbia, MO, I highly recommend you stop by for some family fun!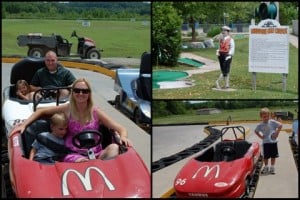 Since our previous day had been so long, Team Country decided to give us all a break and let us arrive at our destination a little early today. We took some of the extra time and visited with a friend from college who now lives in Columbia, then headed on down the highway to Kansas City. Our spirits were high and we were excited about getting in to Kansas City early and maybe even sample some of that famous barbeque. We arrived in Kansas City and pulled off the interstate just as the lady who lives inside the GPS told us to do. After a couple miles of driving off the interstate, things seemed a bit off. We were deep into a residential area and we thought that it was an awfully strange spot to put a Country Inn and Suites. Finally, we pulled over and did some further investigating. It seem that Paul had read the address wrong and failed to notice that we were going to Kansas City, KS, not Kansas City, MO. Oops! We were about 30 miles out of our way with about 50 miles of gas left in the tank. We entered the correct address and followed the GS directions in to Kansas. Unfortunately, the lady who lives in the GPS must really like to explore residential neighborhoods because this time us getting lost had nothing to do with human error. I will be honest, I have never been a GPS girl. As a matter of fact, this is the first trip I have ever taken where I have given complete control over to electronics. 9 times out of 10, the GPS is wonderful and leads us to exactly where we want to go but that tenth time, it makes me want to pull my hair out!!! I am neurotic about knowing exactly where I am at all times and when Miss GPS gets me lost, I go into freak out mode. My advice? Always have a map for backup. GPS nagivation is wonderful, expecially when in a big city, but sometimes the GPS systems are wrong and nobody likes to spend an extra hour and a half in the car if they don't have to.
Finally, after a phone call to the hotel, we coasted to a nearby gas station on fumes, filled up, and then let out a cheer as we pulled into the Kansas City, KS, Country Inn and Suites for the night. The property is directly across the street from the Kansas City Speedway so Nascar Fans should definitely keep this hotel in mind if they are ever in the area.
Now its bedtime for the Earnshaw Clan. We have had a great time driving through Missouri and I couldn't be happier to be in yet another state I have never been in. Rumor has it tomorrow is going to be a day filled with lots of driving so wish us luck! I have no idea where we could be heading next but I can't wait to see where the road takes us.
I hope this post has inspired you to take your own Road Trip Adventure. For more information on how to create your own trip to remember check out http://www.countryinns.com/1kcountry.
Want to follow us on the adventure as it happens? Be sure to follow @doubleadventure on Twitter and the hastag #CIS1K to see what all the families are up to every day of the Country Inns and Suites 1K!
Disclosure: A significant portion of the costs and resources for our family's participation in the 1K Country Adventure was provided by Country Inns & Suites By Carlson.
– – – – – – – – – – – – – – –
Sharlene Earnshaw (aka doubleadventure) is Blogger-in-chief for Trekaroo and the blogger behind Double the Adventure.

Travel with kids to: CA |CO | DC | FL | HI | IL |MA | NC | NY | PA | TN | TX | VA | WA