Day 2 of the Country Inns and Suites 1K Adventure started off with a breakfast at the CIS Madison- West before we listened to our first video clue of the day (you can watch it here) and hit the road.  Little did I know, Madison, WI is the only US capital city that is located on an isthmus and it was our goal to visit both Lake Mendota and Monona before we could get our next Suite Stop clue.  We stopped at a park on the shore of Lake Mendota and let the kids run off some energy.  While I was taking in the view from the shore, a family of ducks came by and paid me a visit. I called my ducklings over to visit with the mallard's ducklings and we all had an enjoyable morning at Lake Mendota.
After a good energy burning session, we headed over to the shore of Lake Monona where Paul and I swooned over the picture perfect view of downtown Madison.  The kids were less impressed with the view and more impressed with a dead fish that had washed up on shore.  Hey, whatever floats your boat, right?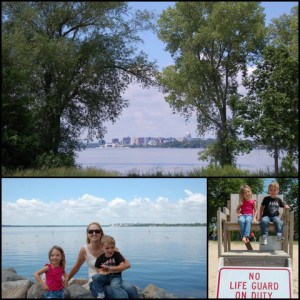 Before we left Madison, we stopped at Michael's Frozen Custard for some chocolate frozen custard cones and cheese curds.   The kids thoroughly enjoyed their very first frozen custard experience and I loved the cheese curds.  If you haven't had the chance to try these regional treats, be sure to add them to your menu the next time you are in the area!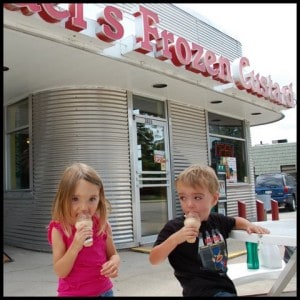 Our second clue (here) took us to Milwaukee, specifically the North Point Lighthouse in Lake Park.  I had always imagined Milwaukee to be a gritty, industrial, beer making town but today we got to see its incredible beauty.  The neighborhood along the shore of Lake Michigan around the lighthouse could not have been more gorgeous.  Our jaws dropped when we saw the tree lined streets dotted with some of the most beautiful homes we have ever seen.  I think if I lived in that neighborhood I may be able to deal with those harsh Midwestern winters!  Luckily today the chill was long gone and the weather was perfect.  We arrived at the lighthouse at the same time as the Williams family and enjoyed exploring the park near the lighthouse with them.  We found a forested trail that led us down the bluff and to the shores of Lake Michigan.  The entire area could not have been more beautiful.  We could have stayed in Milwaukee all day but our next clue (here) told us that the Windy City was waiting!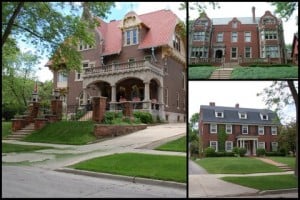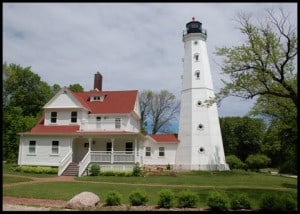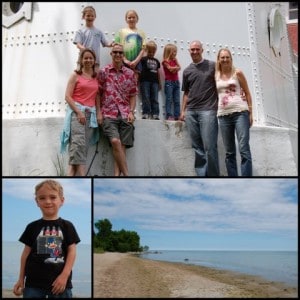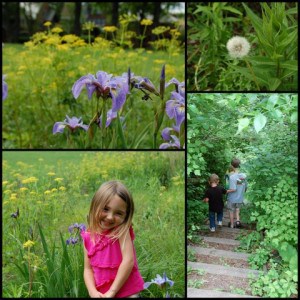 We were so excited when we got the clue telling us that we were heading to Cloud Gate in downtown Chicago.  I had seen so many photos of this iconic mirrored bean and I was thrilled to be finally be able to see it for myself.  We hopped in the car and headed on down the road full of energy and excitement.  That energy quickly drained when we slammed directly into Chicago rush hour traffic.  I live in Southern California so I am no stranger to the nightmare that is rush hour, but Chicago certainly can give Los Angeles a run for its money.  It was awful.  There was much more stopping than going, that's for sure.  What I found particularly demoralizing was the fact that there was no carpool lane which we had grown to rely on back home.  So we sat and endured the tie up along with the rest of Northern Illinois.  After what seemed like an eternity, we rounded a corner and the Chicago skyline came into view!  We let out cheers as the energy came surging back and our spirits were once again soaring.  We parked below Milennium Park and joined the masses.  Evidently, every Monday there are free concerts in the park and half of Chicago had come out to enjoy the music.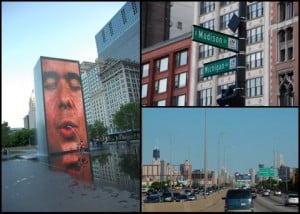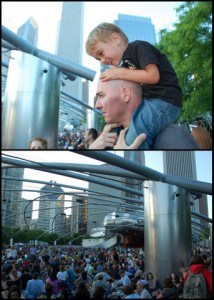 We made our way through the crowd and over Cloud Gate.  I screamed with joy.  We had finally made it to that precious bean!  We took our pictures and strolled around the park for a bit before deciding that we had to leave Chicago and make it to our final destination for the night, the Country Inn and Suites in Naperville.   It was so hard to leave the city that we had spent so long trying to get to but we knew that if we wanted our kids in bed before midnight, it was what we had to do.  Don't worry Chicago, the Earnshaw's will be back!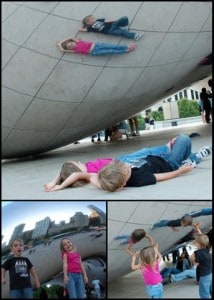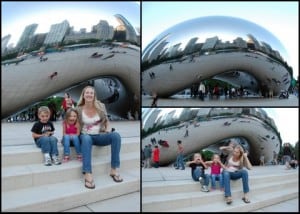 I hope this post has inspired you to take your own Road Trip Adventure.  For more information on how to create your own trip to remember check out http://www.countryinns.com/1kcountry.
Want to follow us on the adventure as it happens? Be sure to follow @doubleadventure on Twitter and the hastag #CIS1K to see what all the families are up to every day of the Country Inns and Suites 1K!
Disclosure:  A significant portion of the costs and resources for our family's participation in the 1K Country Adventure was provided by Country Inns & Suites By Carlson.
– – – – – – – – – – – – – – –
Sharlene Earnshaw (aka doubleadventure) is Blogger-in-chief for Trekaroo and the blogger behind Double the Adventure.
 
Travel with kids to: CA |CO | DC | FL | HI | IL |MA | NC  | NY | PA | TN | TX | VA | WA