Yesterday was long. I mean REALLY long. Luckily it was also really fun. While we didn't go incredibly far mileage wise, we did see and experience an amazing number of fantastic sights. By the time I got the kids tucked in bed and wrote my post for the day, it was nearly 2AM!
I am a woman who needs her sleep. Six hours does not cut it for me so when 8AM reared her ugly head, I became an alarm snoozing machine. Finally, around nine, I was convinced to drag myself into the shower. Luckily, the Country Inn in Naperville had a wonderful breakfast which tempted me out of my slumber and into the dining area. The kids seemed incredibly refreshed even though they went to bed near 11 at night (bad Mommy. A slap on the wrist for me). It was drizzly outside but we were anxious to hit the road and get our first clue (which you can see here).
Our first stop was at the clock tower in Fredenhagen Park, which is along the riverwalk in beautiful downtown Naperville, IL. Unfortunately it was raining, so I volunteered to quickly hop out of the car and snap a picture. I wish the weather had been better and we had more time, because the riverwalk certainly looked like something worth sticking around for.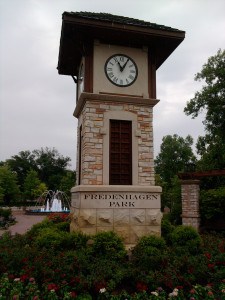 Our second clue (here) told us to go to the town of Joliet, Il, which had a historical museum that revolved around Route 66. We literally only had time to take a potty break and snap a couple pictures which was a bummer because the museum looked like so much fun. I have always had a fascination with old travel routes and Route 66 is probably the most famous of them all. As sad as we were to have to leave the Route 66 museum without getting a chance to explore it, we were happy to discover our entire day's travels were Route 66 themed.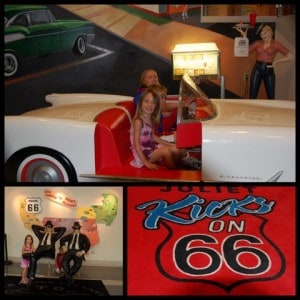 Our third clue (here) told us we were going to Atlanta….. Illinois. First of all, I had no clue that there was an Atlanta outside of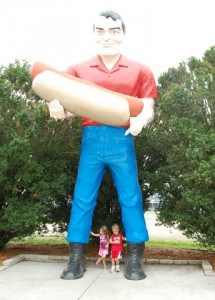 Georgia. Second of all, where the heck is Atlanta, Il? Well, we quickly found out it is on Route 66 in Central Illinois and it is home to a large beardless Paul Bunyan holding a hot dog. If you are ever in the area I insist that you pull off the interstate and take a picture of your brood with the Beardless Paul Bunyan. I also insist that you head across the street and have lunch at the Palms Grill Cafe (clue number four). Eating at the Palms Grill is like stepping back in time. The old time cash register and old time Coke machine left me in antique envy, and the Ponyshoe (bread topped with turkey,fries, and cheese sauce) was unlike anything I had tried before. All three Country Inns families dined together and we all enjoyed both our meals and each other's company. It was a highlight of the day.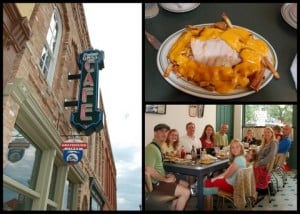 After lunch we hopped back in our Ford Focus and listened to our fifth clue (here). This time were headed to Mt Olive, Il, and the Soulsby Gas Station on old Route 66. While our time at the gas station was nothing more than a pit stop, it was also a delightful step back in time. The station was no longer operable but it had beautiful Shell gas pumps that were perfect for photo ops.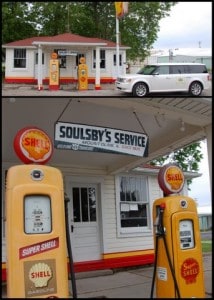 After our short time in Mt Olive, we got our final clue of the day (here). We were headed across the Mississippi River and in to St Charles, MO. I was aboslutely thrilled. I have been to most of the 50 states, but Missouri had evaded me up until today. We pulled up to the Country Inns and Suites in St Charles and wiped the drool from our chins. The property here is GORGEOUS. The exterior is beautiful red brick and the hotel is only a block from the Missouri River.
After a quick check in, we decided to head down South Main Street and eat dinner at the Old Mill Stream Inn Restaurant. The patio dining along the tree canopied creek was a perfect way to wind down after a long day in the car. Tomorrow, we are planning on getting an early start so we can fully enjoy all the Suite Stops that Country Inns and Suites have planned for us. While I don't know exactly where we are going, I have a feeling that a famous arch may be in our future!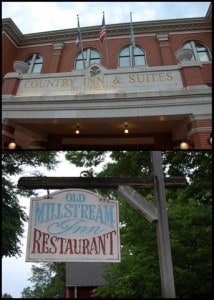 I hope this post has inspired you to take your own Road Trip Adventure. For more information on how to create your own trip to remember check out .
Want to follow us on the adventure as it happens? Be sure to follow @doubleadventure on Twitter and the hastag #CIS1K to see what all the families are up to every day of the Country Inns and Suites 1K!
Disclosure: A significant portion of the costs and resources for our family's participation in the 1K Country Adventure was provided by Country Inns & Suites By Carlson.
– – – – – – – – – – – – – – –
Sharlene Earnshaw (aka doubleadventure) is Blogger-in-chief for Trekaroo and the blogger behind Double the Adventure.

Travel with kids to: CA |CO | DC | FL | HI | IL |MA | NC | NY | PA | TN | TX | VA | WA