I have to pinch myself to make sure this is all real. We are actually on a cross country mystery road trip with Country Inns and Suites by Carlson!  The past 48 hours have been a crazy but incredibly fun blur.  It all started with a 10AM flight out of Orange County, CA and into Minneapolis.  My kids did incredibly well on the flight and seemed to really enjoy the entire flying experience.  I think having their very own carry on suitcases that they packed entirely by themselves (full of Barbie dolls and Batman figurines no less) really helped get them excited about the entire event.  They may only be three years old, but they knew they were responsible for their belongings and it showed.
When we touched down in Minneapolis, we quickly hopped on a shuttle over to the Country Inns and Suites Mall of America property.  This was our first experience at a Country Inn and I have to say I really enjoyed how quaint and cozy it felt to stay there. The full breakfast was a huge perk and the location was perfect; directly across the street from the Mall of America.
We only had about 15 minutes to get downstairs and meet the fabulous people who put this all together, along with the other families we are traveling with, the Williams and the Svebacks.  It was so great to meet everyone in person, collect all of our loot (including a JVC camcorder; Samsung Moment smart phone; Duracell instant charger;  plenty of goodies for the kids in their Travel Kiddy; and our sweet ride rented through Avis, the Ford Flex) and get pumped up about the journey we were about to embark on the next day.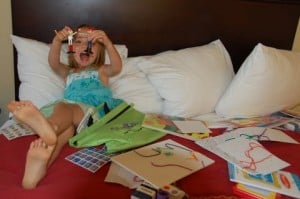 That first night we let the kids stay up way too late so we could head to the Rainforest Cafe at the Mall of America and meet up with some good friends who lived in the area.  It was great to step inside the world famous mall and get excited for what was about to come.  Little did we know, we would be back at the mall the next morning.
In the morning we got our first video clue (you can listen to it here).  We were heading back to the Mall of America!  I was thrilled to actually be taking the kids back during the day so they could check out Nickelodeon Universe (which is so cool!) and enjoy the massive mall a bit more.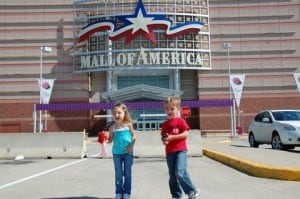 Once we took a picture out front, we got our second video clue (here).  Little did I know, the Mall of America was built on top of the former home to the Minnesota Vikings and Twins, Metropolitan Stadium.  Our next quest was to take a picture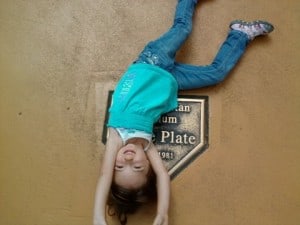 at the plaque where home plate once stood.  Home plate just happened to be in the middle of Nickelodeon Universe, so sometime in between a ride on the carousel and a go around on the bumper cars, we snapped our photo and got our next clue. Ben was not thrilled about having to leave the Mall of America.  He had discovered the car ramp at the LEGO store and made up his mind to reside on the property permanently.  It took alot of kicking, screaming, and dragging (from all parties involved) to get him out of there but we had to move on, our day had just begun!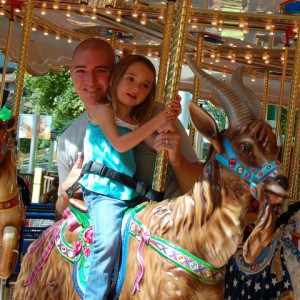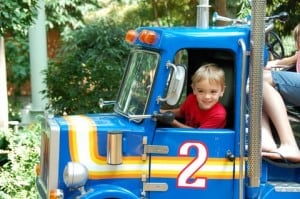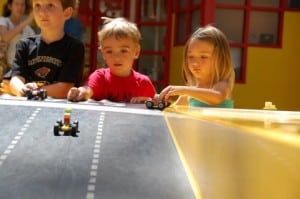 Video clue number three (see it here) led us to Target Field, the current home of the Minnesota Twins.  It is located in downtown Minneapolis and is an absolutely beautiful park.  We had a blast taking pictures in the giant gold glove and posing with a bronzed version of Kirby Puckett.  Unfortunately, there were no games going on that day (not that we had time to kill) so we hopped back in the car and listened to our next clue.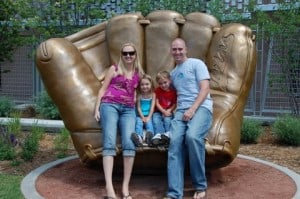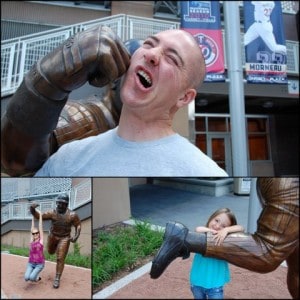 Clue number four (here) led us across Minnesota state lines and into Wisconsin.  Once we tweeted our arrival in the Badger State, we received video clue number five (here).  I was absolutely thrilled to head to the Cady Cheese Factory to sample some cheese!!!! Their Colby was fantastic (and thats saying alot coming from a California cheese girl like me) and after nibbling on some free samples we decided to hit the road with some sausage (which is very different, but good.  Nothing like the sausage we get in California) and string cheese for lunch.  Just as we got back in the car, the skies opened up on us and we drove through the pouring rain towards the east.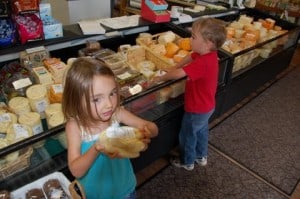 Clue number six (here) let us know we were heading to Carson Park in Eau Claire, Wisconsin.  We had escaped the rain for now.  The drive there was stunning.  The last time I drove through Wisconsin it was during the dead of night ten years ago.  This time we enjoyed views of green hills and beautiful forests.  Red barns dot the landscape and the dairy cows look just as happy in Wisconsin as those famous cows in the California Cheese commercials.  Carson Park is home to the ballfield where Hank Aaron made his professional baseball debut.  It is also home to beautiful fishing ponds, a railroad, and incredible scenery.  We had hoped to explore the park further but just as we took our picture with the Hank Aaron statue, the sky opened up and it started pouring on us once again.  We ran to the car to avoid damaging our precious electronics and pouted about having to leave that beautiful park so soon.  We huddled around the smart phone and listened to video clue number seven (here).  We were off to find a giant orange moose!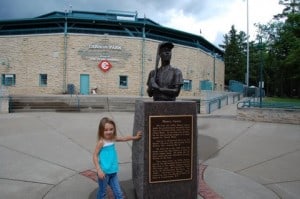 When I started this journey, one thing I had absolutely no thought of ever seeing was an enormous orange moose in the middle of Wisconsin.  Little did I know that in Black River Falls, there was a moose waiting for our arrival.  The car dealership he was once a mascot for is long gone, but a little pond and a view of the interstate are still keeping him company. We gave the moose our love and then hopped back in the car because once again the rain was catching up to us.  We were tired and happy to hear our final destination of the day (watch the video here) was the Country Inn and Suites in Middleton, WI which is just west of Madison.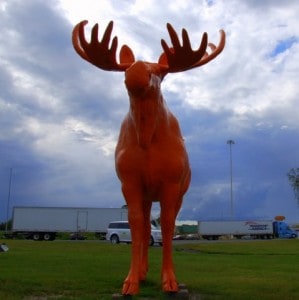 Dan at the front desk couldn't have been nicer.  He gave us the keys to our suite and told us there would be goodies inside.  Goodies indeed!  There was a six pack of local beer and cheese gift basket waiting for us along with a gift card to the Quaker Steak and Lube which is a fun race car themed restaurant that specializes in chicken wings.  The food was good and the atmosphere was very family friendly.  It was a great way to end a great day.  Now I sit here sipping my Capital Brewery Rustic Ale and wondering where on earth we are going to head tomorrow.  My guess is Chicago but what do I know?  I am just along for the ride!
I hope this post has inspired you to take your own Road Trip Adventure.  For more information on how to create your own trip to remember check out http://www.countryinns.com/1kcountry.
Want to follow us on the adventure as it happens? Be sure to follow @doubleadventure on Twitter and the hastag #CIS1K to see what all the families are up to every day of the Country Inns and Suites 1K!
Disclosure:  A significant portion of the costs and resources for our family's participation in the 1K Country Adventure was provided by Country Inns & Suites By Carlson.
– – – – – – – – – – – – – – –
Travel with kids to: CA |CO | DC | FL | HI | IL |MA | NC | NY | PA | TN | TX | VA | WA