The day had finally come. We were on the last leg of our adventure and anxious to see where we were going to end up. We woke up early, well early for us, and eagerly listened to our first clue. We were to head to the sculpture of the Mustangs of Las Colinas in Irving, Texas. Once again, my expectations were exceeded; the sculpture was incredible. The mustangs ran through the waterscape with such realism that it wasn't hard to picture the actual mustangs that provided inspiration for the sculpture as they ran across a creek somewhere in North Texas.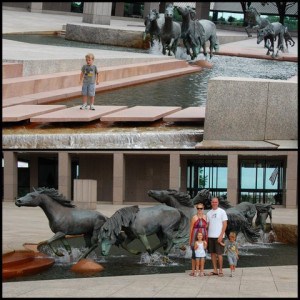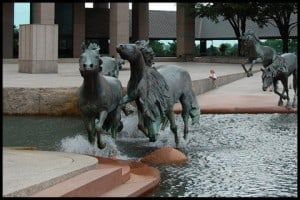 Our second Suite Stop of the day was only a couple streets away from the first. It was the Flower Clock, which is located alongside an unassuming intersection across the street from a gas station. The clock itself was almost too pretty to be in such a mundane location, but it brought beauty to a spot that would have never otherwise received a second glance. I ran across the street and snapped a shot of the clock while Paul fueled up the car. We were amped and ready to receive our next clue of the day.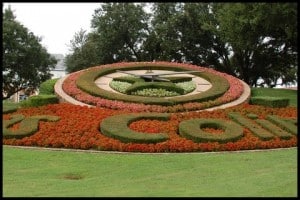 Clue number three lead us to visit a place that this diehard San Francisco 49ers fan never thought she would visit. We were heading to Cowboys Stadium. Yes, it is impressive with its 11,520 square foot HD television screen and the world's largest dome enclosing its immaculate field, but in my mind, it was nothing more than the Death Star. We chanted the Imperial March (Darth Vader's theme) as we pulled into the stadium lot and accepted our fate. Ben was feeling exceptionally grumpy (he was still fixated on that rocket ship) so he was unwilling to pose for a picture, but Mari was happy to oblige. Without prompting, she chose to make a silly face in front of the statue of Tom Landry. Coincidence? I think not!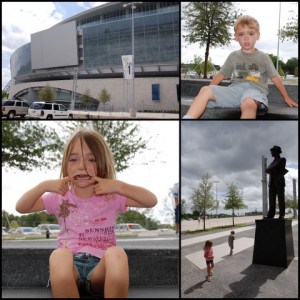 After our quick visit to the hated Death Star, we decided to head across the street to another place I hate, Walmart, to finally appease my rocket obsessed son. I would personally like to thank whoever is behind the Toy Story Three mass marketing campaign for making a rocket small enough to stuff into my son's carry on suitcase. Bless you! Bless you! Bless you!
After our short time in Arlington, we received our final Suite Stop. We were to head to College Station, Texas. I have to admit, at first I was dissapointed. We had driven two thousand miles in seven days to end up in College Station, Texas. But I continued to have faith. The trip had been fantastic thus far, why wouldn't it have a great ending as well? We drove through the vast agricultural expanses of eastern Texas dumbfounded. Then we received another message. Suddenly it all made sense. We driving to College Station to help celebrate the opening of the 500th Country Inn and Suites!
We arrived at the Country Inn and Suites, College Station, in the afternoon heat and happily joined the Williams family in the beautiful new pool. We all had a blast splashing around in the water and reminiscing about our journey with our fellow road warriors. Soon the Svebacks rolled into town and we all gathered to toast our successful journey with the people who helped make it all happen (thank you so much Emily and Dave!). We had some excellent Texas barbeque and celebrated the opening of Country Inn number 500. It was a great way to end a great week.
Its hard to believe its all over. 7 states. 7 days. TWO THOUSAND MILES in a Ford Flex with two three year olds and a GPS that had a mind of its own. Yes it was crazy. Yes there were moments where I wondered how we were going to survive the next one hundred miles. But 95% of the time we were having a great time exploring the Midwest. Would we ever do it again? Absolutely! As I sit in the Houston Airport typing up this post, I am constantly interrupted by two little travelers asking if we can go to another hotel instead of going home. My children have wanderlust, and I couldn't be prouder.
I hope this post has inspired you to take your own Road Trip Adventure. For more information on how to create your own trip to remember check out .
Disclosure: A significant portion of the costs and resources for our family's participation in the 1K Country Adventure was provided by Country Inns & Suites By Carlson.
– – – – – – – – – – – – – – –
Travel with kids to: CA |CO | DC | FL | HI | IL |MA | NC | NY | PA | TN | TX | VA | WA