Today was a day filled with contrast.  We got in touch with our inner cowboy, cried for the tragic loss of so many, and enjoyed the beauty of one of our countries National Recreation Areas.  It all started with our first Suite Stop clue of the day (watch it here) which directed us to the National Cowboy and Western Heritage Museum in Oklahoma City.  The museum is filled with western art, cowboy memorobilia, and rodeo regalia.  I literally could have spent all day wandering it's massive halls.  While some of the art exhibits weren't exactly toddler friendly, there was definitely plenty of great exhibits to keep children entertained for a couple of hours.  Prosperity Junction is a replica of a turn-of-the-century cattle town which was built inside the museum.  Walking around the town made us all really feel like we were in the Old West.  Prosperity Junction had everything any respectable western town could need including a livery stable, saloon, church, mercantile, bank,  jail, and railroad depot.  We all absolutely loved it.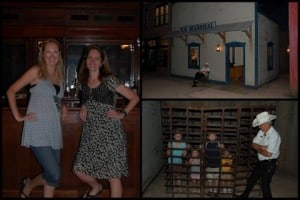 There is also a separate building housing a Children's Cowboy Corral.  Here, kids can pretend to build a fire near the chuck wagon, try out different saddles, and even put on chaps and boots in the dress up area.  Mari especially enjoyed the pink cowboy boots.  I personally loved the sections of the museum dedicated to the rodeo and paying tribute to famous movie and tv stars who played western roles.  I am still in disbelief that there was entire exhibit dedicated to displaying 1300 different kinds of barbed wire! The National Cowboy Museum really is a great place and definitely worth visiting.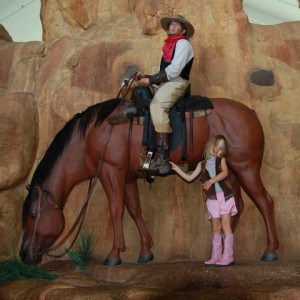 After a couple hours of exploring, we knew that we had to say happy trails to the museum and watch our second clue (here) which led us to Bricktown near downtown OKC.   Our mission was to ride the water taxi.  It sounded like alot of fun and we were eager to come aboard.  Unfortunately, things went downhill quickly.  Ben is on the autism spectrum and from time to time he has episodes where he can't stop fixating on something.  Today's episode involved a toy rocket that he saw at the Kansas Aviation Museum.  While we were at the museum, he didn't even want the stupid rocket but today, it was all he could think about.  We were stuck on a water taxi (which, by the way, was more of an advertisement for all the businesses in Bricktown than anything else) in a canal with a child who was freaking out about a toy rocket.  I am sure everyone on that water taxi wanted to kill us.  Luckily, the taxi makes a stop in front of Toby Keith's restaurant so we quickly hopped off and opted to walk back to the car with a kid who was hysterical over a toy in Kansas.  I guess that's the way it goes sometimes when you travel with children.  It can't all be sunshine and rainbows.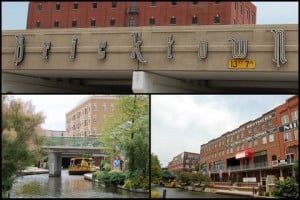 Even though it wasn't part of our mission for the day, we just couldn't leave OKC without visiting the Oklahoma City National Memorial which is located where the tragic Oklahoma City bombing occurred, killing 168 on April, 19, 1995.   Words can't describe the emotions that I felt when I stood on those grounds.  The memorial itself is poignant and beautiful, with a reflecting pool, survivor wall, and field of empty chairs to represent the lives lost.  We didn't have time to visit the museum (and it probably would have been too much for a three year old to understand).  My children don't understand the concept of death yet so we didn't explain to them why we were visiting the memorial, only that we needed to be quiet because some special people were being honored there.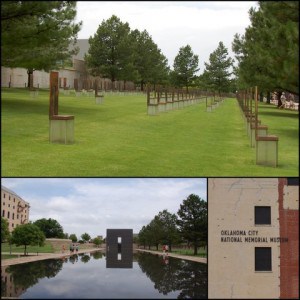 The memorial also includes a children's area with chalk and places for kids to draw to share their emotions about the tragedy and leave images of hope and comfort in honor of those lost.  I asked my kids what they wanted to draw.  Mari drew a whale (its her favorite thing to draw) and Ben told me he wanted to draw a cross.  I couldn't help but be emotional over his choice.  The memories of the emotions we felt while standing on the former ground of the Murray Building will definitely stay with us forever.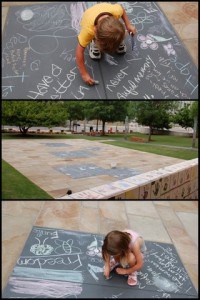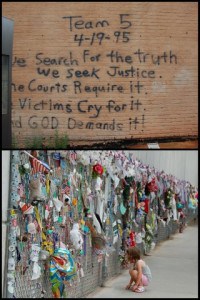 We got back in our car (not without being reminded that Ben wanted a rocket no less than 150 times) and then listened to our next clue (here).  The news that we were going to the Chickasaw National Recreation Area got this National Park junkie very excited!  I will be honest, I wasn't exactly sure what to expect.  Chicasaw is located in southern Oklahoma so in my mind, I imagined a prairie. I couldn't have been more wrong.  Chicasaw was filled with lush green forest and beautiful creeks pouring over travertine terraces which served as perfect swimming holes.  We knew we only had a short time to explore this beautiful oasis but we couldn't leave without taking a hike.  The rangers at the Travertine Nature Center suggested we take the 1.2 mile roundtrip out to Antelope Springs.  We were surrounded by thick forest during the entire walk which helped keep us a bit cooler in the sticky heat.  We followed the trail to the outcrop of rocks from which the spring flowed.  Butterflies seemed to flock to the water and put on quite a colorful show for the family.  Ben even forgot about his rocket for a few minutes!  We lingered a bit longer than we probably should have, but we are an outdoorsy family and at Chickasaw NRA, we were in our element.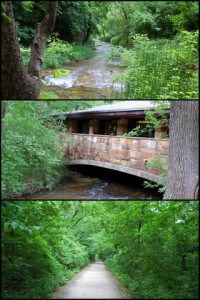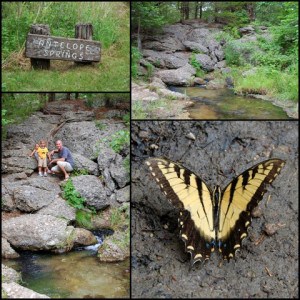 Finally, we dragged ourselves back to the car and listened to the fourth clue of the day (here). Just as we had suspected, we were headed to Texas.  When we reached the border, we sent a tweet out announcing our arrival per the Suite Stop's instructions, then received our fifth clue (here).  We were to head to Denton, TX and take a picture out in front of its 114 year old courthouse.  The courthouse itself is gorgeous and seems to be a popular gathering place for the local college crowd.  We ate dinner at a pizza place across the street and then listened to our last clue of the day instructing us to go to the Lewisville  Country Inn and Suites which is just outside of Dallas.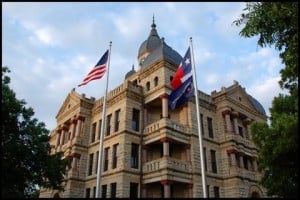 Now as I sit here writing this post in the bathroom of our hotel room (its late and the rest of the family is sleeping), I can't help but feel a little bitter sweet about tomorrow being the last day.  Yes, we have spent many hours on the road and every day has been very full, but it has also been incredibly fun.  I have really enjoyed spending time with Ross, Kara, and their families and will be sad to have to say goodbye.  I am extremely excited to see what the final day has in store for us and where exactly we will end up. I am imagining it must be somewhere in Texas, but Texas is a big state so who knows exactly where our weary heads will rest tomorrow.  Tune in tomorrow for the exciting conclusion of the Country Inns and Suites 1K Adventure!
I hope this post has inspired you to take your own Road Trip Adventure.  For more information on how to create your own trip to remember check out http://www.countryinns.com/1kcountry.
Want to follow us on the adventure as it happens? Be sure to follow @doubleadventure on Twitter and the hastag #CIS1K to see what all the families are up to every day of the Country Inns and Suites 1K!
Disclosure:  A significant portion of the costs and resources for our family's participation in the 1K Country Adventure was provided by Country Inns & Suites By Carlson.
– – – – – – – – – – – – – – –
Sharlene Earnshaw (aka doubleadventure) is Blogger-in-chief for Trekaroo and the blogger behind Double the Adventure.
 
Travel with kids to: CA |CO | DC | FL | HI | IL |MA | NC  | NY | PA | TN | TX | VA | WA