Last night we spent our very first night in the Sunflower State.   I watched the sun set over the Kansas Speedway from the parking lot of the Country Inns and Suites in Kansas City and then slept like a log until my alarm clock shouted at me to rise and shine.  We knew we had alot of driving to do so we wasted no time getting in our Avis rental car and heading on down the road.  Our first clue of the day (watch it here) informed us that Kansas City, MO was the city with the most water fountains in the US.  As a matter of fact, the only city in the world with more fountains than Kansas City is Rome, Italy (don't you just love fun facts like that?).  We headed to the fountain dedicated to the man behind the City of Fountains,  J.C. Nichols, which was located in Mill Creek Park.   As we entered the Plaza District, we couldn't help but notice a park with statues of giant shuttlecocks randomly placed in a field of green.  We decided we had to stop and get a picture of such a quirky yet beautiful work of art.  We drove a block further and spotted the fountain we were looking for.  Mari pointed out that the "horse and bear were fighting but the horse was winning".  I am not exactly sure what the symbolism is behind this battle of the beasts, but I do know it makes for a very pretty place to take a picture.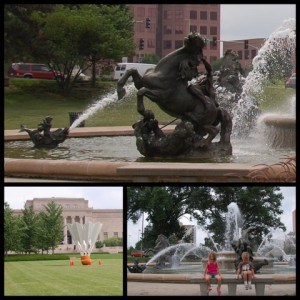 Clue number two (here) was a very exciting one for our kids. It indicated that we were heading to Sylas & Maddy's in Lawrence, KS for some ice cream!  Lawrence is home to the University of Kansas and the downtown area was filled with plenty of Jayhawk pride.  In my part of the country, Orange County, CA,  all the architecture is contemporary, so it is always nice to walk through downtown areas filled with old storefronts and small town movie theaters.  Once we got to the ice cream shop, we let the kids scan all the ice cream options and make their own flavor decisions.  Mari chose mint chip and Ben picked cotton candy.  They enjoyed every last lick of that fresh homemade ice cream and it seemed to give them the boost they needed for a long stint in the car.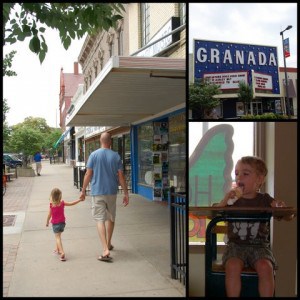 Clue number three (here) told us that we were headed to Wichita for a visit to the Kansas Aviation Museum.  I'll be honest, at first I wasn't too excited about an aviation museum because I have never really been into that sort of thing but it was actually very cool.  That is part of what makes our Country Inns and Suites 1K Adventure so fun.  Kansas was never really on my vacation radar but thanks to this experience, we will forever have fond memories of ice cream in Lawrence and sitting in plane cockpits in Wichita.  The museum was filled with cases of model airplanes, antique engines, and cockpits from various airplane models.  There was also an area outside where we could walk around all different sorts of airplanes from tiny gliders to massive 727s.  Out of the all the planes we saw, our favorite was the 1927 Laird Swallow with its stretch canvas covered wings and wooden propeller.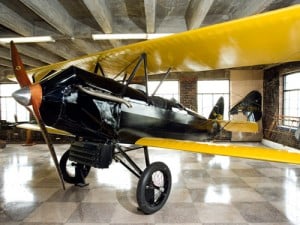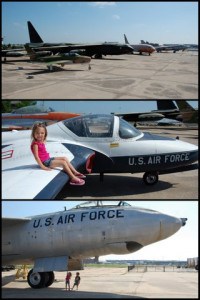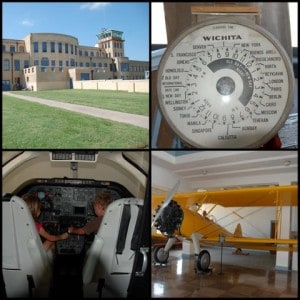 After we closed down the Kansas Avaiation Museum we hopped back in the car and headed down the highway to Oklahoma City.  We enjoyed the view of the green rolling hills of eastern Kansas and the checkerboard farmland of northern Oklahoma. Our day had been short in Suite Stops but very long in driving.  We had completed our longest day on the road (or so they tell us) and happily settled in to the Country Inns and Suites in Oklahoma City.  I am looking forward to getting to know OKC a little bit better in the morning and seeing what direction Country Inns and Suites will send us next. Only two more days to go!
I hope this post has inspired you to take your own Road Trip Adventure.  For more information on how to create your own trip to remember check out http://www.countryinns.com/1kcountry.
Want to follow us on the adventure as it happens? Be sure to follow @doubleadventure on Twitter and the hastag #CIS1K to see what all the families are up to every day of the Country Inns and Suites 1K!
Disclosure:  A significant portion of the costs and resources for our family's participation in the 1K Country Adventure was provided by Country Inns & Suites By Carlson.
– – – – – – – – – – – – – – –
Sharlene Earnshaw (aka doubleadventure) is Blogger-in-chief for Trekaroo and the blogger behind Double the Adventure.
 
Travel with kids to: CA |CO | DC | FL | HI | IL |MA | NC  | NY | PA | TN | TX | VA | WA