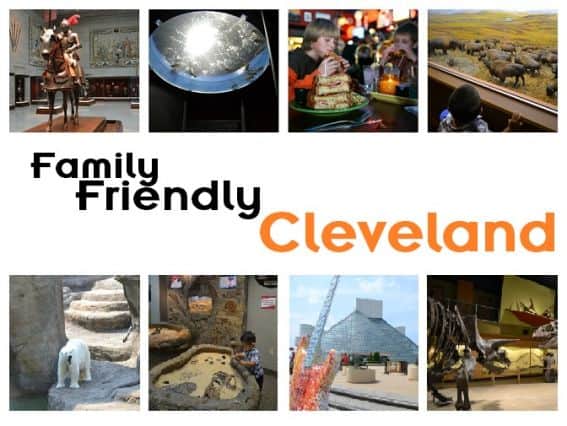 "Cleveland rocks! Cleveland rocks!" That's the phrase that kept repeating in my head as we ventured 7 hours from our wee little suburb to Cleveland, Ohio with my husband, 2 year-old, and 7-month-old. When thinking of family vacations, people may not immediately think of Cleveland as their first choice for a family-friendly destination.  Not only did we learn that Cleveland is super family-friendly, but we also discovered that Cleveland is full of amazingly friendly people, and also perfect for those families on a budget. In fact, families spend about 30-40% less than bigger cities such as Philadelphia and New York. And with our experience, we found out that we did not sacrifice fun.
After four days, 12 attractions, 7 restaurants, 2 kids with non-stop energy, and one exhausted husband, our family wanted to share our personal best of Cleveland.
Best value: The Cleveland Museum of Art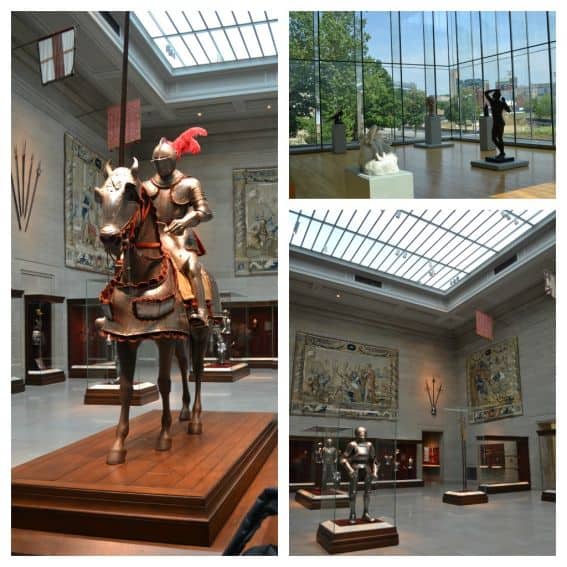 How can anyone beat free? With a fabulous collection that includes works from famous artists such as Renoir, Picasso, and Monet, the Cleveland Museum of Art does not skimp on their offerings even though admission is free. In fact, it is the only major art museum in the nation that doesn't charge an admission fee to its permanent collection. Not only should this be a must-see because of its collection, but you should also take some time to marvel at its unique architecture. At this time it is undergoing a $350 million renovation, but don't let that deter you from visiting. Even with construction, you'll still be amazed at the huge vaulted sky lighted windows and Beaux architecture found throughout.
See what others have to say about the Cleveland Museum of Art.
Best area to get cultured: University Circle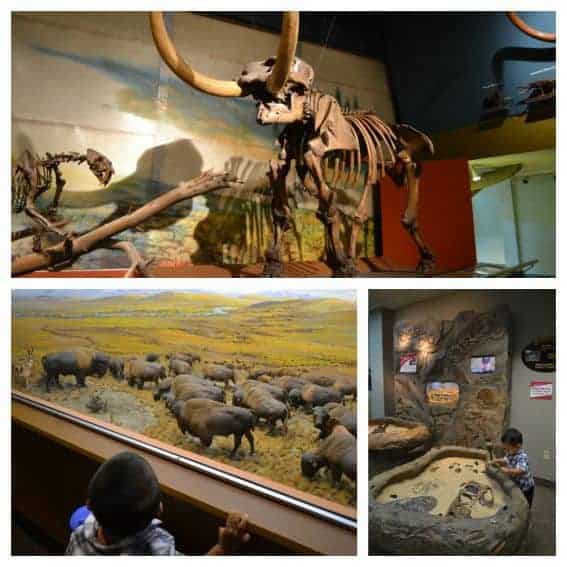 The University Circle is one square mile full of not only Cleveland's, but the country's most concentrated arts and cultural institutions. At its center lies Wade Oval where on Wednesdays you can hang out, listen to live music, watch movies, or eat. We only scratched the surface on what we could have seen in the "Circle" by exploring the Cleveland Children's Museum, Museum of Natural History, and the Cleveland Museum of Art. Spend a day (or more) here and you'll come out learning a thing or two.
Interested in learning more? Check out the Cleveland Children's Museum, Museum of Natural History, and Cleveland Museum of Art.
Best renovation: The Greater Cleveland Aquarium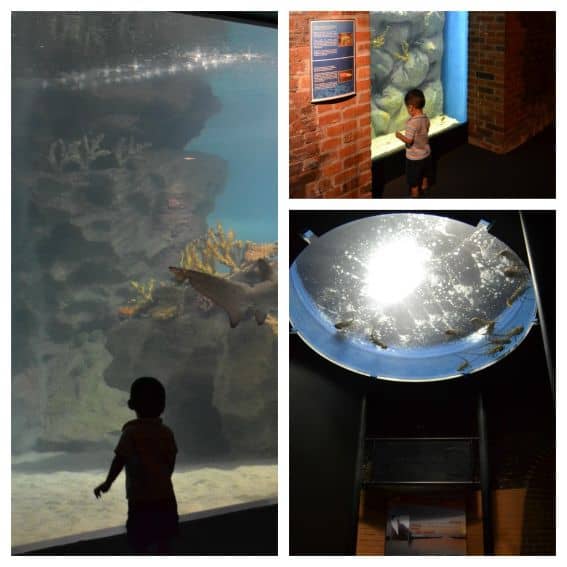 With exposed red brick and steel beams, the newly opened Aquarium is located in a 19th century building that used to power the city's electric streetcars. Strolling through the aquarium, you'll see fish tanks in what used to be old coal shafts. Don't forget to look up, or you'll miss the lobsters up in what used to be the smokestacks. These are perfect examples of how the exhibits mesh with the architecture of the building.
Read full reviews of the Greater Cleveland Aquarium.
Cheesiest moment: Melt Bar and Grilled
Photo © www.PositivelyCleveland.com / Scott Meivogel
With unique twists on grilled cheese sandwiches, Melt Bar and Grilled wins hands down. I knew we would like the place as soon as we received a name tag marked "Gene Simmons" as our name to be called for our seat. With the Flintstones playing in the background and holiday displays lighted up, the atmosphere shouts "Fun! fun! fun!". The restaurant has been featured on Man vs. Food for their monster grilled cheese challenge so be prepared to wait. But trust me, it will be worth it! Plus, any place I can order a grilled cheese sandwich for myself and not feel awkward, earns points in my book.
Explore other restaurants in Cleveland.
Best place to buy a unique gift: The Rock and Roll Hall of Fame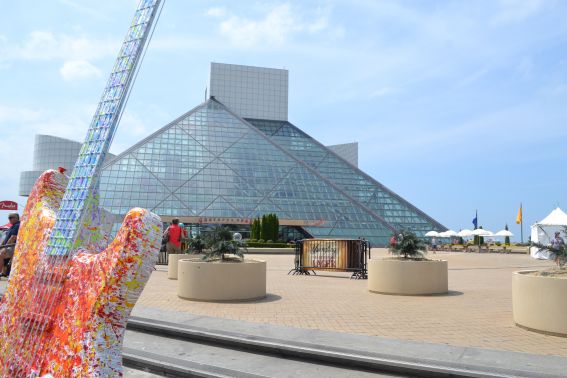 After going through the seven levels of the "Rock Hall" and learning about the history of rock and roll, take time to peruse the museum's gift shop. Sure, the museum was fun, but I had a blast shopping at their museum store. Unlike the typical souvenir stores, the museum actually had items that I would be proud to show off. They had t-shirts that I wouldn't be embarrassed to wear, guitar ornaments I can't wait to hang on our Christmas tree, and a rockin' beanie for my youngest that will look oh-so-cute on his lil' head.
Read more about the Rock and Roll Hall of Fame.
Our family's favorite overall attraction: Cleveland Metroparks Zoo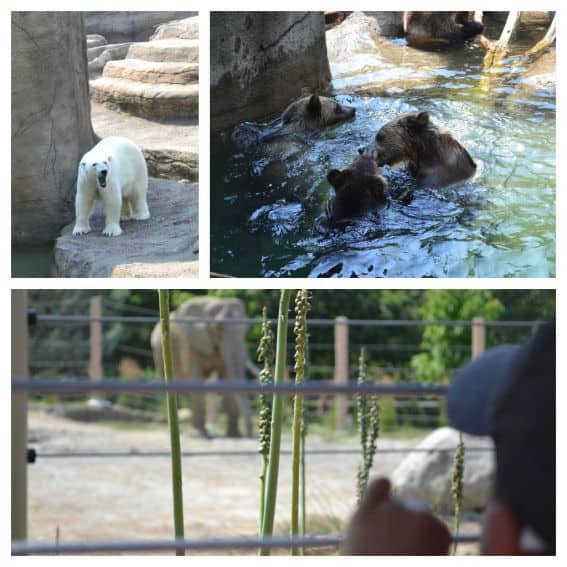 This was a tough one between the Greater Cleveland Aquarium and the Metroparks Zoo. In both instances, we were up close and personal to the animals. With the Cleveland Aquarium, sharks were literally swimming over our heads as we walked through a clear tunnel. But in the end, we will always cherish the memories at the Zoo of bears wrestling in the water, the polar bear cooling off from the summer's heat, and my son and elephant staring at each other.
Looking for a place to unwind after a long day of sightseeing? Look to the Courtyard by Marriott Cleveland East in Beachwood. With comfortable and spacious rooms, you'll be thankful to have a comfortable and relaxing retreat.  You can read full reviews of the Marriott Cleveland here.

We only scratched the surface of what this lovely city offered. (If we had more time, we would have loved to check out other Cleveland attractions such as the famous Christmas Story House, world's largest candy store (too tempting),or even the Cleveland Botanic Garden's children's garden.) One thing's for sure – after our 4 day whirlwind tour of Cleveland, I can honestly say that Cleveland does in fact ROCK!
Disclaimer: Special thanks to Positively Cleveland for hosting our family. As always, the opinions expressed are are my own.
---
Travel with kids to: CA |CO | DC| FL | HI | IL |MA | NC | NJ | NY | OR| PA| TN | TX | UT | VA | WA