It's the most wonderful time of the year!!! Shopping for Christmas is not one of my favorite pre-holiday chores. I'll take the baking, the decorating, party planning, and even the wrapping. But the shopping. Not my favorite. This year I decided to mix up the preparation a bit. I rattled my 14-year-old daughter out of bed early morning on a Saturday in November, packed an overnight bag and jumped into the car to make the 9 AM Metro-North train to Grand Central to go holiday shopping in NYC. Living in central Connecticut means that we can be in New York City in less than a couple of hours and we always enjoy the feeling of arriving in the City by train.
On the way down we loosely planned our shopping itinerary with enough time to check off some boxes on our gift list but also get the chance to take in some favorite sites, check out some new ones, explore the decorations which might just be starting to light up, and of course indulge in some NYC delights.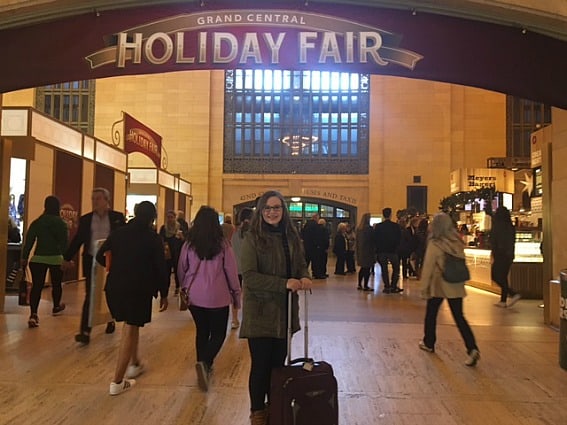 We're an affiliate of Booking.com. When you book through us, you still get their lowest price guarantee and we get a few dollars.  Thanks for helping to keep Trekaroo free.
Christmas Decorations in NYC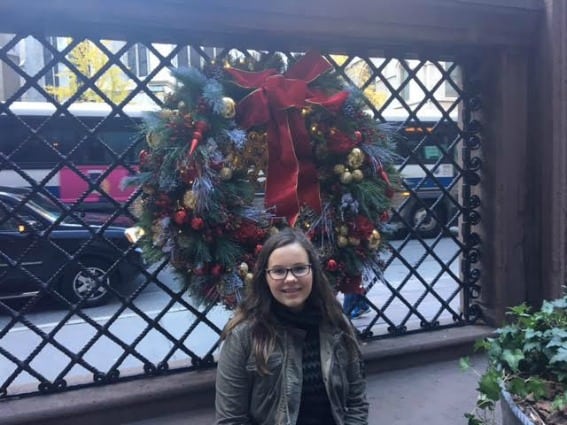 We arrived just as the Christmas decorations in the city were starting to come alive. The weekend before Thanksgiving is a semi-popular time to visit the city and many of the stores take advantage of the timing to get guests in the Christmas shopping mood. Other stores wait for the Monday after Thanksgiving to unveil their fabulous window displays and of course, the tree at Rockefeller Center does not start twinkling until after Thanksgiving. But make no mistake, there is a definitive Christmas feeling in NYC by mid-November.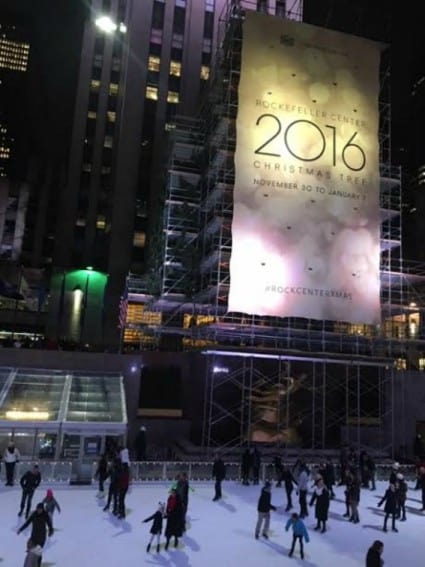 We decided to walk the few blocks from Grand Central to our hotel, the Omni Berkshire Place in mid-town, to see what Christmas decor the city had in store for us. Immediately we noticed lights, windows, and outdoor displays. While the tree at Rockefeller Center was still under wraps, we stumbled across another decorated tree worthy of a few pictures.
Window Shopping in NYC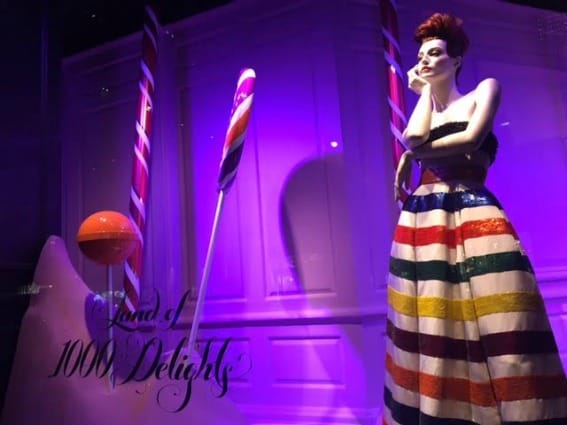 We usually visit NYC after Christmas to see the windows, trees, and lights. It was different to visit pre-Christmas where only some of the elaborate window displays had been unveiled. Yet the inside of the stores were in full-out bling. After Christmas the lines to see some of the more popular displays are long and actually require rope guides. Before Christmas, we were able to walk up and linger as long as we wanted to examine every little detail I am sure the designers put so much thought and planning into creating.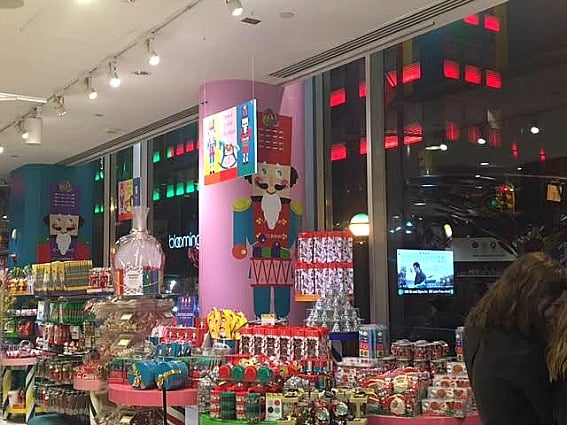 Saks 5th Avenue and Bergdorf were glorious in their high-end detail while Bloomingdale's was waiting on an unveiling. And although we enjoyed looking at the windows of these iconic department stores, we also had fun looking at the displays of the smaller stores and restaurants. And we were there to actually do some shopping so we didn't linger forever!
Check for amazing deals on family-friendly hotels in New York City.
Pop-up Malls & Markets in NYC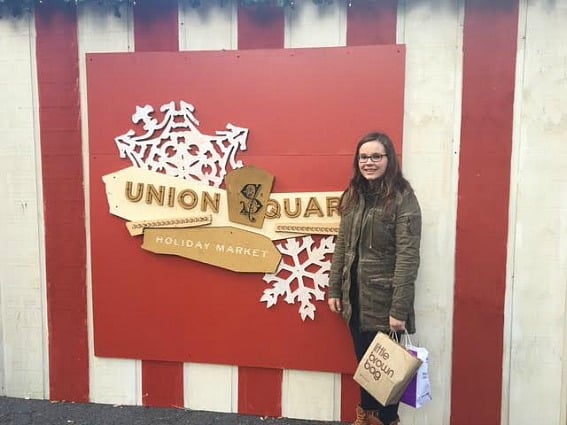 A favorite place to do some shopping for me is at any of the pop-up malls that get set up for the holidays in the parks around New York City. Bryant Park, Union Square, and others have outdoor malls that sell wares from local tradespeople. There is such variety and we always seem to find something interesting both for gifts and for ourselves. I seriously thought about buying my 5 ' 9" son a set of onesie pajamas with a drop panel. This made for more than a few giggles with my daughter.
The mood at these stores is jovial and fun. At Bryant Park, there is even an alternative to the skating rink at Rockefeller Center. The gigantic tree may be missing, but you can still frolic on the ice!
There is another great pop-up right outside of Grand Central. This is a good place to do a bit of shopping before leaving on your departure train. We left with personalized gifts for teachers, friends, and maybe even something interesting for my son!
Christmas Shopping in NYC Department Stores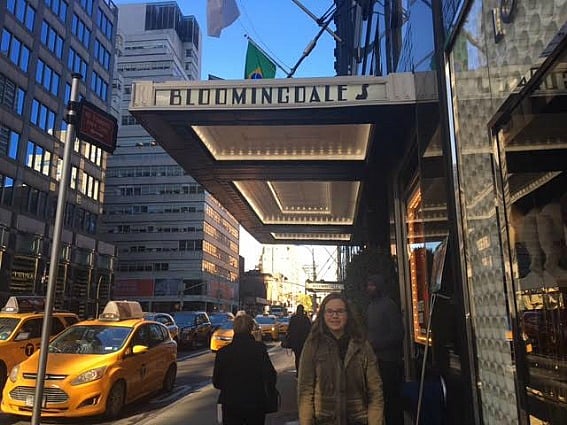 There is so much action happening in the NYC flagship department stores. Just walking down 5th Avenue is like being transported to another world. While many of the stores might have wares way out of our price range it is still fun to look upon the jewels of Cartier, the designer duds at Bergdorf's, and the handsome handbags at Prada, especially while they are decked out for the holidays. Lucky for us the Omni is right nearby 5th Avenue and all of its holiday glory. A bit farther of a walk was a Christmas shopping goldmine for us; on 59th and Lexington is the famous art deco flagship store of Bloomingdales.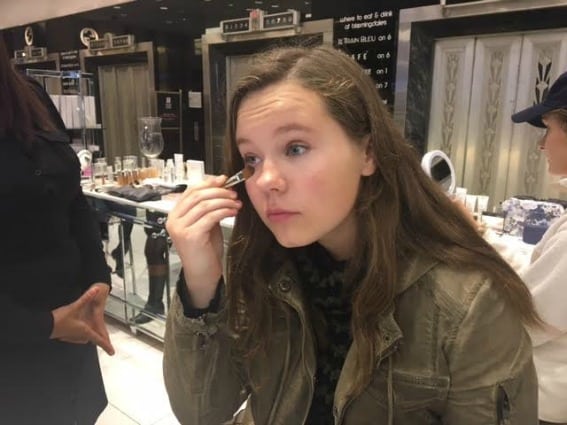 We were able to find some priced-right items on our list but also took advantage of BBloomingdale's partnership with the Omni. My daughter was able to sit like a princess for a while having a mini-facial and makeup done on the house. She was party ready afterward even though she was dressed in a ball cap and sweatshirt! Guests of Omni who show their room key enjoy 15% off at Bloomies.
Sweet Treats in NYC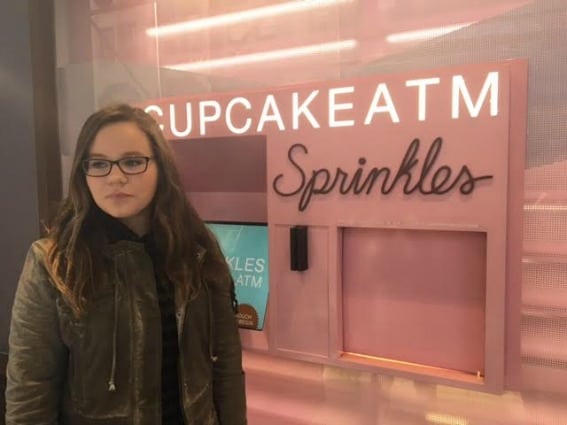 We cannot make a visit to the city without trying out some new sweet treats in addition to our old favorites: Dylan's Candy Bar, Economy Candy, and Serendipity. This trip was focused on shopping so we had to make quick stops. What could be quicker than a cup cake ATM? Outside of Sprinkles on Lexington right up the street from Bloomingdales I swiped my credit card at the pink ATM after my daughter chose her chocolate treat and was ceremoniously delivered her cupcake from the pink machine that can hold up to 600 cupcakes of different varieties. There are even doggie treats at the 24 hour ATM.
Check for deals on family-friendly hotels in New York City.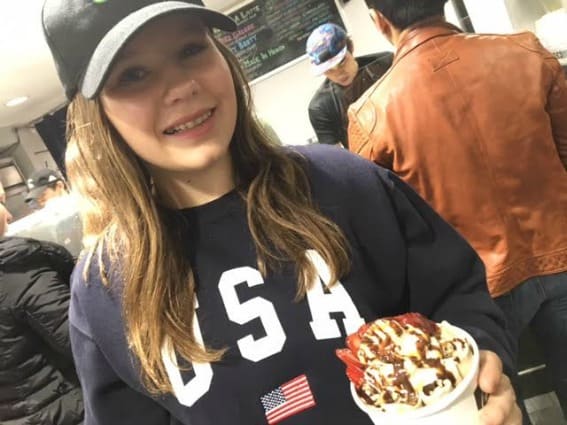 A bit farther downtown heading to Brooklyn we discovered 10Below. My daughter had done some cursory research and we knew we would head into Chinatown for this rolled frozen ice cream treat. We assumed the name 10Below was in reference to the temps required to create such a masterpiece. We searched Mott Street for an ice cream shop and couldn't find it thinking that it had closed. When we finally realized that number was 10 and the location was below street level we finally understood the name. We hopped into a happening joint and ate some of the best ice cream we had tasted in a while made with fresh ingredients before our eyes.
Read more about a Sweet and Eats Tour of NYC.
Using the Subway to get Around NYC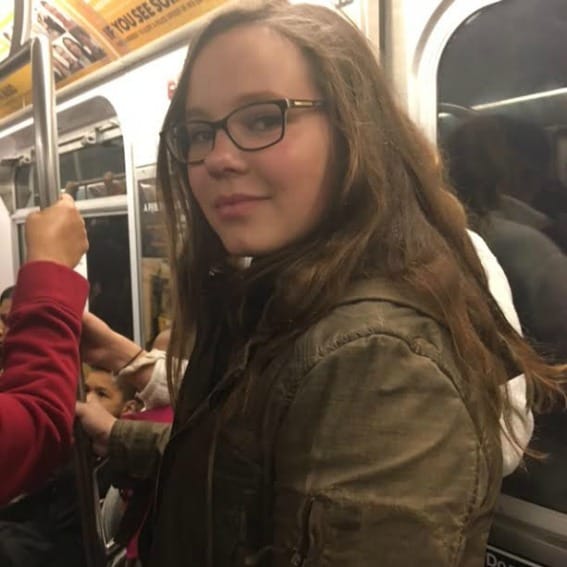 I liken the Metro-card to a park hopper at Disney World. It allows you to easily hop on the subway from one area to another. I encourage everyone to fuel up a Metro-card and get used to riding the subway for your best coverage of New York. Mastering the Metro opens up a whole new NYC to visitors. Once you have your bearing as to what is Uptown and what is Downtown, the subway is easy. We quickly grabbed a sub to Chinatown for ice cream, shopping at Union Square, then back to 5th Avenue for more shopping. Granted I would not consider us experts but the more you ride the easier it gets. Additionally, Google maps transit option tells you exactly which train to ride and where to get off. It is much easier than using a map.
Where to Stay: The Omni Berkshire Place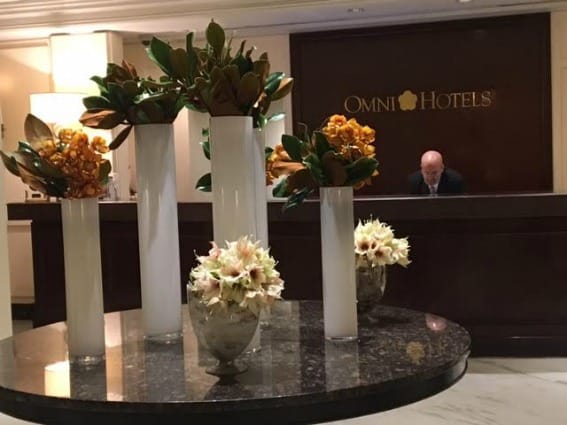 The Omni never disappoints. The staff is gracious, helpful, and quick. From check-in to the concierge and bell staff you will find folks that genuinely want to help and make your stay as enjoyable as possible. Additionally, the location of the Omni mid-town right near 5th Avenue is a dream. The central location makes shopping and seeing the sites of NYC easy. Our luxury suite was amazing. We had plenty of room to spread out as well as a patio on the 21st floor with incredible city views and seating to look up at the sky searching for stars. It was unreal. Lounging in the seating area and listening to the horns from the cars below will likely be one of my favorite memories of our stay.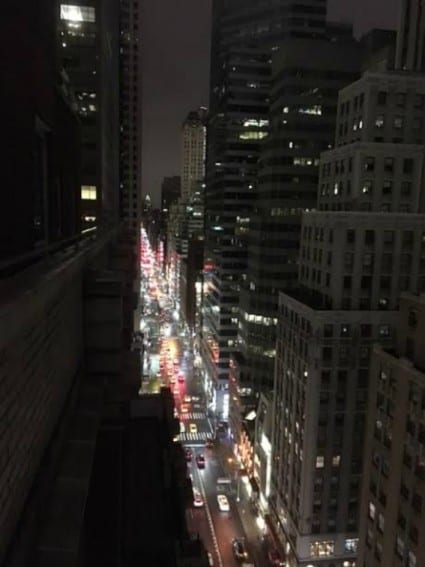 Disclosure: We were provided a complimentary stay at the Omni Berkshire Place. While we highly recommend it we were not required to provide a specific opinion and all opinions are my own!
Stockings not full yet? Check out more holiday shopping destinations.
Featured photo by: Shutterstock