There's always magic in the air around Christmastime, and it is no surprise that it has become a favorite holiday in my household. If you are one of those families that cannot wait until the holidays, then you'll be happy to know there are places to experience Christmas in the dog days of summer. Here are a few places to celebrate the most wonderful time of the year…in JULY!
Ornaments Galore!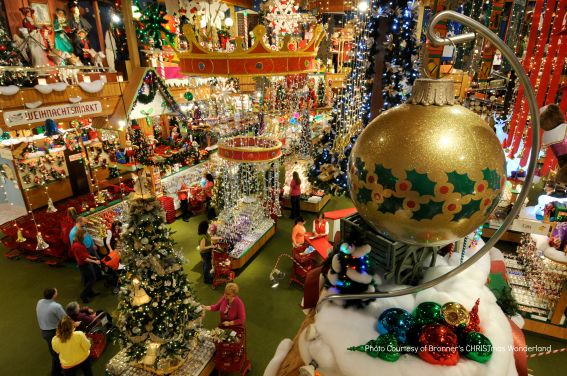 Nothing gets you in the Christmas mood like decorating the Christmas tree. If you're searching for that special ornament, head on over to Bronner's CHRISTmas Wonderland, the world's largest Christmas store in charming Frankenmuth, Michigan. With over 6,000 different styles of ornaments to choose from, it may be hard to just walk out with just one! The best part is getting your ornament personalized for free. For more ornament shopping, you won't want to miss The Christmas Place in Tennessee that touts itself as the South's largest Christmas store.
After shopping 'til you drop, rest easy at the Christmas-themed Inn at Christmas Place in Pigeon Forge, Tennessee. They are celebrating Christmas the whole month of July with fun activities such as poolside games, Christmas cookie decorating, Christmas crafts, and more.
Old Town Alexandria Summer Christmas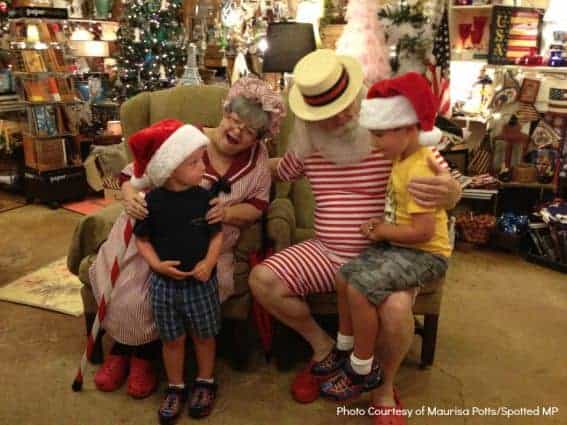 On July 20th, celebrate Christmas in Old Town Alexandria, VA, where for four years, Old Saint Nick has been spreading the Christmas cheer with thousands of people. The Union Street Christmas in July celebration will be filled with fun festivities that include store activities, musical entertainment, a mini carnival, and of course photos with Santa and Mrs. Claus. Kids aren't the only ones that can have fun. Hop on the Potomac Riverboat Company for a cruise with Santa and your pooch!
To top it all off, a portion of Old Town Alexandria store sales and donations go to a local charity. This year's proceeds will go Reading Connection, an organization dedicated to creating and sustaining literacy-rich environments and motivation for reading. They'll be providing story times at different stores throughout the day.
Find places to stay in Old Town Alexandria
Christmas Fun at Theme Parks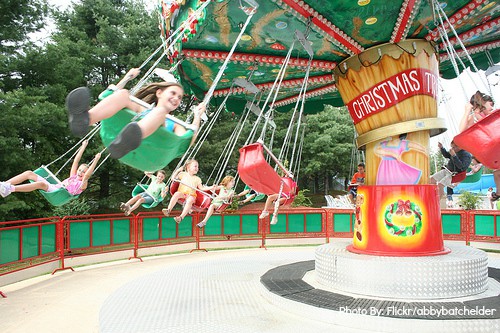 Most everyone loves a good theme park, but how many parks have the ability to get you in the Christmas mood? At Santa's Village Azoosment Park just outside of Chicago, kids can not only enjoy kiddie rides and Santa sightings, but they'll also see their favorite animals like tortoises, various farm animals, parakeets, and even Santa's reindeer hanging out.
Located in the White Mountains of New Hampshire lies Santa's Village, a third generation, family owned amusement park, whose Santa's Helpers are eager to welcome families. Guests can splash around at their new waterpark Ho, Ho, H2O, enjoy Christmas themed rides, or even participate in a scavenger hunt, Elfabet Game (where guests search for 26 elves and receive a prize).
For a magical time with the family, a trip to the North Pole is a must – North Pole, New York to be exact. At Santa's Workshop, the amusement park stays true to their traditional roots with a storybook village setting and a throwback to simpler times. To truly celebrate Christmas in July, take advantage of their special packages that include dinner with Santa, character breakfast, admission to the park, and roasting marshmallows to make s'mores.
A Town that Celebrates Year-Round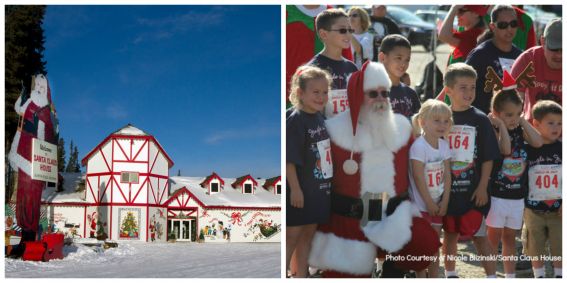 The Christmas spirit lives year-round up north in Alaska – North Pole, Alaska that is. Take a drive around town and you'll find Santa Claus Lane with its candy cane decorated streetlights, and other Christmas themed streets such as St. Nicholas Drive, Snowman Lane, and Kris Kringle Drive. Stop by the Santa Clause house where you can say hi to the real life Dasher, Comet, Blitzen and Cupid. The "World's Largest Santa," towering 42 feet tall and weighing in at about 900 pounds, can also be found here. Don't forget to send a post card with an authentic North Pole postmark! To truly celebrate the holiday, a visit to the North Pole's inaugural Christmas in July event is surely to delight the family. If you are a runner, I can't think of a more fitting location for a fun Christmas-themed run other than at the North Pole.
Santa Claus, Indiana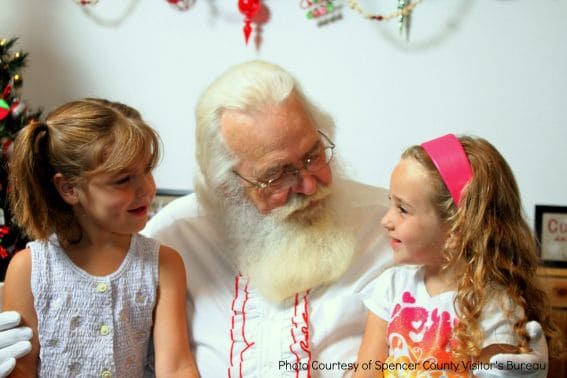 Hands down the best town to celebrate Christmas anytime of the year is at Santa Claus, Indiana. Known as America's Christmas Hometown, Santa Claus (the town AND the man) is waiting to shower you with Christmas fun. A stop at Santa's Candy Castle is a must, if not for your favorite sweet, but for the famous, frozen hot chocolate. What a perfect way to cool off! Another way to cool down is at the world's very first theme park, Holiday World, where you can not only celebrate Christmas but also other fun holidays. Don't forget to write Santa a letter at the Santa Claus Museum and Village where Santa and his elves will be sure to write you back!
Discover a place to stay in Santa Claus, Indiana
Interested in more Christmas-themed fun in Santa Claus, Indiana? Check out this list created by Superoo MelS for more fun things to do.