Last Updated on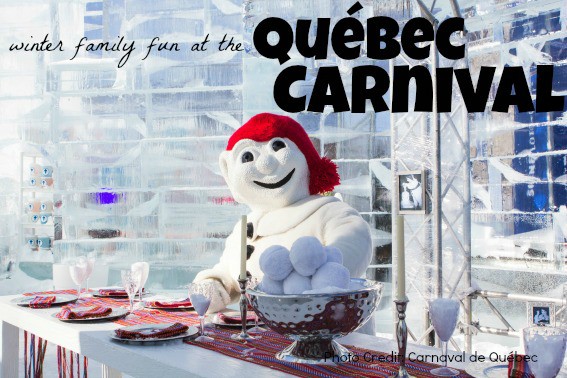 Québec City, the French-speaking capital of the Canadian province of Québec, was founded by French explorer Samuel de Champlain in 1608. More than four centuries later, visitors bask in the European charm of Old Québec (Vieux Québec) which has been designated a UNESCO World Heritage site. A visit at any time of the year is delightful, but there is something magical about the city during the winter season. Although it can be cold and snowy, residents head outdoors and embrace the weather, particularly during the month of February when winter is celebrated at the Carnaval de Québec (Québec Winter Carnival).
The Québec Winter Carnival, which began officially in 1955, is the largest winter carnival in the world. The carnival tradition actually originated much earlier though, dating back to a time when the early inhabitants of New France got together to celebrate just before Lent from the end of January through mid-February. From late in the 19th century through 1954, a carnival was held sporadically until a group of business people decided that organized festivities could provide a winter boost for the tourism industry. The official Winter Carnival was launched in 1955 and has continued to grow and increase in popularity year upon year becoming an event that Québec is known for around the world.
The Winter Carnival is a time of celebration for all ages with more than 200 activities taking place across the city over the course of the festival. Here are a few that are great for families.
Bonhomme and His Palace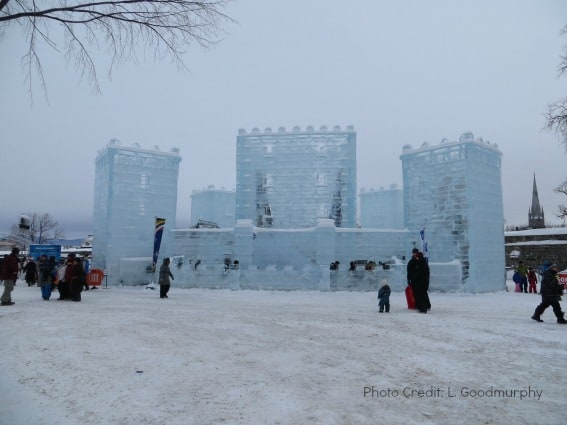 Bonhomme is the King of the Carnival. A snowman wearing a red toque and a traditional arrow sash, Bonhomme is quite the celebrity in Québec and across Canada. I remember reading about Bonhomme as a young girl so I was more than a little starstruck when I finally made his acquaintance last year. A visit to Bonhomme's Ice Palace, located in front of Parliament at Place de l'Assemblé Nationale, is a must for any family attending Carnival. Each year a new palace is designed and constructed and is open to the public to tour. Lucky visitors might meet Bonhomme himself while touring his home but, if not, are bound to run into the amiable snowman at one of the many festival activities.
Plains of Abraham Activities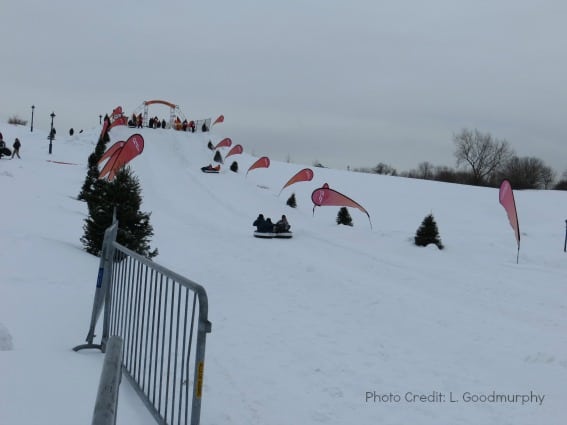 During the carnival season, the Plains of Abraham are transformed into an enormous winter recreation area that families will want to spend hours exploring. There are children's games and tube slides, sleigh rides, and a large ferris wheel that offers a fantastic view over the grounds. Families can also try ice-fishing, go dog sledding, or even do some cross-country skiing. The International Snow Sculpture Competition is one of the Carnival's most popular events and the works of art can be seen on display here. There's also a sugar shack on site where visitors can sample maple taffy, the quintessential Canadian winter snack made by pouring hot maple syrup onto blocks of fresh white snow.
Ice Canoe Races on the St. Lawrence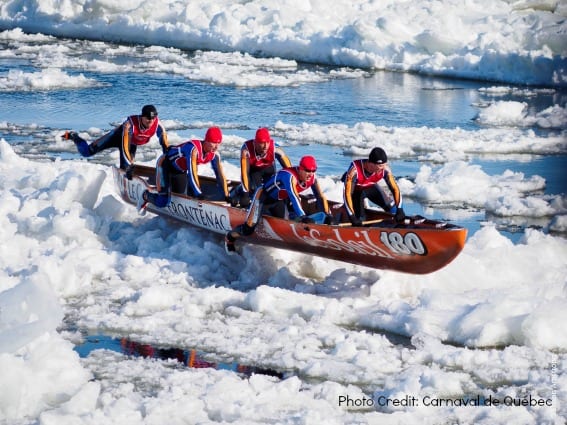 The Ice Canoe Race is a competition that dates back to the very first Carnival and takes place along the St. Lawrence River between Québec City and Lévis. In what appears to be an extreme endurance sport, team members push the canoe across frozen ice and paddle through open water as they race for the finish line.
Parades and Fireworks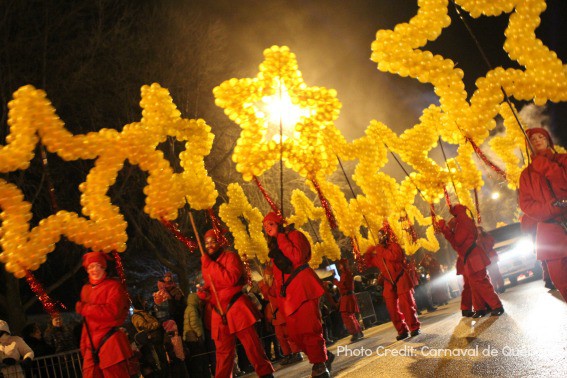 The night parades of Carnival are definitely worth keeping the kids up a bit late for. There are now two night parades which take place on the second and third weekends of carnival. Thousands of spectators line the route to watch the festive floats and entertainers parade by.
Snow Bath (Bain de Neige)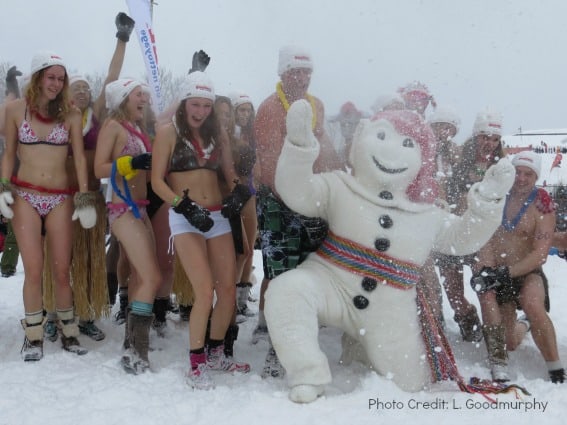 One of the craziest things that I have ever seen is the Snow Bath (Bain de Neige) where lucky selected participants over the age of 18 don bathing suits and play in the snow with Bonhomme. Each bather, who is also required to wear socks, sneakers, gloves or mittens and a hat, is placed into a group. Each group has an opportunity to "bathe" with Bonhomme three times, heading into a sauna-like building to warm up in between baths. Everyone appears to be having the time of their lives and the crowd gets a kick out of watching adults play in the snow in their bathing suits.
Other Things to Do in Québec City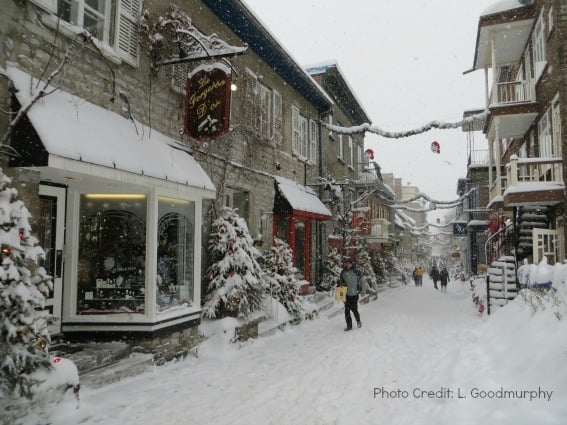 It's very easy to fill days attending carnival events, but try to make time to explore the city as well, especially on a first time visit. Vieux Québec is divided into Upper Town (Haute-Ville) and Lower Town (Basse-Ville) and, although most Carnival activities will be concentrated in Upper Town, the picture-postcard Lower Town and Rue de Petit Champlain should not be missed. Lower Town can be accessed either by funicular or by way of the Breakneck Stairs (Escaliers Casse-Cou) – it's a good idea to take the stairs down and the funicular back up as it is quite a climb. Families will enjoy a visit to the Musée de Civilization in Lower Town which has engaging interactive displays and hands-on exhibits. In Upper Town, a horse-drawn sleigh ride is a fun way to tour the historic city. Heading out of the city to visit the nearby Hôtel de Glace (Ice Hotel) (there are tours available for those who aren't spending the night), is also recommended. The Ice Hotel is reconstructed annually with a new theme each year and it's incredible to see a building made entirely from ice and snow up close.
Practical Details
To attend Carnival events and take part in activities, one must purchase an "effigy" which is a collectible figurine of Bonhomme that is worn on outer clothing and serves as the passport to all festival sites for the entire 17 days of the carnival. In 2015, the cost is $15 for everyone 8 years of age and older (7 and under are free) and a family package of four effigies is available for the price of three. The 2015 Winter Carnival runs from January 30th – February 15th.
Where to Stay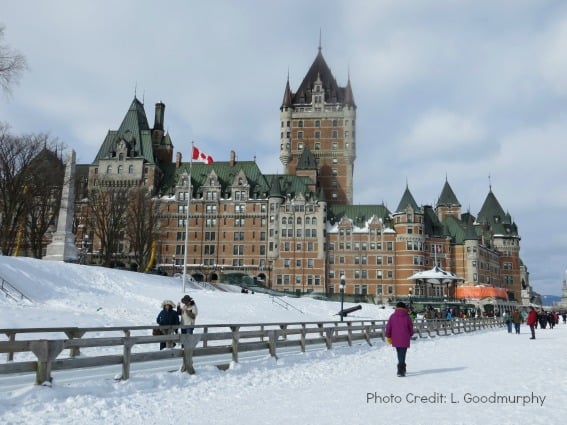 The Hilton Québec is a family-friendly hotel with a central location in Upper Town. Most Carnival events and activities are just a short walk away as are the shops and restaurants of the Grande Allée. Kids will love the hotel's heated indoor/outdoor pool which will allow them to swim surrounded by snow. For more luxurious accommodations, the historic Château Frontenac is the next best thing to staying in a fairytale castle.
I visited Québec City as a guest of Tourism Québec and Carnaval de Québec, however, all opinions expressed are mine alone.