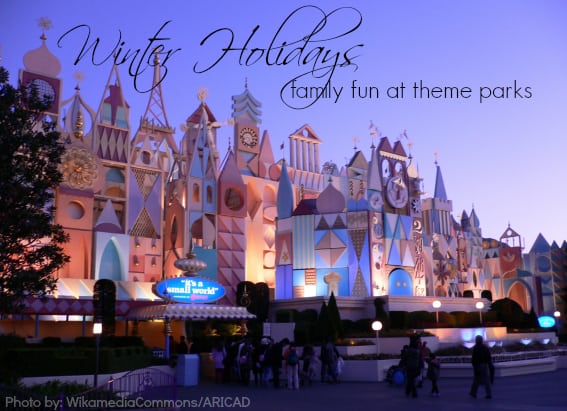 All across the country, theme parks are being transformed into winter wonderlands to the glee of children and families.  These are special and time-limited events. Trekaroo wants to make sure that you know a few of the ways to spend the holidays at theme parks across the U.S.A.
Disney Parks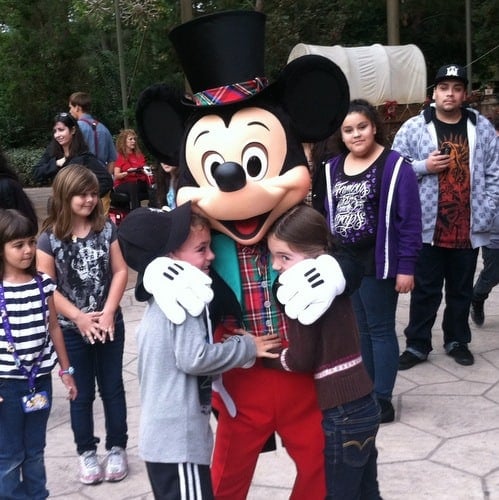 Disney Parks know how to celebrate the season with an amazing amount of Mickey magic. So much so, we have an entire article devoted to all things Holiday Disney.
Busch Gardens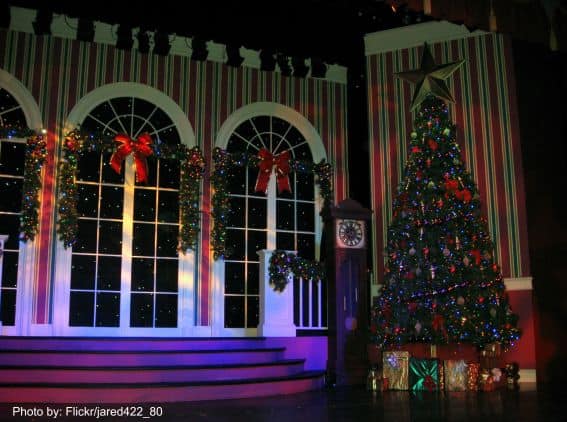 Busch Gardens Tampa Bay is hosting "Christmas Town." Christmas Town opens on November 27th and is open weekends through December 2015 and weekdays between December 18th-31st. Sing carols while riding on the Christmas Town Express. Visit with Santa. Watch "Elmo's Christmas Wish", and enjoy holiday décor throughout the park.  Trekaroo families praise the park for its attention to detail catering to families of all ages.
Meanwhile, a little further north at Busch Gardens Williamsburg, "Christmas Town" opens on November 27th and is open weekends from the opening day through December and weekdays between December 11th-January 3rd. During their visit, guests can eat a meal hosted by Santa and Mrs. Claus, ride the Peppermint Twist, or watch the all-new ice skating show 'Twas That Night with Elvis Stojko. Trekaroo families rave about the holiday lights.
Cedar Fair
Cedar Fair Entertainment Company runs amusement parks across the country and they are gearing up to bring some incredible holiday fun.
As shown in this historic photograph of Santa riding the log ride at Knott's Berry Farm in Buena Park, California, Knott's knows about winter holiday fun. It transforms into Knott's Merry Farm starting November 21st. Guests will love seeing Snoopy light the Christmas tree every night, and watch the Peanuts crew in a holiday-themed ice show.
Northern California's Gilroy Gardens Family Theme Park comes alive with thousands of Christmas lights, Santa, and a nightly performance of "A Charlie Brown Christmas" on these select dates: December 4th-6th, December 11th-13th, December 18th-23rd, and December 26th-30th.
LEGOLAND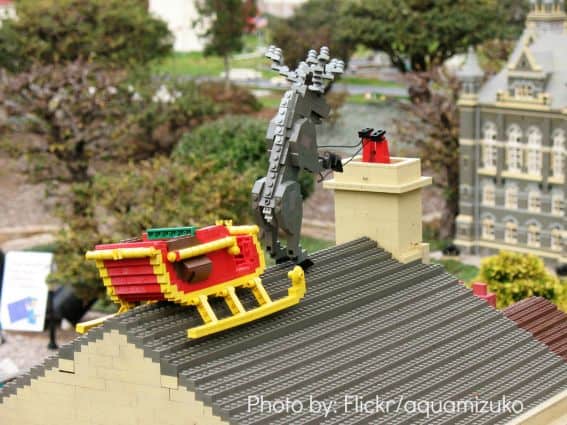 Join families as they experience "Christmas Bricktacular" at LEGOLAND Florida.  Available Saturdays and Sundays through December 2015, the festivities include an incredible Christmas tree and accompaniment made of LEGO and Duplo bricks.  Also, join the hunt for LEGO Santas. For families who like to venture out on New Year's Eve, you are in luck. LEGOLAND Florida will be hosting a fireworks display for "Kids New Year's Eve" with a full party just for younger kids including a ball drop.
On the other side of the country at LEGOLAND California, come explore Snow Days (November 21st until January 3rd) and Winter Nights (available November 27th/28th, Saturdays in December, and daily between December 19th-December 23rd and December 26th- 30th). Take a picture with LEGO Santa. Play in the California snow. Enjoy holiday entertainment. Join LEGOLAND California for the "Kids New Year's Eve" as well. LEGO SEAlife Aquarium will be all decked out for the season as well.
SeaWorld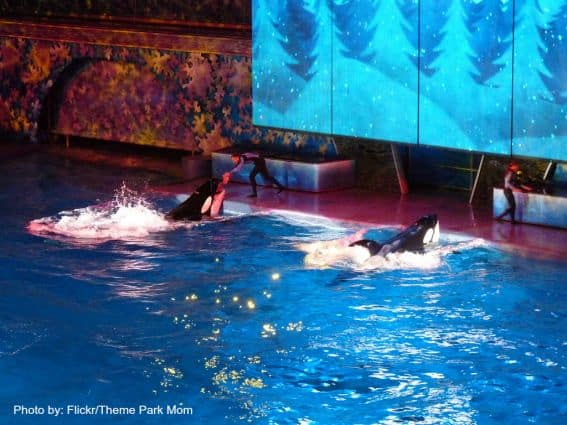 All three SeaWorld parks, located in Orlando, San Antonio, and San Diego, are offering a variety of winter-themed events for young and old. All three parks are participating in "SeaWorld Christmas Celebration". They will be featuring several Christmas Celebration shows including: "Shamu's Christmas: Miracle," which will showcase the park's most famous residents in shows set to holiday music. Trekaroo families especially enjoy the decorations and shows during the holiday season. The dates of the holiday events do vary by location.
SeaWorld Orlando's celebration will happen November 21st-23rd, 27th-29th, and December 4-6th, 11th-13th, and then daily from the 19th-31st. SeaWorld Orlando is also offering families a 3 hour backstage tour of the park and a visit with Santa on its Family Fun Tour.
SeaWorld San Antonio's holiday events will run from November 21st-29th, weekends in December from the 6th-2oth and then daily from the 19th-31st. (SeaWorld San Antonio will not be open on Christmas Day.)
SeaWorld San Diego will be transforming into a Wintery Wonderland between November 21st and January 3rd. Families visiting SeaWorld San Diego can also get tickets to have breakfast with both Shamu AND Santa!
Check out the SeaWorld Park in your neck of the woods for park-specific information and tips:  Orlando, San Antonio, and San Diego.
Six Flags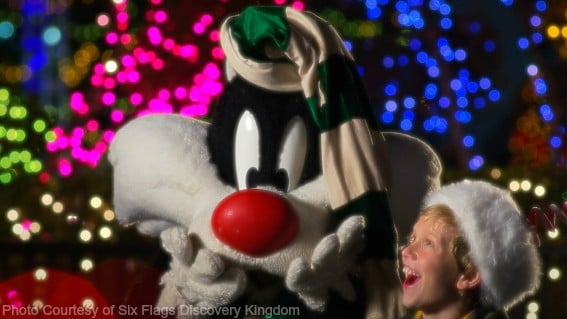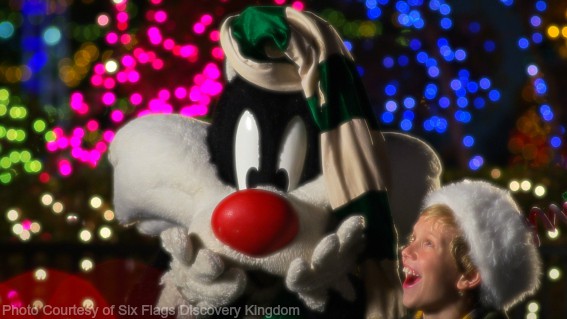 The Six Flags amusement parks are gearing up for the holiday season. With shows featuring the holiday spirit and visits with Santa, Six Flags is sure to pack a punch of its namesake exhilarating rides, all with a holiday spin. Santa and his reindeer will be at Six Flags Over Texas, Six Flags Magic Mountain, and Six Flags Discovery Kingdom. Six Flags Fiesta Texas has a holiday train, carolers, and a live nativity. Trekaroo families bragged about the Looney Tunes and Christmas characters and the "Holiday in the Park" experience.
"Holiday in the Park" is available at the following parks November 21st, 2015 through January 3rd, 2016. The parks have varied operating dates and hours that are subject to change so please double check prior to planning your trip. Six Flags Fiesta Texas in San Antonio, Six Flags Magic Mountain in Valencia, CA, Six Flags Over Texas in Arlington, TX, and Six Flags Discovery Kingdom in Vallejo, CA accommodate the holiday cheer with the temporary closures of some of the usual attractions.
Universal Studios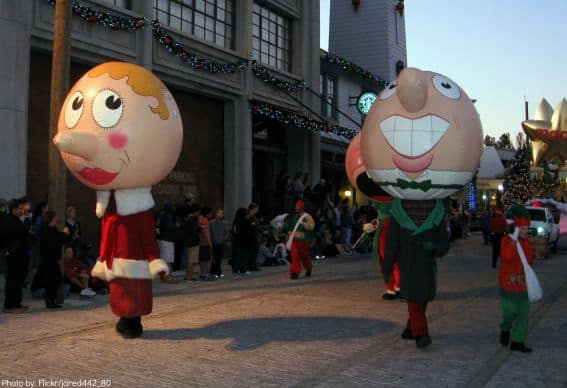 Universal Studios Orlando offers an unique experience for families. New York City Macy's Thanksgiving Parade floats and balloons make their way down to Florida each year. Universal Studios then adds its own flair, and voila, a parade of epic proportions without the chill of NYC. Catch the parade on December 2nd, 2015- January 2nd, 2016. Universal Studios Orlando puts on two holiday-themed shows for families: "A Barney Holiday" and "The Blues Brothers Holiday Show." In addition, the legendary holiday musicians, Manheim Steamroller, will be performing on Dec. 5th-6th, 12th-13th,  and 19th-2oth.
Universal Islands of Adventure (next door to Universal Studios Orlando) is putting on "Grinchmas": a tribute to the Grinch and the Whos of Whoville. Take a picture with the Grinch and catch a holiday themed play. Guests can have breakfast with the Grinch. Grinchmas can be found December 5th-January 2nd.
Adding a visit to a theme park may just add the little sparkle to your family this holiday season.
Pin this to bookmark all the holiday fun; we update it yearly: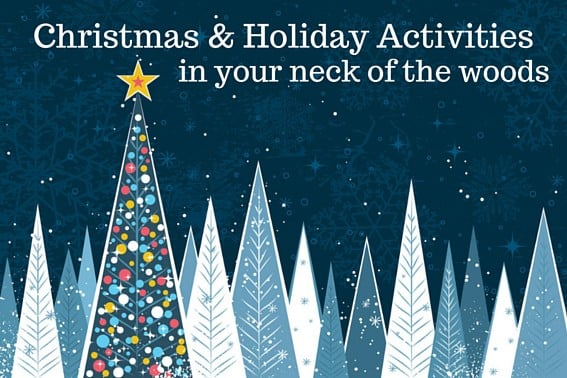 Find holiday activities and events in your neck of the woods.  We've got the inside scoop on cities across North America.
Comments
comments