My son is Shrek's #1 fan. He is such a fan, that this year, instead of giving thanks around the Thanksgiving table, we opted to book a three-night stay at Gaylord Palms in Kissimmee, Florida. We wanted to thank Shrek personally for all the joy he's brought to our family over the past 5 years. We decided we would celebrate the holidays with our favorite DreamWorks Animation in person.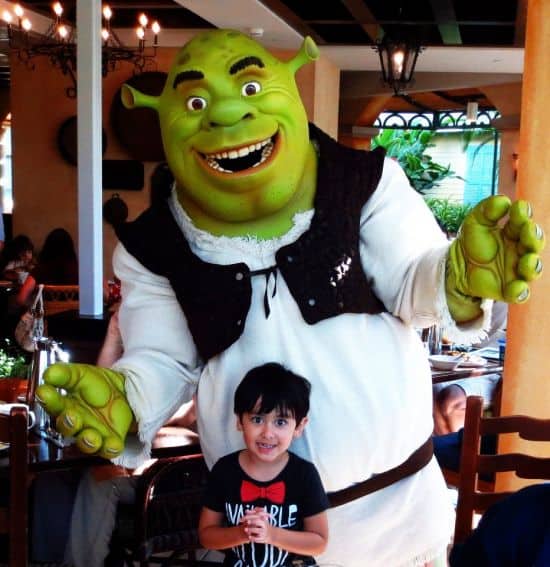 Want to experience this for yourself? From November 23, 2013 to January 5, 2014, Gaylord Palms offers families The Christmassy DreamWorks Experience Package. This package includes:
• One night room accommodations
• Unlimited access to ICE! featuring Frosty the Snowman
• 1 ShrekFeast Interactive Character Meal (Saturday and Sunday only)
• DreamWorks Character Holiday Meet & Greets (Friday and Saturday only)
• Polar Bear Pursuit Scavenger Hunt (polar bears are hidden throughout the indoor atriums)
• DreamWorks Welcome Amenity (cute ogre ears and character autograph book)
• Wake-Up Calls by DreamWorks Characters
• Souvenir Family Photo
Read my full review of Gaylord Palms
Breakfast with DreamWorks Characters

Open to the public, the ShrekFeast at Gaylord Palms is an unforgettable treat for the whole family! At this very special breakfast, we became honorary Ogres and got up close and personal with Shrek, Fiona, and Puss in Boots. Watching my child's face light up as he hugged his favorite movie characters made this meal more than worth its price tag ($29.95 adult, $19.95 child). Our ShrekFeast included a wide variety of traditional breakfast foods alongside a fountain flowing with green chocolate, a green breakfast potion to drink, and Shrek-shaped waffles with syrup.
Discover kid-friendly activities in Kissimmee, Florida
Gingy's Gingerbread Decorating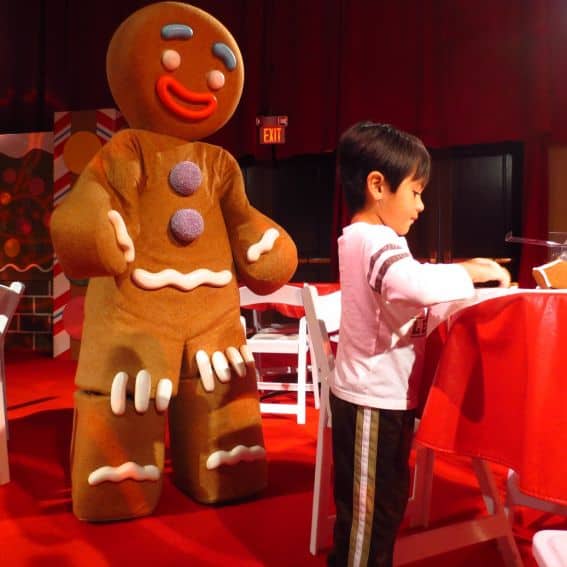 Armed with candy and frosting, families are seated at a table in Gingy's house, a life-sized gingerbread house, for gingerbread decorating. Under the direct tutelage of Gingy, children can decorate one of several gingerbread kits available for purchase. This heartwarming activity includes hugs, photo ops, and lots of playful exchange. Our Gingerbread Tree Ornament Kit cost just $14.95, but the joy this activity brought to our family, and the heartwarming photographs that I now find myself treasuring, made it priceless. Parents are welcomed to take pictures with their own cameras.
Read my full review of Gingy's Gingerbread Decorating
Live Stage Shows

(1) Bathe the kids, (2) put on pajamas, and (3) go to the show. Say what? At Gaylord Palms, every night over the holiday season ends with two hours of live holiday entertainment. Enjoy a festive Luminescence Christmas Show (lights timed to music) from the comfort of your balcony. There are many room options at Gaylord Palms, but a room with a balcony facing the atrium ensures that regardless of the kid's bedtimes, mom and dad can still catch the show with a nightcap. Check out the video I shot from my balcony!
ICE! featuring Frosty the Snowman
At ICE!, families are invited to watch a tribute to the DreamWorks Holiday Classic, Frosty the Snowman. Afterwards, cold weather jackets are provided for you to wear while you walk around and view DreamWorks characters hand-carved out of 2 million pounds of ice in a hall kept at just 9-degrees! At the end of the self-led tour, four glorious two-story ice slides await! I was only able to stay in the hall for 10-minutes before I had to run out to escape the cold. In fact, I scooped up my kid and ran out of the hall so fast that my son's beanie fell off, but I was too cold to go back and get it! Later that night a hotel employee brought my son's hat up to my room. A word of warning, don't show up in flip-flops (like I did). Next time, I would pack a beanie, scarf, gloves, and ear muffs. Yes, I'm suggesting you bring ear muffs to Florida!
Read more about ICE! here: Ho Ho Ho in the Christmas Capital of Texas – Grapevine,TX
Universal Studios Florida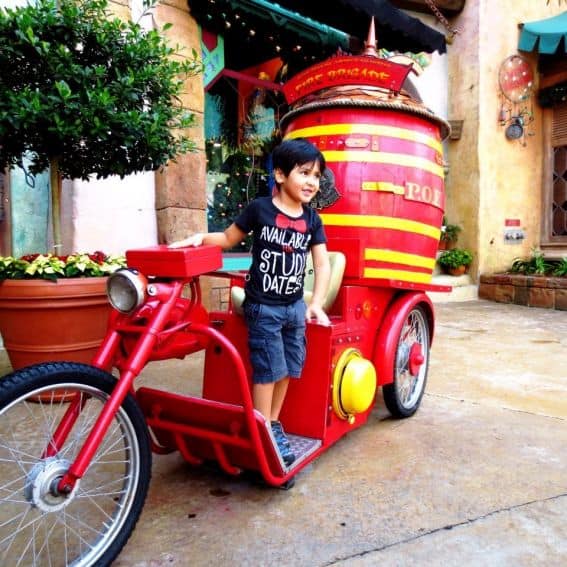 Florida is the perfect destination for Shrek lovers because Universal Studios offers generous portions of Shrek-rich activities for the young and the young of heart. In addition to all of Gaylord Palm's Shrektacular activities, nearby Universal Studios features a Shrek 4-D movie. For those who've never been, Universal Studios Florida and Universal's Islands of Adventure are adjacent theme parks with shared parking facilities. Both are excellent outings for children of all ages, but only Universal Studios features Shrek, SpongeBob Square Pants, and Despicable Me. At nearby Islands of Adventure, your children will enjoy fantastic rides and fantasy lands such as The Amazing Adventures of Spider-Man, the whimsical world of The Cat in the Hat, and the Wizarding World of Harry Potter, just to name a few.
Before visiting Marriott's Gaylord Palms, my family resided at another Marriott property, Courtyard Orlando Lake Buena Vista in the Marriott Village. Marriott Lake Buena Vista offers loads of complimentary family oriented amenities, is conveniently located near outlet shopping, and Universal Studios is a mere 15-minutes away. SeaWorld Orlando is less than 5 miles away!
Have you been to Universal Studios Florida? Leave a review!
Hotel Deals at Gaylord Resorts around the Nation

Read about The Christmassy DreamWorks Experience at Gaylord National Resort in National Harbor, Maryland
Read about The Christmassy DreamWorks Experience at Gaylord Opryland Resort & Convention Center 
Read more about The Christmassy DreamWorks Experience at Gaylord Texan Resort Hotel & Convention Center
Disclosure: I received a discounted rate for my hotel stay at Gaylord Palms and complimentary tickets to Universal Orlando and Islands of Adventure. The Courtyard Orlando Lake Buena Vista in the Marriott Village also provided complimentary lodging. As always, the opinions expressed are my own.
All images by Trekaroo/Tina Buell
Pin this to bookmark all the holiday fun; we update it yearly: