El Día de los Muertos, also known as Day of the Dead, is an elaborate and festive holiday celebrated with vibrant colors, flowered alters, face painting, theater, music, food, visual arts, and family oriented workshops. The vibrant holiday, which originated in Mexico, is celebrated throughout Latin America, and even in parts of the United States as a way to remember the lives of friends and family who have passed away.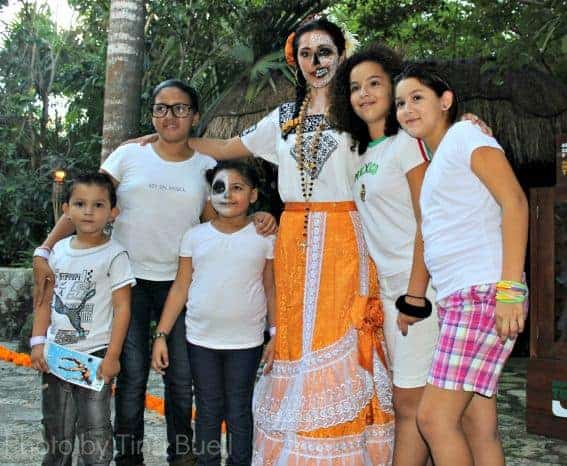 El Día de los Muertos celebrated throughout Mexico
Although nearly every city in Mexico boasts its own celebration, here are some of the best tourist friendly places to celebrate Dia de los Muertos while vacationing in Mexico:
Each year from October 30th through November 1st, visitors from all over the globe flock to Xcaret, an eco archaeological park for family fun, to celebrate and pay tribute to those who are no longer with us. Rites include the decoration of tombstones and graves; alters are assembled with flowers, candles, and embroidered table cloths where the favorite foods of the deceased are placed. Visitors are encouraged to wear white and paint their faces as skeletons or bring papier mâché skull masks or other handmade crafts connected to the Day of the Dead.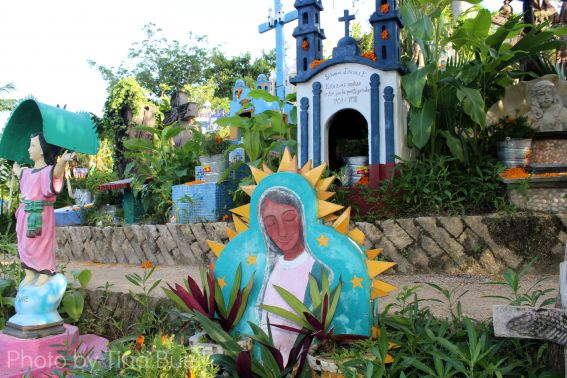 Through November 2, at the Fiesta Americana Grand Coral Beach Cancun, there will be an altar honoring the dead setup off the main lobby decorated with yellow candles; copal, an aromatic tree resin; sugar skulls; and marigolds. Families are invited to visit the altar to learn more about the Day of the Dead celebrations and sample molded sugar skulls with festive decorations and the bread of the dead—sweet bread covered with symbolic sugar skulls and bones.
Moon Palace Golf & Spa Resort hosts Halloween activities in both its Sunrise and Moon Grand Sections with characters from the Adams family, a terror house, and a horror pool party with live music and themed food. On Oct. 31, there will be a Halloween show and costume contest where the winner will win 2 free nights at Moon Palace!
At the Cozumel Palace, celebrate Halloween "Dia de los Muertos" style with a pumpkin decorating contest, Day of the Dead crafts, bowling with ghosts, face painting, trick or treating, and day and evening entertainment such as a Ghostbusters rally and Halloween show.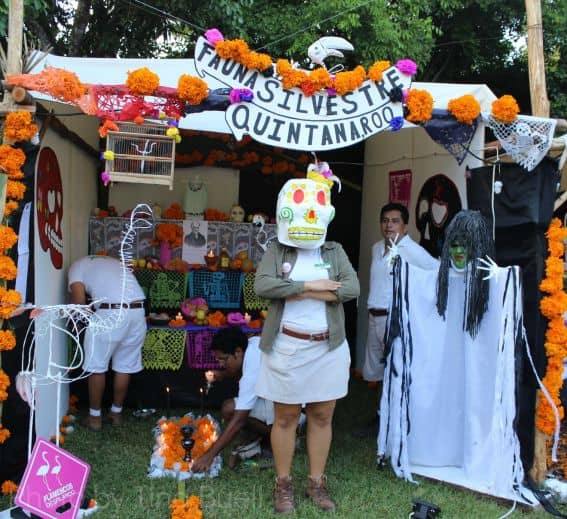 In Playa del Carmen, a city located along the Caribbean Sea in the Mexican state of Quintana Roo, this holiday is set over a backdrop of turquoise waters and white-sand beaches. Each year, local public and private schools participate in a parade down 5th Avenue, sharing their love of the life and death festivities and upholding local traditions of the Day of the Dead passed down from generation to generation.
The Kids Zone at Paradisus Playa del Carmen La Esmeralda offers mask making, a Halloween costume party, terrifying handcrafts, pumpkin carving, face painting, trick or treating, and a mini disco!

Celebrate El Día de los Muertos in the United States
If you can't make the trip south to Mexico to celebrate, check out one of these local opportunities:
San Francisco | San Diego | Disneyland | Los Angeles
Special thanks to Xcaret for hosting my family's Day of the Dead adventures.