Art and nature collide at Cedar City, home of the Utah Shakespeare Festival and gateway to Zion and Bryce Canyon National Parks. My family did a little art appreciation and nature exploration in southern Utah, where we discovered why Utah's Shakespeare festival possesses a Tony Award, and why Cedar City is an ideal destination for nature loving families.
Family-friendly Theater
You don't have to be a Shakespeare expert, theater critic, or drama snob to enjoy the Utah Shakespeare Festival. You don't even have to have gray hair, or wear sleek black clothing to appreciate the dramatic talent and literary works of art at this festival. The Utah Shakespeare Festival appeals to all ages, even us casual-clothing-toddler-toting-Mommies, giving parents an ideal opportunity to expose kids to theater and talented performers.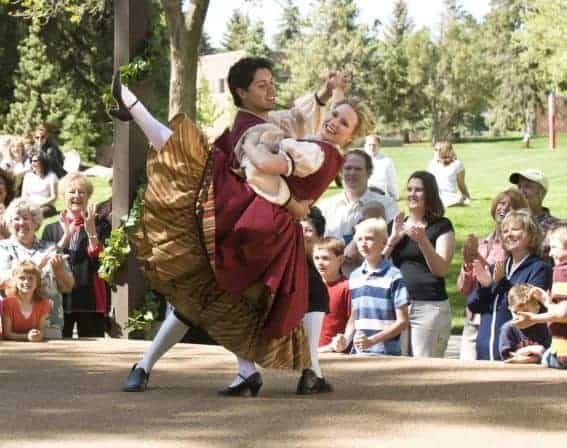 Photo courtesy of Cedar City – Brian Head Tourism Bureau
Although kids are required to be over the age of 6 to attend one of the festival's play performances, the festival makes concessions for the under 6 crowd. Specifically, kids of all ages are invited to attend each evening's admission-free Greenshow, a 40 minute entertaining outdoor pre-show with plenty of singing, dancing, and audience-volunteering before each play. Furthermore, the festival's guest services will assist with babysitting arrangements during performances for kids up to the age of 10.
Tips for Experiencing Utah's Shakespeare Festival with Kids
Read the play synopsis before the performance since some of the flowery Shakespeare language can be confusing for kids. Okay, I'll admit it sometimes is confusing for adults like me, too. I mean is it "theatre" or "theater?" My spell-check seems to have no preference.
After reading the play synopsis, consider attending a play orientation which the festival offers immediately before each performance.
If kids are new to Shakespeare's literary works, I would suggest attending one of his comical plays, instead of an intense drama.
Most performances are on the outdoor stage, so bring jackets to wear for cool outdoor temperatures.
Families can attend either matinee or evening performances. Note that the evening performances begin at 7:00pm and end at approximately 11:00pm. If your family has early bedtimes, you may want to consider a matinee.
Off the Beaten Path Nature
Cedar City is a gateway city to Zion and Bryce Canyon National Parks, and both of these places are definite must-do attractions in Utah.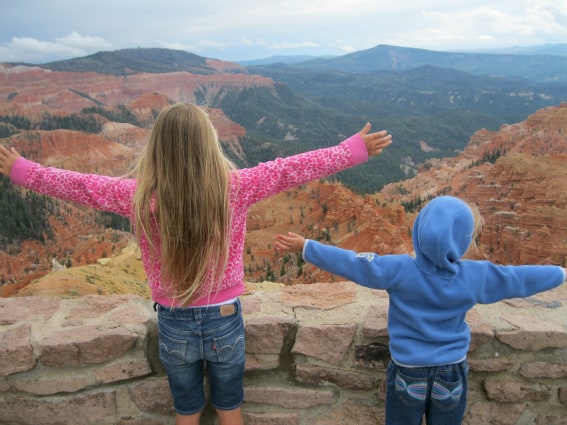 I want to share with Trekaroo readers a few off the beaten path get-away-from-all-the-tour-bus nature that beckons visitors who visit Cedar City:
Cedar City Lodging
Convenience is key while vacation, so look no further than accommodations at the Best Western Town Country Inn when visiting Cedar City. This hotel is within walking distance of the Utah Shakespeare Festival and offers family suites, a satisfying complimentary breakfast, and both an indoor (great for unpredictable weather) and outdoor pool for the kids.
Monday Madness Unites Art and Nature
Are you ready to experience a collision of art and nature? Scenic Southern Utah is offering one lucky Trekaroo reader the chance to win 2 nights of lodging at the conveniently located Best Western Town Country Inn in Cedar City, as well as 4 tickets for a family to attend a Utah Shakespeare Festival performance.
The Steal: Win a Shakespeare Festival Lodging Package Valued at $400!
One lucky winner will receive:
2 nights lodging (Sunday-Thursday) at the Best Western Town Country Inn in Cedar City.  Lodging voucher expires 7/26/2013.
4 tickets for a performance to the Utah Shakespeare Festival.  The festival's 2012 season runs through October 20, 2012. The festival's 2013 season will run from June 24 to October 19, 2013.
How to enter:
Simply follow the directions on the widget below. The more you do, the more entries you will receive!
Rules and guidelines:
18 years of age or older
US Residents only
Deadline to enter:
What is Monday Madness?
Every Monday, Trekaroo announces on our blog, either a fantastic giveaway or an incredible deal. It could be a green water bottle, a hotel stay on Maui or theme park tickets. Return every Monday to the Talking Trekaroo Blog for the details. Want a reminder? Become a Trekaroo member or follow us on Facebook or twitter.
---
Ann Anderson is Trekaroo's Utah destination specialist and Mom of 3 little explorers. She received complimentary lodging and play tickets to complete her reviews, but all opinions are her own.
Travel with kids to: CA |CO | DC | FL | HI | IL |MA | NC | NY | OR | PA | TN | TX | UT | VA | WA