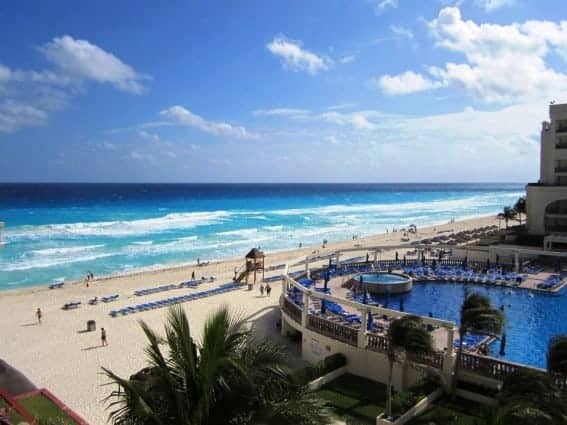 For our first trip to Cancun, my family chose to stay at a Marriott, a brand we trust to provide the quality and value we're accustomed to.  CasaMagna Marriott Cancun is located on the beautiful Mexican Caribbean coast where warm days abound and white-powdery beaches inspire sea-shell hunting expeditions. CasaMagna translates to "The Main House" in English, and this six-story property features arched open air walkways leading to beautiful ocean view rooms with flat screen televisions, water purification systems, and marble bathrooms.  These awesome amenities make it an incredible main house where you can truly get away from it all!  The air-conditioned lobby with its shining marble floors, long, gorgeous hallways and elegant chandeliers has my daughter convinced CasaMagna means "the main house to pretend you live in a palace!"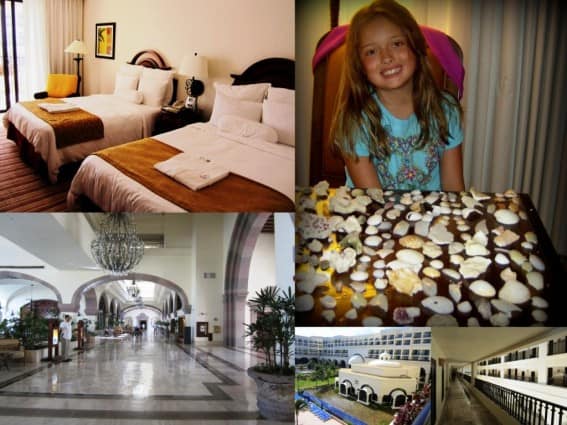 The Marriott Kids Club is a program for children ages 4 to 12 and operates daily from 9:30 am to 4:30 pm. It offers professional supervision, daily play in the pool, and twice a week visits to the beach. Activities include sand castle building, piñata making, cooking classes, and arts & crafts. Every September and October, children are invited to participate in a turtle release program where kids have the unique opportunity to release baby turtles just after sunset. What an unforgettably experience!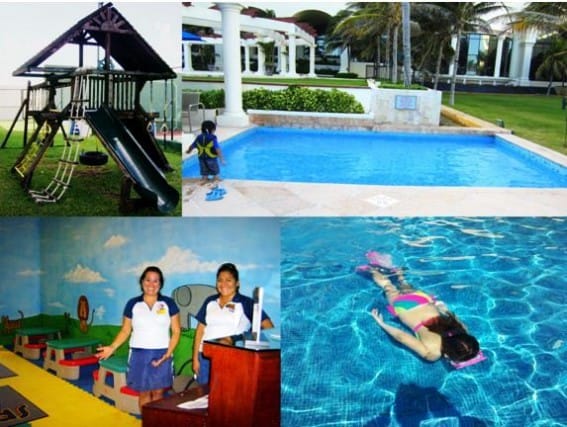 Feast like a Royal Family
The CasaMagna Marriott offers a wide selection of restaurants and bars with great variety of cuisines and atmospheres. My favorite, La Capilla Argentina Steakhouse, is a softly lit restaurant decorated like the inside of a chapel. At dinner, a loaf of "Mexican" style focaccia bread is served with butter and a chimichurri sauce. The bread is amazing! My 3 year old practically ate an entire loaf. The chimichurri sauce is pure heaven-in-a-ramekin and I devoured it straight cookie monster style. The salad bar's selection of exotic cheeses, Italian prosciutto and grilled vegetables would please most any foodie, while their sophisticated children's menu is one even YOU may be tempted to order from!
The breakfast buffet at La Capilla can best be described as Holy_mother_of_all_that_is_yummy! Yes, it is that good! Every morning the first words out of my daughter's mouth were "Yay! We get to eat breakfast!" All of my family's favorite breakfast and brunch foods were beautifully presented in the center of a circular oceanfront dining area. The spread is huge and there are no lines. La CapillaArgentina's breakfast buffet has become my new happy place.
Purely on accident, I discovered the resort's gift shop/coffee shop/deli and ice-cream parlor sells really delicious pizza.  I walked in to buy some sunscreen and walked out with a Chai Tea latte, a large pepperoni pizza, a chocolate donut and chocolate ice cream! Turns out, not only was the pizza darn good, it was also a budget friendly way to feed the kids poolside. And although not technically a Marriott amenity, it should be noted there is a McDonalds directly across the street from the resort's circular driveway. For this alone, I was a hero in my children's eyes.
Family & Children's Activities Nearby
A trip to Riviera Maya would not be complete without a visit to Xel-Ha and Xcaret. Xel-Ha is a natural aquarium park known for its rich underwater life and luscious jungle. Xcaret Park is the Yucatán Peninsula's top eco archaeological park for family fun. Delphinus provides opportunities to swim with dolphins at both locations. Arranging a trip to Xel-Ha and Xcaret couldn't be easier. A luxurious bus, equipped with your very own tour guide, transports your family to either park directly from Marriott CasaMagna.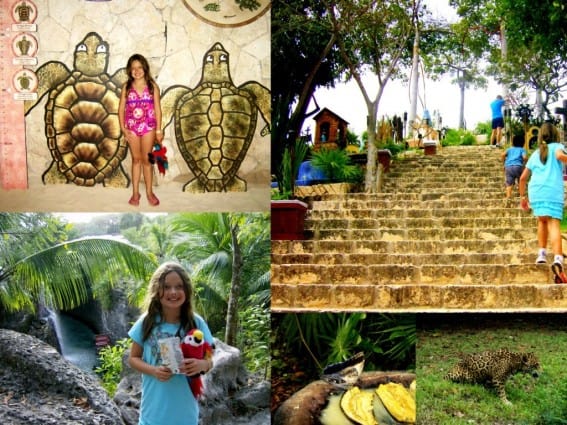 Read more about the Riviera Maya Dolphin Discovery Riviera Maya and Tulum- A History Lesson in the Riviera Maya.

 Disclosure: A special thanks to Marriott CasaMagna Cancun for hosting me. My family received a complimentary stay and meals at the Mariott CasaMagna Cancun. The resort did not ask that I express anything other than my honest opinion.
---
Travel with kids to: CA |CO | DC| FL | HI | IL |MA | NC | NY | OR| PA| TN | TX | UT | VA | WA