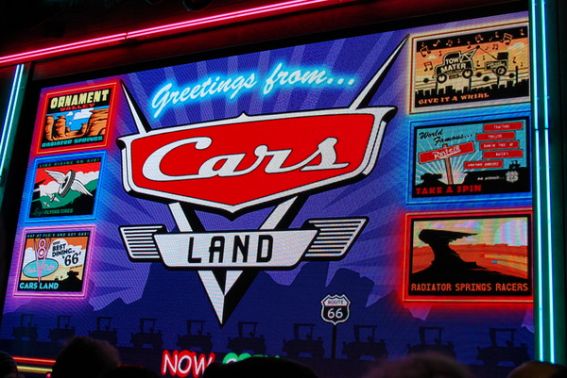 It has been 5 years in the making. After years of watching those distinctively decorated Disney construction walls go up throughout Disney California Adventure, guests are thrilled to know that the walls have finally all come down. They have been replaced by a newly revamped park which includes the "castle" of Disney California Adventure, Carthay Circle Theatre, and the land that Mater and Lightening McQueen fans have been waiting for, Cars Land.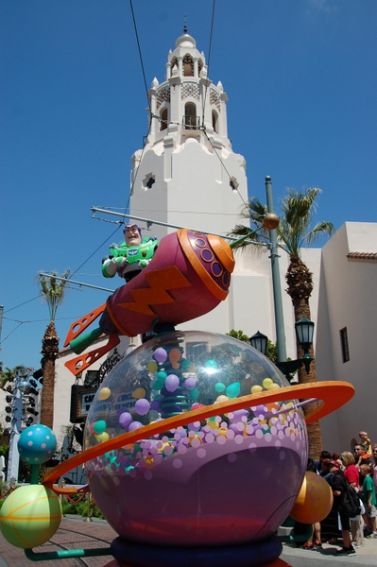 Buena Vista Street and Carthay Circle
Disney remodeled California Adventure in an effort to increase ticket sales and boost the popularity of the park, which up until recently lived in the shadow of its big sister, Disneyland.  Most people love coming back to Disneyland again and again because it transports them to a place and time that is not the "today" we are used to; full of stress, worry, and responsibility. Now, California Adventure can offer that same type of experience as guests enter the park on Buena Vista Street, modeled after the Los Angeles Walt Disney discovered when he arrived with nothing more than a cardboard suitcase, $40, and a drawing of a mouse back in the 1920's.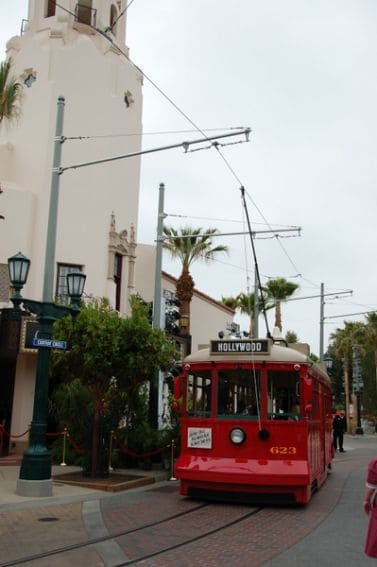 Ray Spencer, Creative Director of Walt Disney Imagineering describes walking down Buena Vista Street to be "almost as if Walt is holding your hand all the way down the street".  Helping to set the scene, characters such as Officer Blue, a bicycle delivery girl delivering packages, and even a grand woman carry around her dog meander about. Red Car Trolleys take guests down the street to Carthay Circle where entertaining shows such as "Red Car News Boys" and "Five and Dime" seem to pop up all day long. Carthay Circle Lounge offers drinks and appetizers such as lobster pad thai spring rolls, while upstairs the more upscale Carthay Circle Restaurant serves Southern California cuisine in a destination-worthy setting.
Cars Land
Just beyond A Bug's Land, Cars Land immerses guests in Route 66 nostalgia as they visit Radiator Springs, "the cutest little town in Carburetor County". The detail put into Cars Land is incredible, bringing the scenery from the Cars movies to life in true Disney perfection. As my mom strolled down through Radiator Springs she was immediately hit with nostalgia from her family road trip up Route 66 decades ago. She pointed to the old gas pumps in front of Flo's V8 Café and the wigwams in front of the Cozy Cone Motel, noting that she had seen identical scenes while on the road. I was blown away by the detail that went into the mountains of Ornament Valley. I felt like I had visited that exact spot while on my family's own National Park road trips. The kids, being kids, were most impressed with the new rides.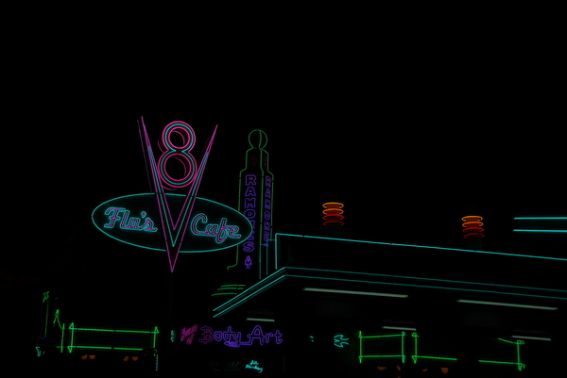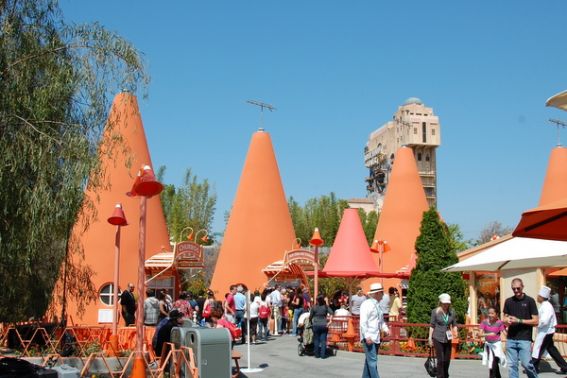 Three new rides are found in Cars Land; Mater's Junkyard Jamboree, Luigi's Flying Tires, and Radiator Springs Racers. Mater's Junkyard Jamboree brought smiles to all our faces as we whipped around on baby tractors to a "tow-si-do" square dance sung by Tow Mater (aka: Larry the Cable Guy) himself. Luigi's Flying Tires combines beach ball fights and life-sized air hockey in a human and air propelled ride on giant "tires". Radiator Springs Racers, sure to become a Disney classic in no time, takes riders on a ride through Ornament Valley, Radiator Springs (where all your favorite Cars characters are masterfully brought to life and happy to greet you), and then on a high speed race against another car full of ride-goers. My family loved it so much that we rode it three times!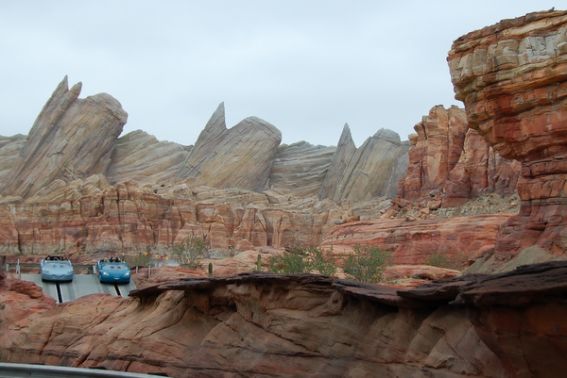 Read my full reviews of Mater's Junkyard Jamboree, Luigi's Flying Tires, and Radiator Springs Racers.
Want some fun facts about Disney's newest land? Here is a glimpse at Cars Land, by the numbers:
280,000 – Square feet of rockwork in Cars Land, making Ornament Valley mountain range the largest rockwork created in a domestic Disney theme park.
 125 – Height in feet at the tallest peak of Ornament Valley range in Cars Land.
6 – Distinct car tail fins represented in the Ornament Valley range, inspired by classic car models from 1957 to 1962; hood ornaments, wheel wells and radiator caps also represented in the rockwork.
4,000 – Tons of steel used to construct the Ornament Valley range and Radiator Springs Racers attraction in Cars Land.
45 – The steepest degree of banking on the track of the thrilling Radiator Springs Racers attraction in Cars Land.
36,000 – Approximate number of miles per year each Radiator Springs Racers vehicle will travel, equivalent to more than 14 trips down the original Route 66.
6,714 – Air vents keeping the tires flying at Luigi's Flying Tires attraction in Cars Land.
7 – Songs sung by Mater at Mater's Junkyard Jamboree attraction in Cars Land.
525 – Approximate length, in feet, of the Route 66 that runs through Cars Land.
70 – Species of native plants in Cars Land (450+ specimens of trees and cactus).
16 – Neon signs in Cars Land, with the Flo's V8 Café sign standing tallest at 27 feet.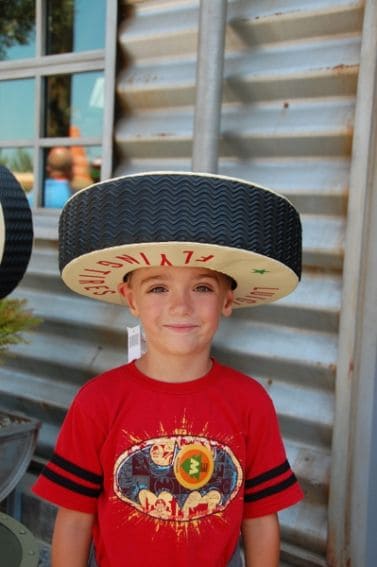 Buena Vista Street Info & Restaurants | Cars Land Rides & Restaurants |Best Family Rides | FastPass | Rider Swap
Disclosure: The author attended the media premier of Disney California Adventure and received complimentary passes to the park for herself and her family. The party was great but all opinions her own.
---
Travel with kids to: CA |CO | DC| FL | HI | IL |MA | NC | NJ | NY | OR| PA| TN | TX | UT | VA | WA