A Family Road Trip To Carlsbad Caverns National Park and Guadalupe Mountains National Park
For as long as I can remember, my mother has told me stories of her childhood road trips back and forth from Los Angeles to Chicago in a cramped car with no air conditioning in the 1950s. Some of her most vivid memories are from Carlsbad Caverns where her family hiked down into the cave on "a steep, slippery trail" to the "freezing caves" before taking the elevator back to the surface. Not surprisingly, I didn't have the privilege of visiting these vast caverns as a child — my parents would take us to Yosemite, Yellowstone, and Glacier, but not chilly Carlsbad Caverns out in the middle of the sizzling hot desert.
Fast-forward another generation: my military kids have friends that moved away from our current home base in Washington DC to Los Alamos, New Mexico and El Paso,Texas. For this mom, a seasoned traveler, that's the perfect motivation to plan a road trip to Carlsbad Caverns and the nearby Guadalupe Mountains. Altogether my family, including my mother, spent a day and a half exploring the vast caverns in the far southeast corner of New Mexico and hiking the rocky, wilderness trails of the mountains just 45 minutes away in Texas. (And, yes, my kids got a day to spend with their friends in both Los Alamos and El Paso.)

Carlsbad Caverns: Deserving of Every American Bucket List
Carlsbad Caverns National Park is actually a collection of over 120 caverns in the southeastern corner of New Mexico; however, it's the Big Room that most of the park's nearly half million visitors come out to the desert to experience. While the name is a bit ordinary, the Big Room is actually quite extraordinary — it is the largest, readily accessible cave chamber in America, making it roughly the size of six or seven football fields. And, yes, as you would expect, it is full of intricate cave formations. Not only is the Big Room huge, it's deep under the surface of the earth; the Natural Entrance Trail ultimately leading down into the Big Room takes visitors about 750 feet down into the ground on a steep 1.25 mile trail. That's about 70 stories deep; the elevator ride back up will takes just about 60 seconds!
While my family has toured many interesting caves from Luray Caverns in Virginia to a few caves in California's Gold Country, none of these experiences begin to compare to our experience at Carlsbad Caverns.
What Can Your Family See and Do at Carlsbad Caverns? 
Unless you happen to live in El Paso, Carlsbad Caverns National Park is not an easy destination to reach. Even the town of Carlsbad, New Mexico, where the nearest restaurants are located, is at least thirty minutes' drive from the caverns. Simply put, Carlsbad Caverns is in the middle of nowhere. So, as I planned our visit, I kept in mind the fact that our family's visit to the caverns was likely a "once in a lifetime" sort of trip. I did not want to leave the area feeling as if we missed out on something important.
A Self-Guided Tour of the Big Room (allow 1 – 2 hours)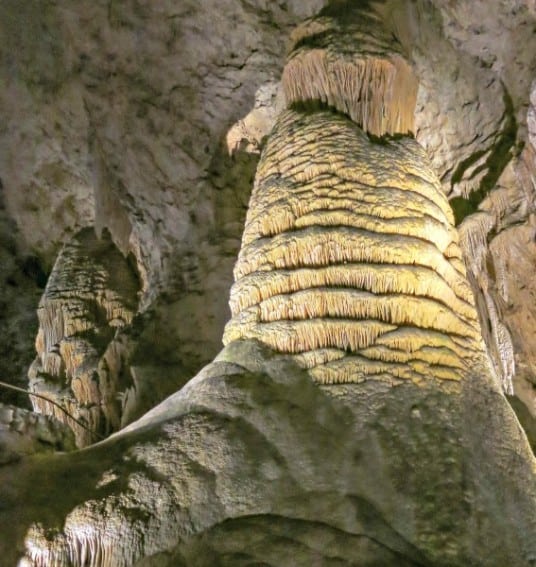 From what I saw, most visitors to the caverns simply purchase their tickets, take the elevator down into the caverns, walk the 1.25 mile Big Room Loop Trail that can be shortened to less than a mile by a well-placed shortcut, and take the elevator back to the surface. This quick and easy self-guided cave experience can be completed in 90 minutes from start to finish. Only a couple hundred feet beyond the elevators the caverns open up, and it is possible to marvel at the enormity of the Big Room – arguably the most impressive room of the caverns based on it's sheer size alone. Yes, it is possible to make a quick stop to see Carlsbad Caverns and check it off your bucket-list. (But, you'd be missing out on so much.)
Walk into the Caverns via the Natural Entrance (allow 1-1.5 hours)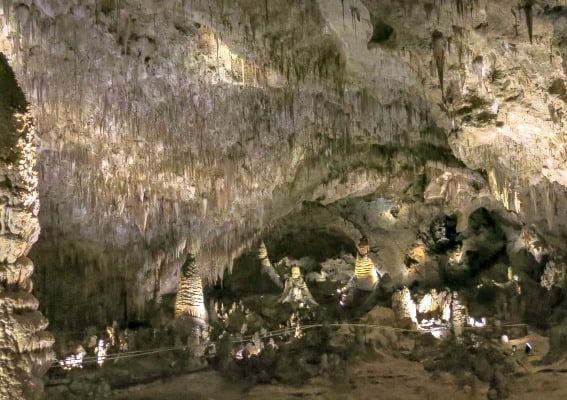 Walking down into the caverns is one of the most unique parts of an experience at Carlsbad Caverns. Caves all over the United States have stalagmites, stalactites, reflective cave pools, and just about every other feature that Carlsbad Caverns boasts. However, most of the caves are not nearly as deep as Carlsbad Caverns. Standing up near the surface and seeing the trail wind down into the earth deeper and deeper is truly unique; I've been in over a dozen caves across the United States and never seen anything like it.
The hike down is in fact as steep and slippery as my mom remembered. Little kids can likely handle the trek – especially if they have sturdy shoes and are dressed appropriately for the 56 degree temperatures. However, my 7- and 8-year-old complained just a bit of being scared as we descended into the dark caverns; this fright was alleviated slightly when we reminded them of how they had already been in the caverns the previous day. If you think that your children might have some fears, I recommend taking the elevator on your first trip down into the cave — it is more familiar and less scary. Then on a subsequent trip try walking in the natural entrance.
Reserve a Ranger-Led Tour of the King's Palace (plan on spending at least 2.5 – 3 hours at the caverns)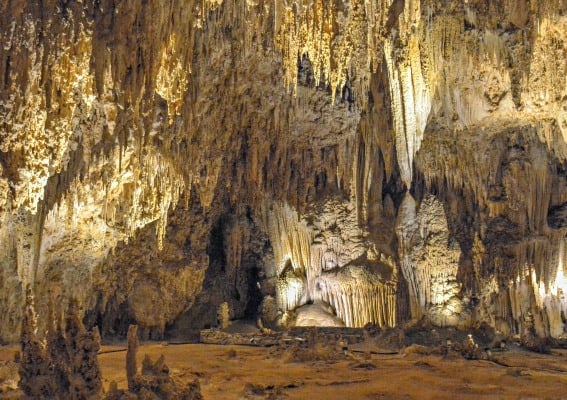 The King's Palace is truly Carlsbad Caverns at its very best, and it can only be viewed on a 90-minute tour (ours stretched to almost two hours.) The ranger who was our tour guide was animated and extremely knowledgeable, though a tad long-winded for my children. It is logical that many of the rangers at Carlsbad Caverns are extremely passionate about exploring caves and have a lot to say about their own experiences; these are the types of rangers that lead tours. During our tour, our guide told many stories about "Jimmy" the man who found and originally explored Carlsbad Caverns. For those scared of the dark: yes, they do turn out the lights on this tour.
I remembered about a week or two before our Spring Break visit to reserve tickets for the Kings Palace Tour. I was lucky and snagged four of the last eight tickets for the 50 person tour. I recommend reserving tickets as soon as they become available for your travel dates. There are other, more strenuous tours offered for families with older children and teens.
Complete a Junior Ranger Booklet (allow 45 minutes to 1 hour)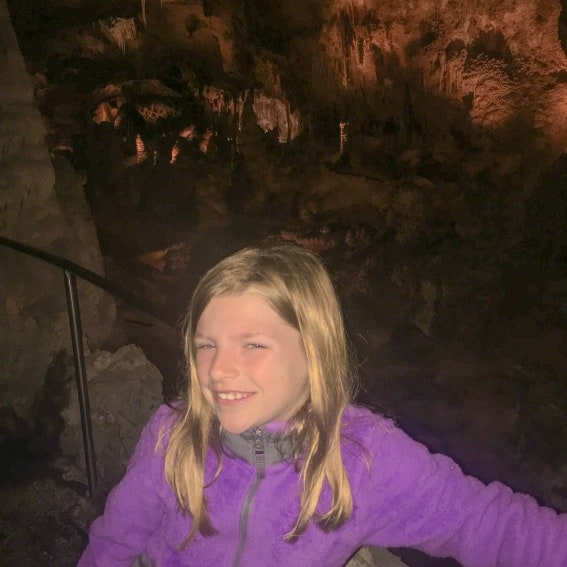 As is now our habit, my kids completed their Junior Ranger booklets at Carlsbad Caverns and were sworn in as Junior Rangers. My daughter also completed the Cave Explorer booklet. Hiking though the natural entrance, taking a ranger-led tour, and walking around the Big Room count toward the number of activities required for the booklet.
Attend the Evening Bat Flight
Officially the bat flight program begins for the summer months in mid-May; however, I heard many rangers encouraging interested visitors to come back at sundown as some Mexican free-tail bats do exit the caverns in the spring months. We did not make time to see the bat flight; if I had known ahead of time that it was an option during the spring, we may have tried to see it – supposedly, it's a highlight of many a visit to Carlsbad Caverns.
A Visit to Both Carlsbad Caverns and Guadalupe Mountains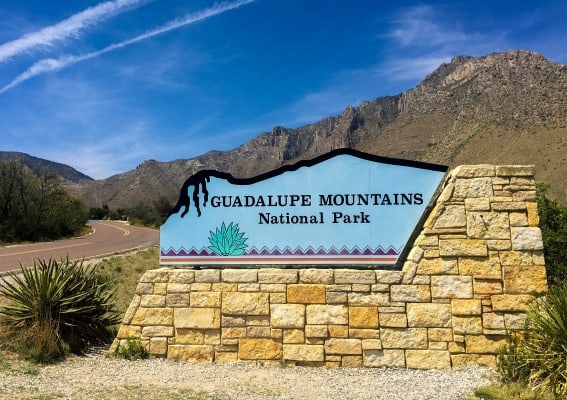 While our original plan was to spend one day visiting the caverns and the next day driving to El Paso with a stop at Guadalupe Mountains National Park, impending weather caused us to reconsider our itinerary and head off Guadalupe Mountains after our King's Palace Tour on the day that we intended to spend at the caverns. Ultimately, this was a great decision for a few reasons. First, after two to three hours down in the caverns we were cold, no longer appreciating the formations and in serious need of a break. Also, due to the fact that the the visitor center at Carlsbad Caverns and Guadalupe Mountains are only about an hour's drive apart, we had enough time to hike the Devil's Hall Trail in the afternoon at Guadalupe Mountains following our morning King's Palace Tour so we were able to visit both parks as planned despite the weather.
Guadalupe Mountains National Park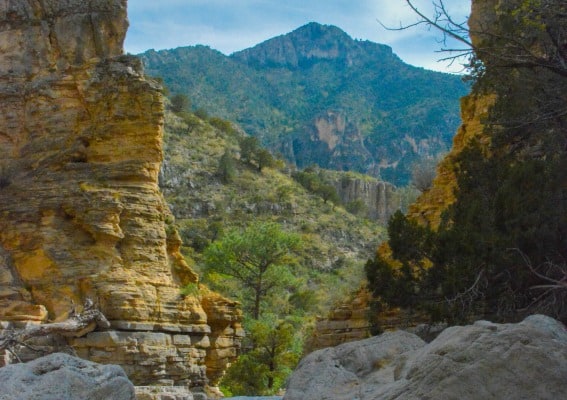 While Guadalupe Mountains National Park is only about an hour's drive from Carlsbad Caverns, it receives less than half the amount of annual visitors as the caverns and much of the park is designated as a protected wilderness area. The park is most notable for being home to Guadalupe Peak, which at 8,749 feet is the highest peak in the state of Texas. Due to its high elevation, the most popular season for park visitors is the fall due to the impressive display of fall foliage.
Pine Springs Visitor Center
The visitor center at Guadalupe Mountains National Park is visible from the highway that connects Carlsbad and El Paso. It is a great place to stop to stock up on water, speak to a ranger about various hikes, pick up a Junior Ranger booklet, and to learn about the animals found at the park in the small well-maintained exhibit area.
Hiking – The 4.2 Mile Devil's Hall Trail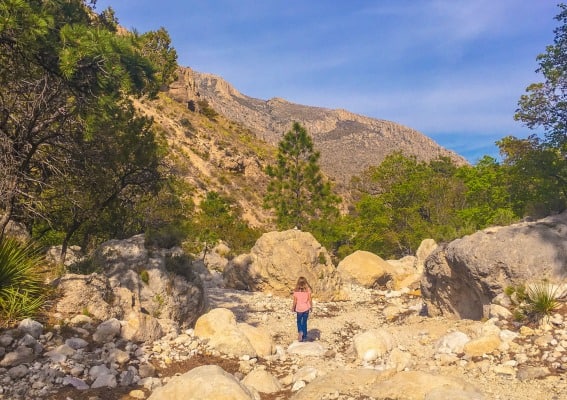 Many of the hiking trails in Guadalupe Mountains National Park are more suited for multiple day backcountry wilderness adventures than families driving through the area prepared only for a day hike. The 8.4 mile Guadalupe Peak Trail is a popular hike for outdoor enthusiasts, but with a 3,000 foot elevation gain it is likely too strenuous for most families.
For our 3-4 hour afternoon hike the ranger at the Pine Springs Visitor Center recommended hiking either the McKittrick Canyon Trail (as far as we desired – because we weren't likely to make it 3.4 miles in to reach the Grotto) or the popular, 4.2 mile in and out, Devil's Hall Trail. We chose the Devi's Hall Trail.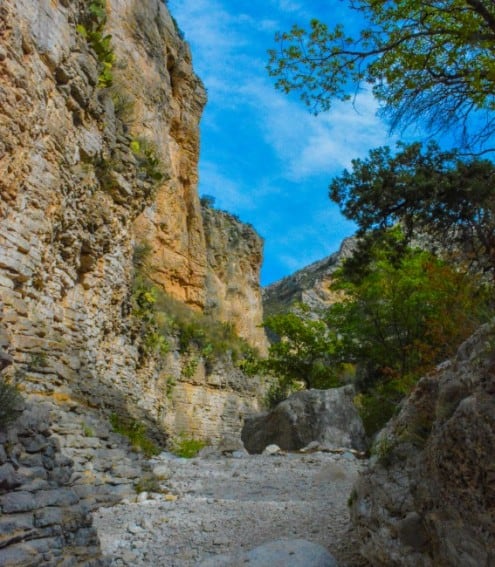 The Devil's Hall Trail has relatively little elevation gain. However, it isn't an easy hike because the well-marked dirt trail turns into a rocky dry creek wash about 1-1.5 miles into the hike. The hike through the dry creek bed is quite rocky, and at several points we wondered if we might have lost the trail. In the last half mile, the trail turns in towards the canyon and soon hikers begin to see the scenic rock formations that look like stairs ascending the canyon. It is a rewarding hike and the mountains rising up out of the canyon were especially green and beautiful in the spring. My 7-year-old completed the hike and we saw at least one or two hikers younger than him along the way.
Where to Eat and Stay when Visiting the Parks
I highly recommend stocking up on food and any necessities before leaving Carlsbad, El Paso, or any other city that you pass through on your way to Carlsbad Caverns and Guadalupe Mountains. The very few dining choices in these areas are limited to the cafe in the Carlsbad Caverns visitor center and a collection of seasonal stores and restaurants in White's City where the road from the highway to the caverns visitor center begins. There's nothing except water at Guadalupe Mountains — just in case you need another reminder that you are actually in an designated wilderness area.
We stayed at the Rodeway Inn in White's City. It has a pool and a "water park" — but the water features are seasonal and were not operational during our mid-April stay. Still, the convenience of this motel's location is undeniable. Of course, there are campgrounds available in the area for both tents and RVs as well.
Want to Know All the Stops We Made on our Two Week Trip? Check out our Itinerary: Road Trip America's Southwest National Parks: Arizona, New Mexico and Texas 
Know Before You Go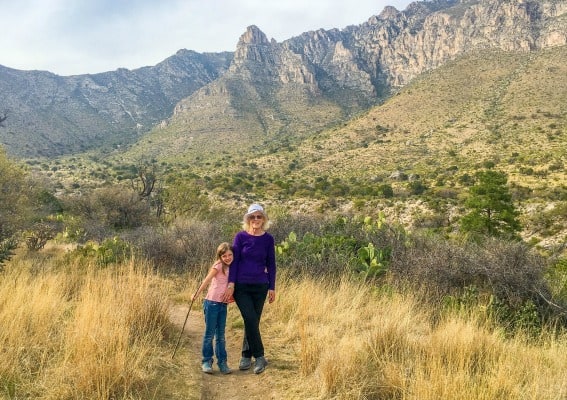 Carlsbad Caverns are a cool 56 degrees year round.
No baby strollers are allowed inside Carlsbad Caverns.
Only water is allowed inside Carlsbad Caverns – no food or other drinks. A park ranger will remind you of this as your enter.
Electronics are strictly prohibited during the evening bat flight at the Natural Entrance of Carlsbad Caverns.
As far as caverns go, Carlsbad Caverns is quite dark. (Probably because the rooms are so large and difficult to light.) Taking photographs is difficult due to lighting. If you're a serious photographer, come prepared with a tripod. If you're not a serious photographer, don't spend too much time taking snapshots — just enjoy. (My iPhone pictures inside the caverns are mediocre at best.)
There are very few places to find food in this region. Stock up in a town or city before you arrive. There is a cafe at Carlsbad Caverns; we ate there twice for lunch. It is certainly the easiest option – but the food is just OK.
Reserve cavern tours ahead of time on the park's website especially in the fall, winter and spring when the schedule is more limited. Plan to arrive plenty early for your tour; we were told that we had to be on the elevator at least 15 minutes prior to our tour time. Tours leave promptly.
If you plan on hiking outdoors at Carlsbad Caverns National Park or Guadalupe Mountains National Park, check the weather for excessive heat and/or thunderstorms as your visit approaches and adjust your plans accordingly.
Bring lots of water if you plan to hike outdoors.
All Photos by Melissa Moore unless otherwise credited.