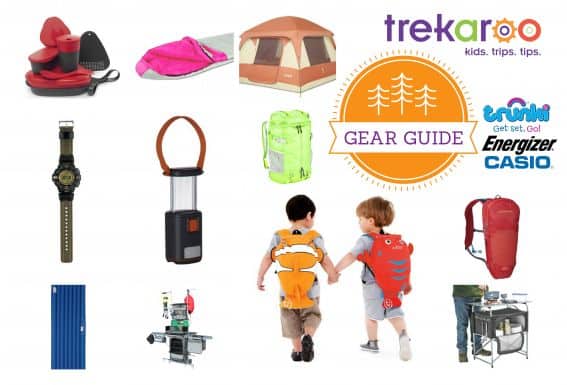 Once upon a time my husband and I were the kind of campers who could throw a couple sleeping bags in the back of our truck and just go. There was no worry about campsite reservations or tents, just a desire to get out into the great outdoors and rough it. Then, in 2006, I gave birth to two adorable, but demanding infants and my desire to hit the road unprepared flew right out the window. Camping in the dirt with that "let's wing it" attitude was the furthest thing from my mind and for a few years, I put those campground days behind me.
Luckily, when my kids hit age five I remembered something extremely important: kids love dirt. And rocks. And trees. And taking them on day hikes or sleeping in a cabin was not giving them the true outdoors experience that I loved so much. We decided that camping was something that we could do and should do with our children, but that comfort, convenience, and practicality needed to become important parts of the experience. With a little trial and error, the Trekaroo team has come across some great products which have made our lives much easier while camping with kids. We hope that our car camping gear guide encourages you to get out  there and camp with your kids as well.
Car Camping Gear Guide 2017
Eureka Cook Table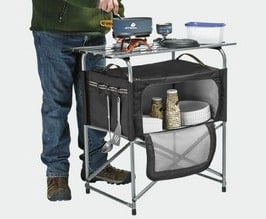 Chances are, your campsite will have a picnic table included, but do you really want to devote half of it to cooking space? On our last camping trip before we got a Eureka Cook Table, I had to store all our cooking utensils, plates, and cups in a plastic bin below the table, and spent way too much time digging around for what I needed. With the Cook Table, utensils and tools fit in the enclosed organizational compartment, and cook stoves fit on top. The whole thing packs up easily in its own carrying case, too. An unexpected perk: the 32 inch height of the table means no more bending over a table waiting for water to boil! – Amy Whitley
Platypus Tokul hydration packs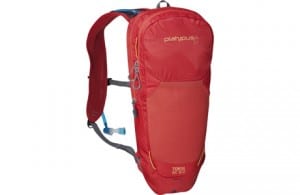 When we camp, everyone uses a hydration pack. When we backpack, we always use a filtration system. It's just easier to use one brand that offers interchangeable options. Our pick is Platypus:the Tokul hydration pack is the perfect size for older kids and teens, and the GravityWorks filtration system uses the same valves and tubes. Platypus reservoirs work like a huge ziplock baggie: they're easy to fill and they don't leak. The Tokul includes just enough room for a snack or stashing a jacket or hat. -Amy Whitley
Light My Fire meal kits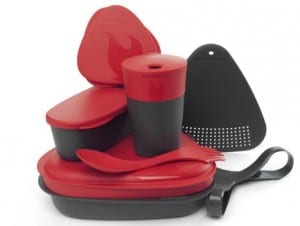 Every kid needs his or her own camping meal kit. Why? So kids can do their own dishes, of course! Light My Fire meal kits are lightweight, sturdy, and easy to clean, plus they come in fun colors. And doesn't camping food taste better on bright blue and red plates? The meal kit comes with a spork, collapsible cup, dish, and bowl, all with lids. And they even float! – Amy Whitley
Casio PRO TREK PRG270B-3 watch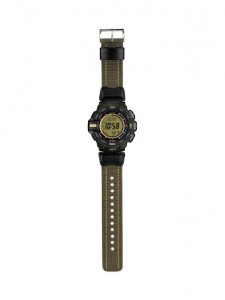 What a fun watch for a camping trip! Worn by Mom or Dad, the Casio Pro Trek puts every bit of information you could possibly want while on a backcountry hike or backpacking trip on your wrist, along with fun info for in camp. For instance, we took the Trek on a desert camping trip to Joshua Tree National Park, and used the watch as a compass, an indicator of altitude at any given moment, and to gauge the exact temperature. The Trek can go anywhere: it's water-resistant to 100 meters, and the large buttons on the nylon fabric on the wristband is made of durable CORDURA…the same material used in professional outdoor gear. You can even determine the sunrise and sunset to the minute! Oh yeah, and it tells the time, too. It sells for $200, which you might pay for a designer watch, anyway. Might as well get one your kids will think is cool! -Amy Whitley
Read our full review of the Casio Pro Trek watch
Eureka Copper Canyon Tent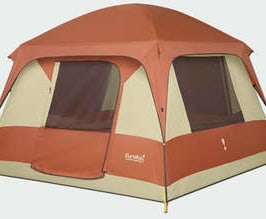 I have owned a few tents in my day. This one is most definitely my favorite. The tent is very easy to set up and comes with very clear directions. It is well ventilated with large windows and a quality rain guard; it poured on us the first time we used this tent and  there wasn't a drop of water inside! This tent is ideal for tall people and feels a bit like the love child of a tent and an "easy up" because even my 6'5″ husband can stand up inside of it with ease! The high vertical walls are ideal for those of us who like to put cots inside of our tents. We also love that there are high stash pockets for keeping things like car keys safe, the zippered E!Power Port which allows you to bring a power cord inside the tent if you are near an electrical hookup, the hook at the center of the tent which is ideal for holding a lantern, and the fact that we can actually get the tent and poles back inside the carrying case without a major headache. The tent is available in a variety of sizes (4-12 people) and we have found the six person size to be ideal for our family of four.  – Sharlene Earnshaw
For a solar ready tent option complete with LED lights and Big Agnes' attention to detail, check out our Travel Expert's review of the Big Agnes Red Canyon 4 mtnGLO with Goal Zero Tent kit. 
Trunki Paddlepak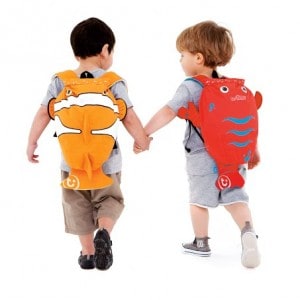 Trunki Paddlepak is a great backpack for the little camper in your life. Designed specifically for small children, it weighs next to nothing and is equipped with wide cushioned shoulder straps. It's waterproof, light weight, machine washable, cute as a button, and loaded with practical features such as reflector strips, sunglass holder, and hanging hook. With nine endearing marine characters to choose from, you'll be the talk of the aquatic center and the star of the slumber party. Whether on a family hike, boating on the lake, or transporting toys, Trunki PaddlePak fits the bill. -Tina Buell
Read our full review of the Trunki Paddlepak
GoSun Sport Solar Stove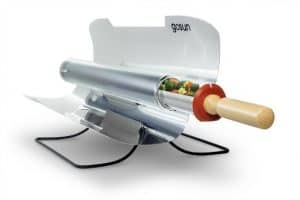 Harness the power of the sun (and cook when it's cloudy or at night) with this efficient solar stove. The GoSun Sport Solar Stove makes a meal for 1-2 people in mere hours with no gas, grills, or accessories needed. – Amanda Williams
Eureka Cypress and Azalea Junior Sleeping Bags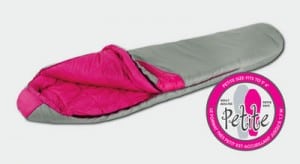 I am completely in love with our Eureka sleeping bags. My kids have these super cozy junior sleeping bags which are designed for people under 5'6″ and a great bargain at just $59.99. These mummy-style bags kept my children warm as we slept during the cold mountain nights (rated for temperatures as cool as 15º F which is more cold than I am willing to endure camping). Their carry weight is just 3lb7oz and they do fit back into their stuff sacks without a big fight. – Sharlene Earnshaw
Enlightened Equipment Quilts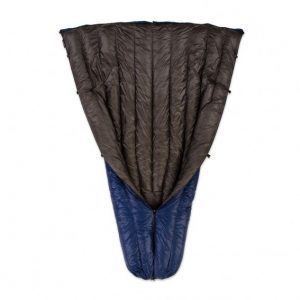 These quilts are not full bags, but they rock for kids. Enlightened Equipment quilts have the down goodness without the restrictive, human burrito feel of a mummy bag. They make temperature control easy. – Amanda Williams
Energizer® LED Pop Up Lantern with Light Fusion Technology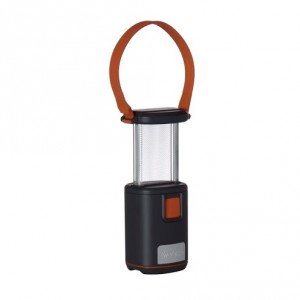 For portable light that packs a big punch and is just large enough that you don't lose it in your tent (hello, headlamps, where are you?), Energizer's Pop Up Lantern is a great camping companion. In fact, my kids have had it in the tent in the backyard during the last few spring nights. The lantern is almost small enough to fit in your fist, has a great rubber handle, and pops open to reveal a bright light panel for 360 degree light. You get up to 100 hours of run time with four AA batteries, and it offers 150 lumens. Best of all, the lantern turns off automatically when popped down, and won't turn on when in the down position. This way, you don't accidentally run down your batteries if the button is pushed while packed in the car, en route to camp, or while unattended. Kids can easily carry it to the bathroom during camping trips, and it sets up nicely for a board game or cards around the fire. –Amy Whitley
Energizer® Folding Lantern with Light Fusion Technology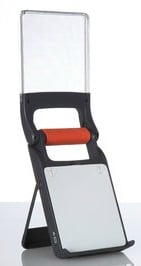 For families who like to think outside the box, Energizer's Folding Lantern sports a design we've never seen before. This 300 lumen light panel can be opened and set up anywhere (propped up in a triangle shape) or set on any surface while closed. Either way, the light is on if you've pushed the button. Like the Pop Up Lantern, it offers 100 hours of run time, and give 360 degree illumination. It's also water-resistant. We tried it around a picnic table outside at night, and it proved itself bright enough for a whole family to see by. Set it up for bright light when working on any project, or prop it in the tent for better light than with a single lantern. -Amy Whitley
Kelty Recluse 3.0i sleep pad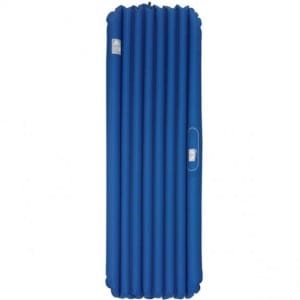 I had a hard time sleeping on an air mattress while camping and had started to dread those nights of tossing and turning followed by a day dominated by a sore back. I decided to give the Kelty Recluse 3.0i sleep pad ($134.95) a try, and I am completely thrilled to say I slept like a baby the entire time! The pad is 3-inches thick and features an integrated hand pump which allows you to blow up the mattress without batteries or electricity.  It is lightweight, packs easily into a small bag, and holds its air all night long. The pad is insulated to protect you from the cold ground is SO MUCH MORE COMFORTABLE than sleeping on an air mattress. I am an official convert. – Sharlene Earnshaw
Eagle Creek 2-in1 Backpack/Duffel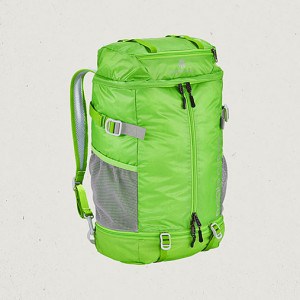 I should really be a paid spokesperson for Eagle Creek. My Eagle Creek suitcase is my favorite piece of luggage (and I have a couple of pieces of well-known luxury brand luggage), their pack-it system is fantastic (their ultra lightweight Specter set is ideal for camping), and now I am raving about this great little backpack/duffel they have put out which is terrific for camping. I found this super lightweight duffel to be the right size for packing clothes for a long-weekend camping trip. Plus, since I had everything in the pack-it system cubes, I could simply take the cubes out of the bag and have the kids use it as a backpack for our hikes. Don't you just love killing two birds with one stone? I am also planning on packing the compressible duffel/backpack in my suitcase on my upcoming trip to Italy so I can use it as a carry-on on the way home for anything we might purchase while on vacation. I am sure I will come up with many more uses as time goes on. – Sharlene Earnshaw
GrubHub Mesa1 Camp Kitchen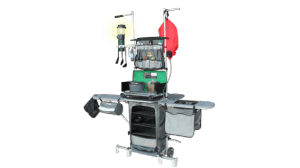 This single piece of equipment can revolutionize your camping experience by making cooking convenient and efficient! The GrubHub Mesa1 Camp Kitchen allows you to keep all of your picnic table space because this baby stores all of your utensils, towels, the stove, the paper towels, and yes, EVEN the kitchen sink! Not only is it a fully self-sufficient kitchen once you've stocked it with all of your favorite items, but it also eliminates the hassle of having to bother with three different totes of haphazardly stowed cooking stuff (speaking from experience). It packs up into a pretty convenient cube for extreme packability. It's fully customizable too — I'm willing to bet no two Mesa 1 set-ups are the same! It's an investment a diehard camping family would be wise to make! A suitcase kitchen for camping? Yes please! – Amanda Williams
The Scrubba Wash Bag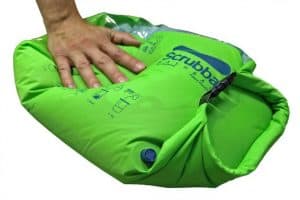 A wash bag which allows families to remedy the juice spills or red dirt hiking mishaps on favorite clothing items immediately with a little soap and water. This ultra portable washing device makes camping (even from the car) a little cleaner! –Amanda Williams
The Lazee Move 3-in1 cart, chair, table
Slackline Industries
One of the best activities to pack into the car before you hit the road – slacklining challenges kids and adults alike while getting them up and outdoors and on the move. Make things more interesting by besting one another and wagering the camp cooking duties or cleanup chores for least time on the line. You'll have half the campground in your site when word gets out that you've brought a slack line! – Amanda Williams 
Rumpl Puff Blanket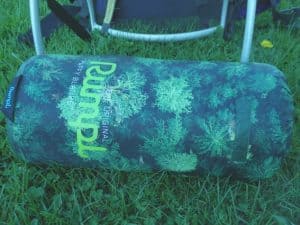 Highly portable and great for nights under the stars, Rumpl offers down and synthetic options to snuggle up in. The blankets are eco-friendly and make a good choice for summer getaways, just in case the weather goes south unexpectedly. – Amanda Williams
SharkLens Snorkel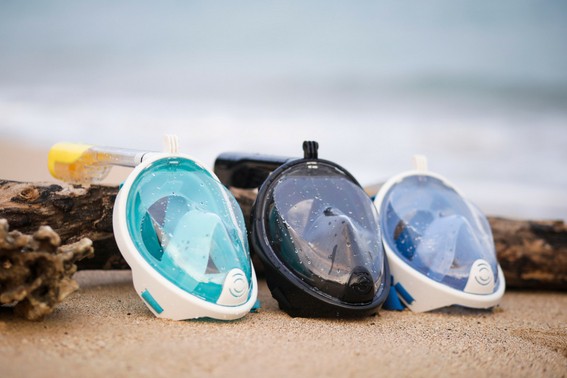 Full-face snorkel mask which opens up underwater adventure for apprehensive kids. Less time wasted explaining and coaching about nose breathing and defogging masks and more time looking for fishes and other creatures of the deep. Read all about how Sharklens can help your family explore underwater. – Amanda Williams 
BUFF Multifunctional Headwear
Each one of my kids has one – even my daughter. The BUFFs work as neck gators for the sun, neck and mouth warmers for the cold (like a balaclava), hats for the sun, hair pull backs for anytime, and just are generally cool. They are light weight and can be moved around in so many different ways. – Michelle McCoy

Comments
comments