Those who live by the sea can hardly form a single thought of which the sea would not be part." – Hermann Broch
Visiting a place that has been talked about not only for its beauty, but for its laid back attitude and family-friendly nature, is always up my alley for two reasons. One, I'm curious by nature so I want to know why it's so popular with vacationers, and two, I always wonder what keeps its natives from moving away.
Back to nature. That was my goal for my daughter and myself on our recent trip to The Crystal Coast in North Carolina. I wanted a respite from the hustle and bustle of our daily lives. I needed to feel the sand under my feet and the salty air on my face. I desired the peace and quiet that only the ocean can provide to me. For those of us that have been bitten by the sea bug, you know that it's like a magnet. When you're there, you want to spend every moment beside it and when you're away, you long to return to one of nature's most beautiful features.
Did I get what I wanted? You betcha. And I fell in love with a new place, one grain of sand and a sunrise at a time. My daughter and I spent time walking along the shore, watching the sun rise and set, and, of course, discovering what makes the area a fine vacation destination for families – its dining and activities.
The Crystal Coast comprises an 85-mile stretch of beach on North Carolina's Outer Banks. The area was given the title compliments of the beautiful water and soft, sandy beaches. What makes this area rare is that the beaches face a southerly direction instead of east, giving an uncommon and stunning view from the North Carolina shore. The ocean is the common thread for the cities that comprise The Crystal Coast and, even though each one might feel just a little different from the rest, it's that feel of maritime that we loved in each one that we visited.
What makes The Crystal Coast a top notch vacation destination for my family? Read on.
Gorgeous Ocean Views Morning and Night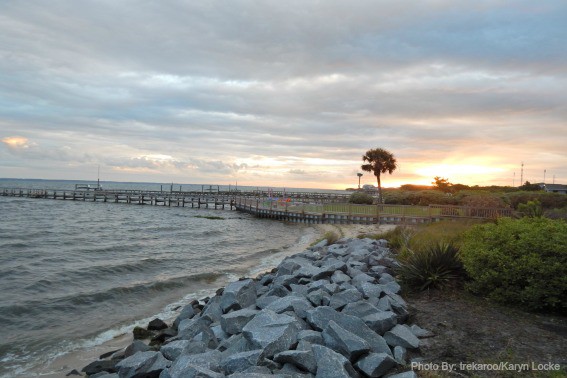 Waking up next to the ocean was like a dream during our stay in The Crystal Coast. Sure, there's plenty of hotels and resorts that would be absolutely lovely, but my pick for a family stay is going the beach house route. Our house was maybe 50 feet from the water -perfect for wrapping a sweater around my shoulders and walking out onto the patio for breathtaking sunrise photos. We had a private dock with benches where we could just sit and listen to the ocean sounds. Not only was the house large enough for a family of 10 (there were five bedrooms!), but its title, "Batten the Breeze" was perfect for its location. On our last night, my teen daughter and I stopped at the local grocery store and grabbed a few dinner items to make a meal. The kitchen had more gadgets than I have at my own house! Speaking of more, it had three bathrooms -perfect for larger families trying to get ready for the day all at once.
Surf and Turf -Crystal Coast Style!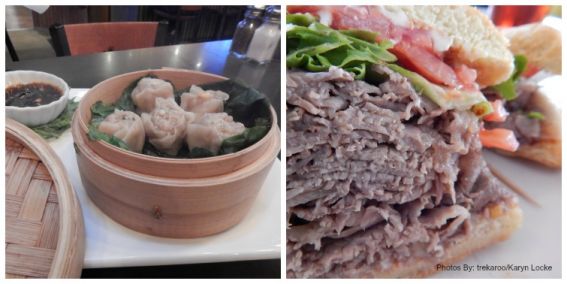 You know the fish and seafood is fresh when the shores are flanked with fishing poles! Just as expected, restaurants in and around The Crystal Coast go heavy on the seafood dishes, as well as meat lovers dishes, and do a great job of cooking it to perfection. Amos Mosquito's, a restaurant with a fun, bayou theme perfect for kids, offers fun dishes from dumplings to roasted s'mores, and even pumps in the sounds of the Deep South -in the bathroom! Beaufort's local fave, The Spouter Inn Restaurant and Bakery, is close enough to the water that curious dolphins come around daily to check out the diners. Want a fabulous sandwich stacked tall with thinly-sliced prime rib? Ask if the Queen Anne is on the menu when you visit.
Fun Boat and Bus Tours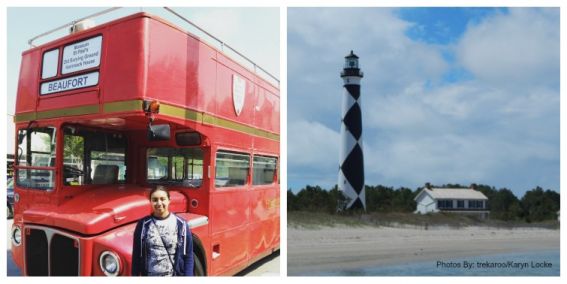 If you're looking for a town that has managed to stand the test of time and where it feels like time has stood still, put a visit to Historic Beaufort on the top of your travel list. Not only can you mosey around the city and drool over the pristine historic homes that are well over 150 years old, but you can hop on the Beaufort Historic District Double Decker Bus Tour and see the sights from the open air deck while learning about the town's rich history.
If the kids love visiting lighthouses, a round trip on the Island Express Ferry will take you safely from the mainland to Cape Lookout where The Crystal Coast's famous black and white lighthouse still stands tall. During the warmer summer months you can actually climb the 200 plus steps and check out the view of Shackleford Banks where wild horses from an Original Spanish lineage still run free.
Disclosure: I was hosted by the Crystal Coast CVB to give you fine folks the scoop on what makes it so amazing for families. I was not asked to state a particular point of view and all opinions are my own!