Two weeks ago, we arrived in Cape Cod to discover that understated charm The Cape is renown for. Miles of sandy beaches, family-friendly fun, cute boutique shops, and the freshest seafood fresh off the docks. But we also discovered that Cape Cod is one of the best places to hit the links with kids! Cape Cod offers first-class courses paired with a relaxed atmosphere…the ideal environment for golfing with the kids! We were delighted to find courses where kids felt just as welcomed as adults.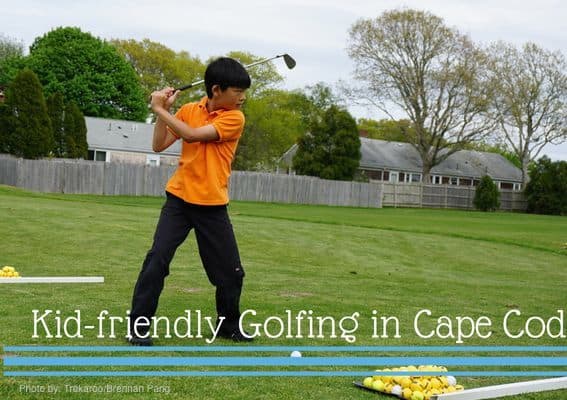 I asked PGA Pro at Blue Rock Golf Course, Patrick Fannon, what ingredients he thought make a golf course particularly kid-friendly. At the top of his list was a friendly welcoming staff. "I tell my staff that our mission is to see every family start and finish their game with a big smile," Fannon explained. He recommends that families look for are courses with lots of great junior golf programs as well as shorter courses that minimize walking for little feet. Par-3 courses that use obstacles and other landscaping features to add interest and challenge are perfect for golfing as a family. The smaller courses also give parents of tweens and teens the assurance that their kids can be safe golfing on their own.
Local dad, Ken Ferreira, whose 10-year-old son, Alex, has been on the Cape Cod Junior PGA for the past three years, loves the Junior League on Sundays at Blue Rock Golf Course. "They pair up the kids and make the game enjoyable and rewarding," says Ferreira, who also loves the parent and child days where he gets to enjoy a game of golf with his son. "Those are my favorite games because I get to see how much he's grown in his skills."
Best courses for kids on the Cape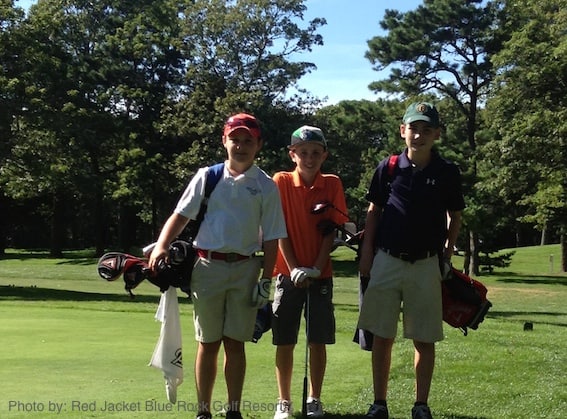 Red Jacket Blue Rock: One of Massachusetts' premiere par-3 courses, Blue Rock's friendly, down to earth course is a local favorite and great for all ages. Not only do they offer extensive junior golfing programs throughout the season, their friendly staff make kids feel right at home. Junior League on Sundays are a favorite because the pros keep it lighthearted and rewarding for kids to enjoy a game of golf with their peers. Also look out for the parent and child competition days. Juniors are welcome to play without adult supervision after noon. If you have a young one already interested in golf, the pros here will work with you to accommodate your budding golfer. Immaculate fairways and greens are dotted with four water features and undulating fairways and greens that add just the right amount of challenge to even the playing field between parents and kids. After a game of golf, kids love jumping into the pool. Full junior memberships are available for just $275 a year. Accommodations onsite are available at Red Jacket Blue Rock Golf Resort. Location: South Yarmouth
Ocean Edge Resort and Golf Club: This course offers family and junior-specific golf with their Junior Golf League and relaxed tee times (Leisure Time golf starts after 4 pm). Their Junior Sports Camp is for kids 6-15 years, and includes both golf and tennis time. Families can also opt for family lessons at Ocean Edge. Location: Brewster
Donnellan Golf: At Donnellan, the goal is to build the best junior golf on the Cape. Junior golf camps are scheduled weekly starting in mid-June, and start at age six. Families are welcome on the course at all times. Location: Hyannis
The Captain's Golf Course: The area's premiere public course facility includes two championship courses. They offer reduced cart and green fees, and their Starboard Course is ideal for players with higher handicaps (like most kids). Location: Brewster
The Golf Club at Yarmouthport (Kings Way): This premier course totals 4,000 yards and a par of 60 with stunning views of Cape Cod Bay and Denis Salt Marshes. It usually take under 4 hours to complete the course. This clubs particularly prides itself in having a friendly and welcoming atmosphere to all it's members including families with young golfers. Family memberships include the use of the swimming pools too. Public is welcome. Family series tournaments offer opportunities for parents and grandparents to compete alongside their kids and grandkids. Location: Yarmouthport
Chequessett Yacht and Country Club: The 9 hole course with two separate set of tees for an 18 hole game offers a great course of beginning golfers. Chequessett offers Juniors Programs and camps for children as young as four. Juniors are welcome to play after 12 noon. This club also offers a juniors tennis and sailing program for those interested. Location: Wellfleet
Hyannis Golf Club: The Hyannis Golf Club is centrally on Cape Cod in the town of Hyannis with easy access to Barnstable Airport and ferry access to Nantucket, Martha's Vineyard. This par 71, 18 hole course with 55 practice station is popular with families because it offers first tee and junior PGA programs. Junior membership is only $250/year ($20 daily green fees) Location: Hyannis
Other Courses in Cape Cod that also offer golf instruction with kids and various juniors programs:
Holly Ridge Golf Club, Sandwich
Paul Harney Golf Club, Falmouth
Ballymeade Country Club, Falmouth
Cape Cod Country Club, South Yarmouth
Organizations that teach golf to kids on the Cape
1. First Tee of Massachusetts: This golf program is dedicated to teaching all kids about the game of golf, including golf values and sportsmanship. It comes Trekaroo-parent approved! Trekaroo travel experts across the country have used this national junior golf program with their own kids.
2. Red Jacket Blue Rock Junior Golf School: The Blue Rock Junior Golf Academy is designed to provide professional instruction to junior golfers on Cape Cod. They want kids to have fun with the game, while offering programs such as 'Make the Team' for players who hope to make their school team at home, and a three-day Junior Golf School for guests.
Sponsored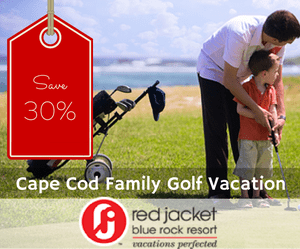 Book a Trekaroo-exclusive golf package! This Trekaroo Family Golf Package includes nightly accommodations, full American breakfast, lunch, and daily golf at Blue Rock Golf Course for four. A complimentary welcome gift from Blue Rock Pro Shop along with gratuity are also included. BONUS: Midweek guests staying a minimum of two nights Sunday through Thursday receive an additional round of golf free.
Book Trekaroo Golf Package
Offer code: TREKGP
Taxes are additional. This package offers up to a 30% savings. Please call Blue Rock Pro Shop for tee times at (508) 398-9295.
Tips for golfing with kids on vacation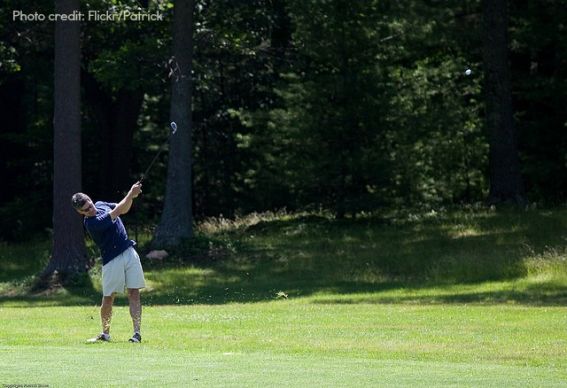 When golfing with kids on vacation, most parents are anxious about two things: 1. making sure the experience is fun for their kids, and 2. making sure not to take away from any more serious golfers out enjoying the links. Here's how we do both:
1. Start by calling the pro shop and talking to the golf pro at the resort. Explain you have kids who want to golf, and let the pro know their ability. Ask when the best tee time would be for their skill level. Ask if you can rent clubs at the pro shop (or where in the town or city rental clubs are available). It also helps to ask whether golfing nine holes is an option.
2. When you arrive, talk to the starter as well. A great starter will see your kids, ask you about their golf level, and help time your start accordingly. The best will give your family insight on which holes to skip with beginners, and what to do if the team behind you has to wait often. While on the course, we frequently skip holes: maybe we're not getting 'our money's worth,' but our kids are happier and we're calmer, because we know we're not deterring from anyone else's golf experience. We make golf fun by stopping when needed, letting older kids drive the cart if allowed, and pointing out wildlife along the way.
3. As an alternative, try a putting course. Our kids love putting courses! These nine or 18 hole 'mini' courses include rolls and sand traps just like the 'big' course, but since the driving distance is so much shorter, all you need are putters and chipping wedges. Kids can easily reach the green in one or two strokes, and then work on their short game. More and more golf courses are creating putting courses, so keep an eye out! Plus, they're usually only $10-15 to play, and tee times are not needed.
These golfing tips come from Amy Whitley: Read more golf tips with kids on Amy's blog, Pitstops for Kids.