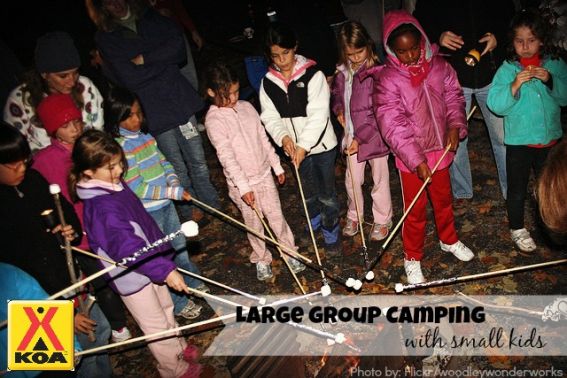 16 adults, 8 children under the age of 5, and a dog named Bosco embarked on a group camping adventure at the Watchman Campground in Zion National Park. We had one goal when envisioning the trip: get through it alive. What we quickly learned is that group camping with little ones is so fun and well worth the effort. By planning ahead, our trip went from an overwhelming prospect to a relaxing, enjoyable vacation.
Sponsor Spotlight – KOA, Kampgrounds of America: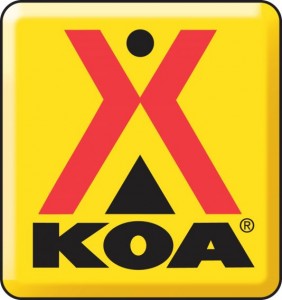 Kampgrounds of America (KOA) is perfect for large groups who may not all enjoy sleeping in a tent. With 485 locations across the U.S. and Canada featuring RV spaces, tent sites, and a large inventory of standard and fully loaded deluxe cabins equipped with bathrooms, kitchens, and the comforts of home, there's a spot for everyone.  KOA also offers a wide range of family fun amenities from pools to jumping pillows to climbing walls. Many locations feature themed weekend events during the summer. Large groups love playing together and leaving the organization and setup to the friendly KOA staff.
Find more information on their campgrounds and book a reservation at koa.com (or download their app for iPhone and Android phones).
10 camping stoves, but no propane—oh my!
Getting all of the necessary equipment to a campsite can be daunting. Add in trying to eliminate duplicate items, and group packing becomes quite a puzzle. We stumbled upon a lifesaver: Google Drive. With Google Drive, you can make a document, and allow it to be shared and edited by anyone you choose. Through Google Drive we made a list of all necessary, communal items. Then everyone logged in and put their names next to what they were able to bring. Our list also made it really easy to share gear. We had several families who were seasoned veterans with gear to share, and also a few newer campers who needed a few things. Families who had extra items noted what they had available for others. Those in need claimed the items. We had everything we needed, and nothing we didn't.
For ideas about what to bring check out Camping Packing List and Gear Recommendations for Families. 
Feeding the Masses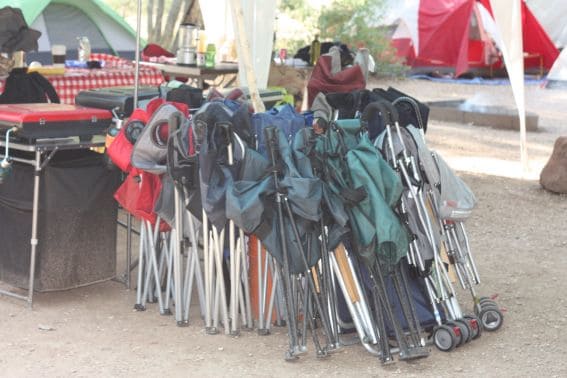 A centralized area for gear and meals
Camping meals tend to be stressors, but they don't have to be. We opted for each family to be responsible for their own breakfasts and lunches. This enabled families to be on their own timetable in the mornings with no pressure to cook elaborate meals. Dinners, however, we ate as a group. We divided up the meals with two families being responsible for each dinner on the trip. Whoever cooked the first night could enjoy dinners with no responsibility the following nights and vice versa. The meals were planned ahead of time so that we didn't end up eating spaghetti every night. We also put communal meal items like olive oil, salt, pepper, and coffee on our Google Drive list. Cleaning was another story. Please learn from our mistakes. We tried to have each person be responsible for his/her own clean up and it failed miserably. A sign up list with assigned cleaning duties was much more efficient.
Need ideas for family-friendly camping meals? We have them. 
Flexible Itinerary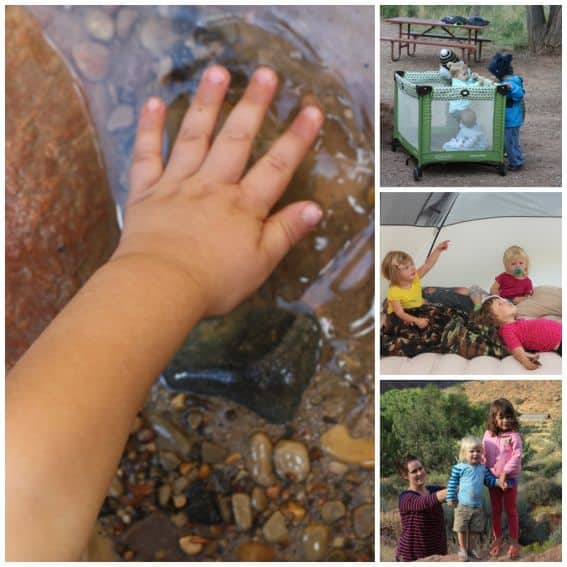 "Always be on the lookout for the presence of wonder."  E.B. White
As we know, children, do not always cooperate with parents' best laid plans. We scheduled hikes and activities each morning for the entire group. But if someone needed to stay back there was no pressure to go with the group. In addition, every child in our group needed an afternoon nap. In the afternoons, half of the group stayed back to supervise nap time while the other half went adventuring sans children. And like dinner time, whoever supervised naps the first afternoon, knew that they were free the next afternoon.
Check out this video of camping activities and inspiration brought to you by KOA:

Outdoor Preschool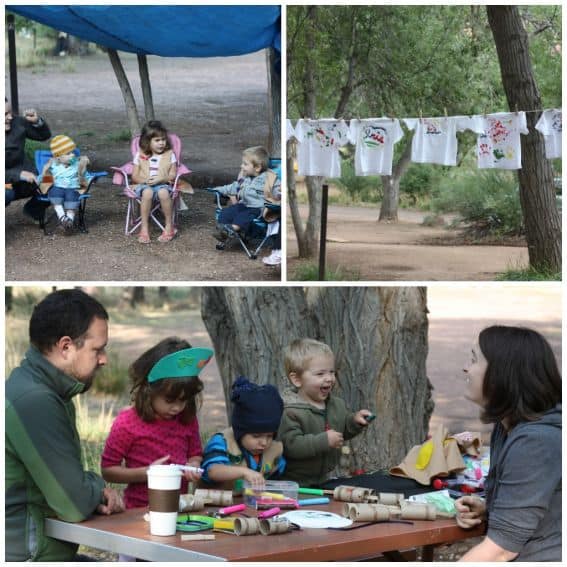 Making Binoculars, Singing Songs, and Drying Camp Shirts
I'm lucky to have a creative friend who created a preschool program for the trip. She organized camp games, art projects, songs and activities to keep the little ones occupied and out of trouble after breakfast each morning. All of the kids loved participating, and we came home with a whole host of fun souvenirs. Sometimes it is easy as an adult to get caught up in the details, and forget to bask in our kids' wonder. Luckily, planning a program just takes a little fore-thought. Blank paper can be used for journaling, drawing, flower printing, and paper airplanes. Toilet paper rolls become binoculars. Re-name "Simon Says" to "Ranger ____ Says" and suddenly you've created a way to get out the wiggles and contain the kids.
Can I Really Do This?  Yes, it has become a yearly tradition.  This fall you can find us at Hurkey Creek– all 18 adults, 12 children under 6, and a dog named Bosco.