Do you ever feel like every playground you see is just like the one before it?  I sometimes wonder if they are all built by the same company, or if everyone just uses the same design.   It's as if there is a standard recipe to create a playground.  Add one main structure, sprinkle in a slide or two; make sure to add a pinch of climbing apparatus, and maybe a dash of monkey bars.  Swings should be off to the side, and choose either sand, wood chips or rubber mat for the flooring.  Voila! You've got yourself one perfectly good cookie-cutter playground.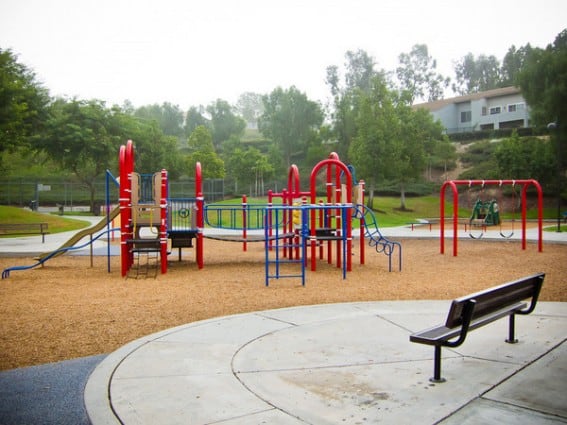 My kids and I love to go playground hunting.  When we arrive at a new playground and get out of the car we all race each other towards the playground.  I've come to call this the "playground rush", and if you watch carefully, most kids do the playground rush when they arrive.  I like to think this is the result of that youthful energy that has been bottled up for too long  however after a few minutes of fervor, this wonderful energy sometimes fizzles.
In the movie Big, Tom Hanks plays a child that magically grows up and there is one scene where he is in an executive meeting to review the toy designs to be sold the next holiday season.  He's playing with the transforming Empire State Building while every executive in the room analyzes and nods with their approval of the presentation and statistics.  His 13 year old character, trapped in an adult body has the gall to raise his hand and ask "What's the point?"  Do you ever feel that way about a playground?  My children have said "What's the point?" a few times when they lost interest in a playground. It may have all the right pieces, but it does not inspire.  Then one day we discovered the Atlantis Play Center in Garden Grove, California.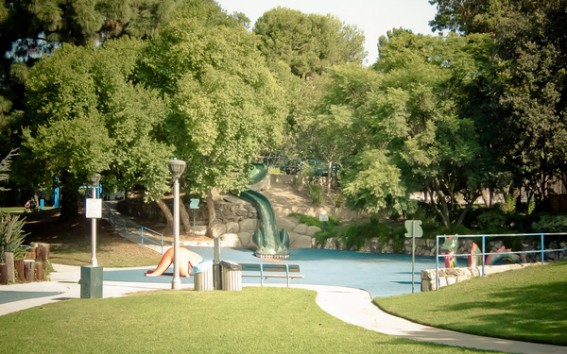 The Atlantis Play Center was designed with an underwater theme and has whimsical features including  artistic playground pieces that were made to look like sea creatures.  Everywhere you go in the park you are discovering these wonderful structures, and my children were drawn to each one.  We've spent many hours here, and visit it quite frequently.  Now this is what playgrounds should be like!   Not only were the play structures fun and fanciful, but they were also beautiful to look at.  They had this magical feel to them with wonderful pastel colors.
Read reviews of the Atlantis Play Center on Trekaroo.
I was so intrigued by the playground structures that I researched them and found out they were designed on commission by a Mexican artist Benjamin Dominguez in 1963.  Apparently Benjamin Dominquez designed a number of play structures throughout Southern California, so my children and I decided to head out and see them for ourselves.
"Benjamin blended the artistic medium of his Mexican heritage and vision of children's active play space of the 1950's United States.  The uniqueness of his designs and unusual shapes that provide adventure in climbing for fun brought him acclaim". –Friends of La Laguna
We first landed at the Whittier Narrows Recreation Area, and after only a few minutes of exploring we found the first distinct sea serpent play structure.  It was clearly the same style, but it was unfortunately in need of an updated coat of paint.  We explored the rest of the afternoon and we were able to find many of the artistic play structures and had fabulous day.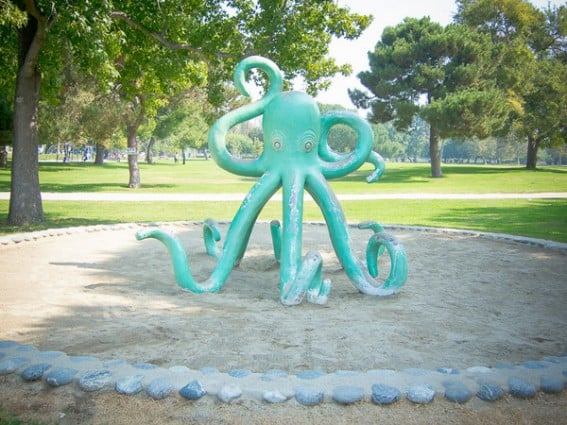 Our next stop allowed us to see the result of a neighborhood that came together to save their beloved playground.  Vincent Lugo Park in San Gabriel is the home of the La Laguna Playground which houses the artistic play structures of Benjamin Dominguez.  In 2006 the La Laguna Playground was scheduled to be demolished, and along with it the playground structures that have inspired generations of children since the 1960s.  Hundreds of neighborhood families pulled together to save this landmark and were successful!  Unfortunately, when we got there to play the park was under construction and the playground was just out of our reach.  We were able to get some wonderful pictures, and will definitely be visiting the La Laguna Playground this next year.
My children and I learned a few things on this little project.  We discovered that there are playgrounds that we consider to be art.  Whether we are 4 years old or 44, we can appreciate the beauty and design.  Sure, my 4 year old may show his appreciation by running the playground rush, but it's there and equally as powerful as my appreciation.  These playgrounds allow us to lose ourselves in the imagination they help inspire.  We love these places and when threatened, we can pull together to save them.  We'll keep visiting our favorite parks and we hope each of you has, or finds a favorite playground that keeps you coming back.  We'd love to hear about your favorite playground.  What is it that makes it special?  Would you join a cause to save it if it were threatened?
Looking for a great playground? Check out these lists:
Top 10 destination playgrounds in the San Francisco Bay Area
Beach playgrounds in Orange County
Destination playgrounds in Orange County
Silicon Valley parks and playgrounds
Destination playgrounds in greater Seattle and Puget Sound

Favorite playgrounds in Pensacola
Tampa Bay's awesome plaugrounds
Seattle park's and playgrounds
Don't see your city? Then help out fellow families and create a list.
---
Rob Rice is a father of four very active children.  He created www.PlaySomeWhere.com as a family project to explore the parks and playgrounds of Southern California.
Travel with kids to: CA |CO | DC | FL | HI | IL |MA | NC | NY | OR | PA | TN | TX | VA | WA