My son's preschool is doing a unit on camping again this year. Since it's a co-op, I get to sit in once a week on their fun activities and conversations.  Yesterday, we made backpacks out of old paper bags and the kids got to draw all the things they would pack in their bag.  I am happy to report that the top on the list of essentials that need to be packed was decidedly – marshmallows!  Moms and dads, if you are even considering skipping those marshmallows this year, don't even think about it.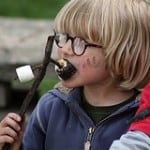 I learned this the hard way last year when I decided to conveniently "forget" to bring marshmallows on our family camping trip.  I know exactly what I was thinking – we need to eat less sugar (actually I do), and I didn't want to have yet another 7/8's bag of leftover marshmallows sitting in our pantry for the next year. I had just thrown out a stale nasty half congealed mass that looked more like a spongy white tumor.  Well, I think I earned the title of evil mommy as soon as the sun set and dinner was over.  Oh the sad sad faces when it was revealed that there would be no marshmallow roasting that night.
Photo by: Flickr/quinn.anna
I should have known better because the year before, we had gone camping with some friends who keep kosher and who's kids had begged their parents to hunt down kosher marshmallows because they were insistent on not missing out on any marshmallow roasting fun this time round.  Low and behold, we arrived at Henry Coe State Park to discover that we couldn't build an open fire due to high fire danger conditions.  It was seriously the saddest camping experience I've had to date apart from camping in the jungles of Madagascar (I'll save that for a different post).  But did the kids allow the lack of a bonfire stop them?  Oh no!  They insisted that by hook or by crook, we would have to roast those kosher marshmallows.  So, we fired up the tiny expedition stove and huddled around it, and we roasted those very special kosher marshmellows.  They really didn't taste the same, but nonetheless, we had paid homage to the almighty marshmallow.  Mostly importantly, the kids were satisfied.
Reviews of Henry Coe State Park with Kids
So, back to my original point.  Here are the other essential items for your camping packing list according the preschoolers at our co-op:
– flashlight
– compass
– swim suit
– sun screen
– trail mix with M&M's
– (and did I already say) MARSHMALLOWS?
So, really moms and dads, you really can pack quite light for your next family camping trip.  Your kids won't miss a beat as long as you have these essential items.
Here's a little tip for the best S'mores. Instead of using graham crackers and chocolate bars.  Consider chocolate covered graham crackers.  They work so much better because the chocolate melts so much quicker.

Trekaroo is seeking families who love National Parks!   Sign in and share your reviews on Trekaroo. Every review you write over the next 3 weeks can be can be entered in the $1000 Summer of Travel Contest!.
Enter to win a National Park Pass

Related Articles: