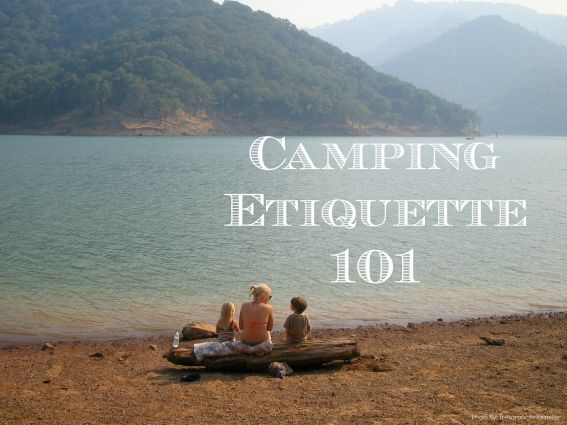 There are as many types of campers (family, beach, wilderness) as there are camp types (tent, RV, hammock), but the one thing we campers can agree on is the unwritten (well, sometimes posted) rules of Camping Etiquette. From tent camping to other options like cabins, we campers are all in this together and a little politeness can go a long way to enhance all of our camping experiences.
Sponsor Spotlight – Kampgrounds Of America: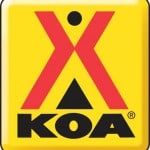 For more than 50 years, Kampgrounds of America (KOA), the world's largest system of open-to-the-public family campgrounds, has provided millions of campers with fun, memorable adventures. KOA was born in 1962 when founder Dave Drum constructed a campground on the banks of the Yellowstone River in Billings, Mont. Since then, KOA has grown to more than 480 locations in the U.S. and Canada. KOA's family of properties offer diverse camping experiences, while maintaining the excellent standards and family-friendly atmosphere the company is known for.
Read real KOA experiences by Trekaroo writers, lifestyle bloggers, and other families.
Greet Each Other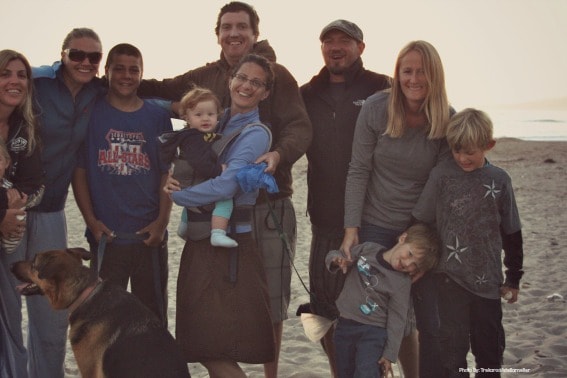 This may seems like Ms. Manners 101, but in all reality it is quite funny that we are in such close quarters with complete strangers. So when you arrive, greet one another. You already have something in common -you like to be outdoors, you like to camp, so go with that. Remember that many people venture to the woods for solitude, so respect that as well, but a warm smile and a "Howdy" breaks the ice and opens up the chance to get to know some interesting new people.
Know your boundaries, and make sure your kids know them too. You would not cut through someone's front lawn, so for goodness sake, please do not cut through other people's campsites. If you're trying to make it to a trailhead or riverbed, there's always a way around. And be considerate of those camping next to the bathroom or a water spigot. They already got the raw deal with their campsite; don't add insult to injury by being loud every time you walk by. And if you're walking to the bathroom for a shower, please be aware if there is a line and keep your shower short. There will be time (back home) for better hygiene, but while camping, we all just need a chance at a shower stall.
Noise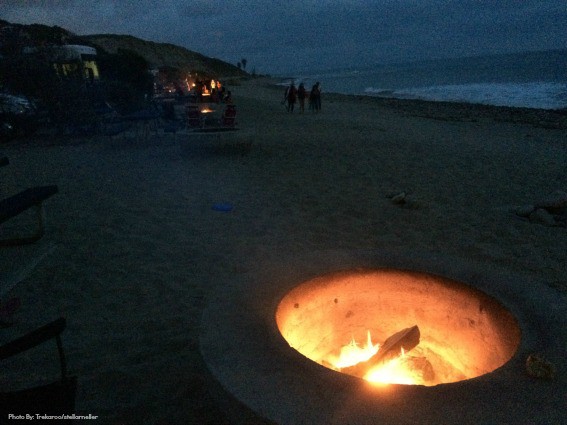 This is a big one for me. Noise can ruin a relaxing vacation. Imagine sitting by a lake, putting your feet up, maybe a glass of wine in hand, and there's a generator running constantly. Yes, many RVs need generators to power up, but when quiet time begins (a rule of thumb is usually 10pm), shut it off.
Music is also a topic to be aware of. Personally, I don't think we are going to agree on what type of music to listen to, so I'd rather there just be silence. But I get it. On a sunny afternoon, it's nice to have some tunes, just keep it at a limited volume. And don't crank it up at night. Even singing around the ol' campfire can get a little too loud after hours. If you are next to water or in a valley, those sounds carry and can prevent families with little ones from settling down to sleep.
Have a big group? Read up on group camping tips, to ensure you are still a good neighbor.
If your dog is apt to bark at every little noise, or you foresee occasions when he will be left alone in the campground (never advisable) maybe it's best to leave him home. Of course, any dog is going to get worked up at a squirrel, but constant barking is a constant headache. Research pet-friendly trails and bring your dog along on your adventures.
Want more tips? Check out these Pet Camping Musts.
Light
While walking to and from the bathroom at night, make sure you keep your flashlight pointed down and not into other people's sites. Arriving late in the evening and need to set up camp? Be sure to avoid shining your headlights around. RVer's awning lights can brighten up a tent next door, so be considerate of which way the light is directed.
Keep it Clean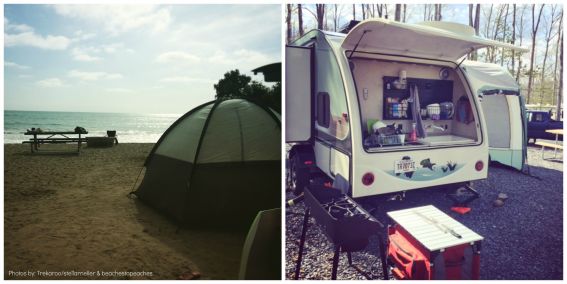 I've mentioned dogs and barking, but cleaning up after your canine friend is of the utmost importance. And this may seem obvious, but bring only kid-friendly dogs to a family-friendly campsite. On our last camping trip, a dog lunged at my son while he was playing ball. A visit to the ER is never a good way to end a trip.
Keep your campsite looking orderly. We all have to look at it, and trashy does not equal relaxing. Don't leave food out at night; pack it in the car or camper, or a bear-proof canister or locker where necessary. You are inviting wildlife into your temporary home, and thus inviting wildlife into the homes of everyone else nearby as well. Please do dishes in a designated area, not the bathroom sink that we all have to use. Sinks get clogged and we don't want to revisit our college dorm days, so just keep the sinks to water and soap.
Need some creature comforts? Here's what you need to have a clean yet comfy campsite.
Lastly, make it a family tradition to go around the entire site looking for and picking up trash, even the trash that wasn't yours at the end of your stay. I know you didn't leave twenty bottle caps around the fire pit, but be a sport and throw them away properly. Just as you want to enjoy a clean site, the family after you does as well. When I camped as a child, the camp store offered up a free snow cone for every red cup full of trash we picked up. Feel free to use incentives to encourage your kids to love camping, love being in nature, and respect others while doing both.
Read more here on how to keep organized with our Car Camping Gear Guide and check out our Best Family Camping Gear suggestions.
Over the Top
Want to be the ultimate camper? Don't forget to buy your campfire wood after arrival. Many parks and campgrounds ban outside wood because people can unknowingly bring pests and disease into the environment. Buying local wood not only gives you an excuse to say hello to the folks at the neighborhood store or campground host station, but ensures you're not unwittingly bringing any unwelcome, non-native little critters into the campground.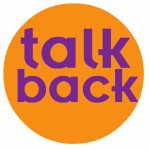 Do you have other suggestions on camping etiquette? Do you agree with these suggestions? Let us know in the comments…