Just because camping meals require fewer ingredients and less preparation doesn't mean taste should be sacrificed. The proof is on Pinterest, where we have been working diligently to gather the very best camping recipes and cooking tips to help you plan meal in the great outdoors. Think you're stuck with burgers and dogs? Nope. We found a host of recipes that take campfire cooking to a new level along with tips to help you get the job done effectively with less waste.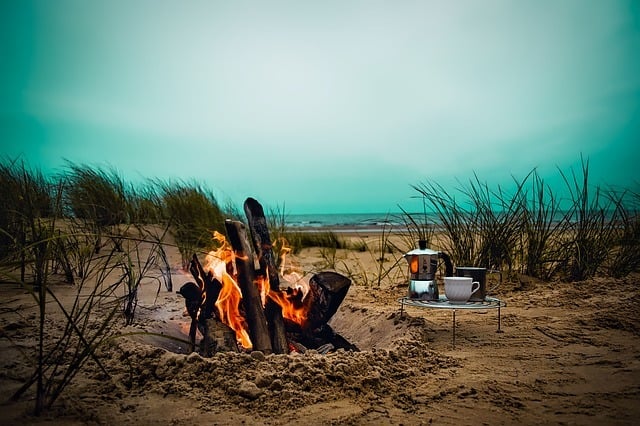 Download a Meal Planner
A handy meal planner like this one should help you keep tummies full throughout your trip. It outlines each meal with space for listing ingredients needed. Check off each ingredient as you pack it. Without the convenience of a grocery store nearby, forgetting one ingredient can wreck a meal beyond recovery.
Use an Outdoor Kitchen Checklist
While the list of kitchen utensils and necessities appears long, this pinner's list fits nicely into her camping box. Sure, you'll adapt any generic list to meet your needs, but other camping enthusiasts may have tips regarding double uses for certain utensils. Making spaghetti? A grease splatter screen can also double as a strainer. And, a good can opener can be worth its weight in gold. Imagine what a disaster breaking a cheap can opener can be on a camping trip. Here is a nice checklist:
Clever Campfire Starters
Leave it to the clever campers on Pinterest to share all sorts of helpful ways to get a fire burning. Rub petroleum jelly on cotton balls and store them in a Ziploc bag. When it comes time to build a fire, pull off some strands and set them underneath your wood. Light the strands on fire.
Never struggle with your matches again with this clever jar that has plenty of sandpaper on top to strike a fire.
Eco-Friendly Hacks
If you buy spices in bulk and need a safe way to transport them, why not store them re-purposed Tic Tac containers?
Or, how about that empty, giant jug of laundry detergent? Wash the suds out and use the spigot as a way to dispense water for everyone to wash hands before eating.
Re-purpose creamer jars into handy snack dispensers that seal up tightly and are an easy way to dispense treats on the go.
Boxed Drinks (Yes, that Includes Wine)
Believe it or not, boxed wine has gone upscale and even organic so pick some up at your local specialty food store. It is perfect for camping because the boxes are now made from lightweight Tetra-Paks that do not break like glass. But, get this: After you polish off your boxed wine, why not re-purpose the box? This clever Bon Appetit article suggests rinsing the box out in a stream and filling it with water. Then, hang the box in the sun for a solar shower. Really.
Boxed milk substitutes like coconut, almond or soy milk don't have to be refrigerated prior to opening so consider making the switch prior to camping (it is not to everyone's taste so make sure it is before you take the leap).
Clever Substitutions
Bon Appetit also suggests swapping butter or oil for ghee, a clarified butter used in a lot of Indian cooking. The advantage to cooking with ghee is that it can keep for up to a week without refrigeration.
Skip the bowls. Use chip bags for walking tacos or even hollowed-out orange peels.
5 Gourmet Camping Recipes
A big part of camping fun is eating around the campfire. So, here are a few jazzy recipes to consider (we have more on our Pinterest board):
1. Campurritos: This easy breakfast recipe involves at home assembly. In the morning, just toss them on the campfire.
2. Pie iron recipes
Campers rave about the doors opened by a pie iron (shown below). There are books and plenty of recipes for desserts and entrees cooked in pie irons over a campfire.
In your mind, replace the pizza dough with Hawaiian bread and the tomato sauce/pepperoni with pie filling. Oh my goodness.
3. Campfire cones
These put a new twist on s'mores, an old favorite.
4. Kid-friendly hobo packs
The convenience of foil or hobo packs can't be argued with. The options are endless from Martha's Stewart's beer potatoes to sausage and vegetables for breakfast. In some cases, you can even eat out of the foil directly and eliminate the need for plates. The more you can prepare in advance at home, the better.
5. Campfire mac and cheese
A cast-iron dutch oven is a valuable camping accessory. It can handle the high heat of a campfire and evenly cook hearty meals like stews and mac and cheese. This recipe features Gouda and Gruyere cheese and the author claims it to be the best campfire food she's ever had.
Have a favorite camping tip? We'd LOVE to hear it! And, don't forget to follow our campfire recipes Pinterest board.

Featured photo by: Shutterstock