Visiting Callaway Gardens, located in Pine Mountain, Georgia, is like going to summer camp (but you can visit any time of the year) with the whole family.  When I first heard of Callaway Gardens, I thought that it was a garden that you wandered through while you looked at beautiful flowers and then you got in your car and went home.  As I researched our recent visit, I realized that I couldn't have been more wrong!  Callaway Gardens offers so much to keep families with children of all ages occupied!
Visit the Cecil B. Day Butterfly House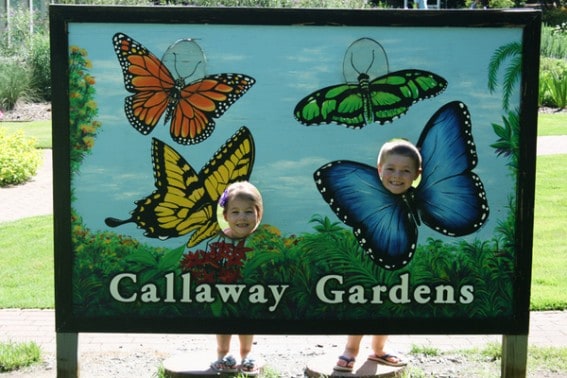 Visiting the butterfly house was by far our favorite activity.  Hundreds of brightly colored butterflies floated all around us.  We saw small butterflies, large butterflies, butterflies that seemed camouflaged, and brightly colored butterflies.  My daughter could have stayed in the butterfly house for hours if we had let her.  When you arrive at the Cecil B. Day Butterfly House, you can park in two areas.  The first parking area is about a five to ten minute walk from the butterfly house.  This is where we parked and it was a nice walk on a sidewalk through the trees.  Once we arrived though, we realized that if we had driven past the first parking area, we would have been able to park right next to the butterfly house. 
More activities to keep the kids busy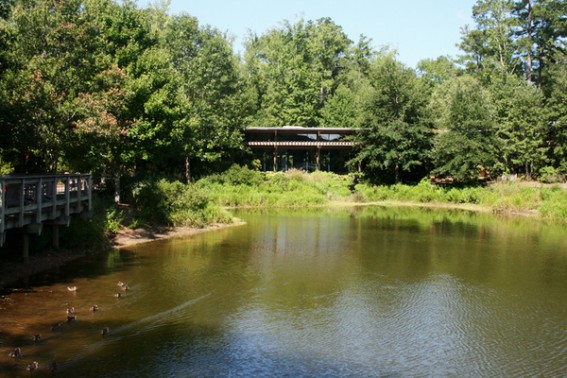 The Treetop Adventure is one of the newest additions to Callaway Gardens and though we didn't get a chance to try it out due to my children's height and ages, we spent some time watching other families walk across a series of treetop bridges and soar through the air on ziplines.  Near the Treetop Adventure, there is also building that houses the bike rentals.  Also nearby is the Virginia Hand Callaway Discovery Center which is a good place to start your visit.  You can pick up information, ask questions, and learn more about the gardens.  The Discovery Center is where the Birds of Prey show, a close look at different birds of prey, which is held daily.  Visit the vegetable garden to see fruits and veggies growing.  Kids can splash around the water or play laser tag at Robin Lake Beach.  There are miles of nature trails to explore.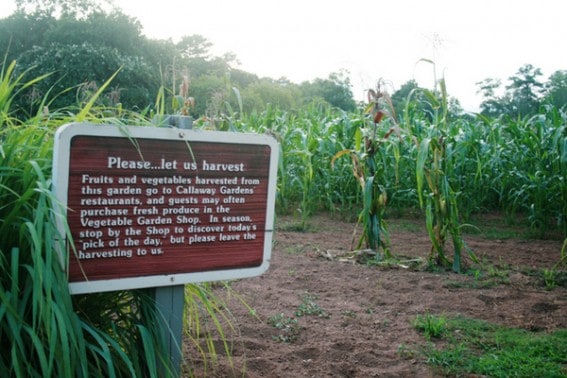 Stay in one of four types of accommodations
Callaway Gardens offers a variety lodging options.  There is a beautiful Marriott lodge as well as an inn with hotel like accommodations.  We like to save money when we travel by staying at a property that gives us the ability to make some of our meals ourselves.  Both the Mountain Creek Villas and the Southern Pine Cottages offer a fully equipped kitchen.  We stayed in the Southern Pine Cottages and we thought they were perfect for our traveling family.  We had a two bedroom cottage that had a kitchen, dining area, living room, and several porches.  We spent our evenings sitting in the screened porch watching the lightning bugs flit around the woods.
Outside of Callaway Gardens
Callaway Gardens has so many activities and restaurants to try that you could check in and never leave the grounds but there are other family friendly activities located in Pine Mountain, Georgia.  Drive your car through the Pine Mountain Wild Animal Safari and see animals including giraffes, kangaroos, zebras and more.  Learn about Franklin Delano Roosevelt while you visit the Little White Historic Site.  There are children's activities like learning about stamp collecting so check the schedule before you go.   
Read more reviews of Callaway Gardens
Disclosure: My family received a complimentary stay and passes at Callaway Gardens in order to complete an unbiased review. We covered all additional expenses including gas and meals.  Callaway Gardens did not request that any specific opinions be expressed and all opinions are my own.
——————————————————————————————————————————–