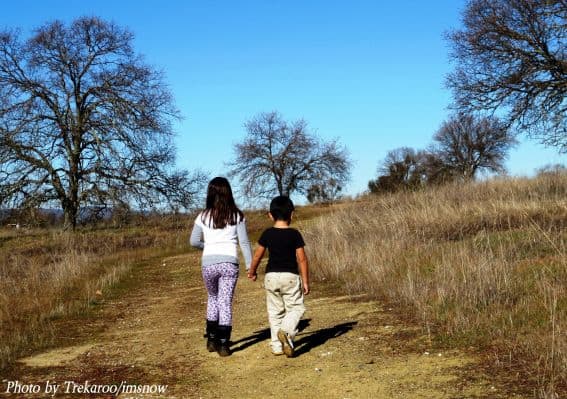 Two hours south of Sacramento—far removed from the hustle and bustle of state politics—Central Sierra's rolling foothills, spectacular caverns, and snow-capped peaks are waiting to be discovered. With over 23 tasting rooms, winter ski resorts, wineries, golf courses, and a myriad of historic lodging accommodations in numerous quaint towns, escaping to Gold Country and exploring Calaveras County with Kids is a no brainer.
From groves of Giant Sequoias and rows of rolling vineyards, to gold panning, museums, and exciting annual events, you'll wonder why you haven't come sooner and will have planned your return visit before you've even left.
Exploring Calaveras County with Kids
Copperopolis

Chicken tracks drawn in blue chalk on black asphalt advertise Chicken Bingo and set the fun-o-meter to high for families driving into Copperopolis Town Square, an eclectic outdoor mix of businesses, boutiques, and restaurants. When I arrived, the streets were abuzz with visitors enjoying The 5th Annual Copper Chili Cook-off, a community event offering chili samples, live entertainment, and horse and mechanical bull rides.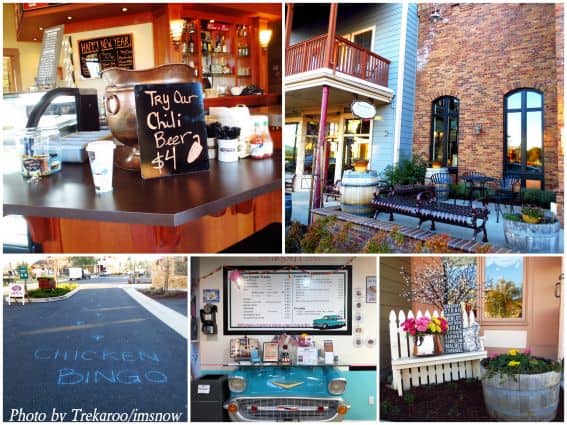 Copperopolis Town Square sports major personality. It's zany and entertaining and I loved it! It's historically-sensitive design, street parking, broad sidewalks, and wide-ranging dining and retail choices make it an ideal pit stop for families needing to stretch their legs, fill their tummies, or bag unique mementos.
Shops full of wonder and delight are a joy to peruse:
Try an 8-scoop banana split from Cruiser's Ice Cream Parlor, which, by the way, is free to anyone who can eat it in under 16 minutes.
At Snaps Coffee House & Wine Bar I watched a young man play his guitar in the sun.
Dig through a basket of assorted designer balloons for a penny each at Once Upon A Time on the Square.
Copper Star Trail & Pack Station's official greeter is a Teacup Yorkie With a Pink Bow!
Saddle Creek Resort in Copperopolis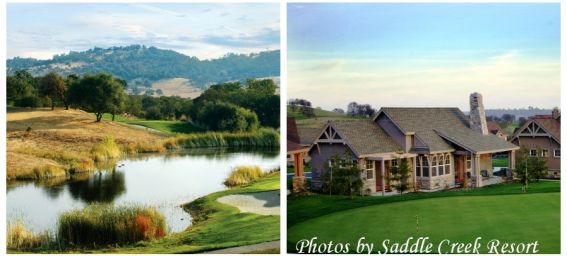 Nothing to compares to the indulgence of your own private bungalow. Sleep in as late as your kids will allow and then roll out of bed to start a pot of coffee and cook breakfast in your jammies. Enjoy a glass of wine in front of your own fireplace or watch the sun set from your private patio offering remarkable views of the golf course and surrounding foothills. Relish quality time with your family in gold country undisturbed and at ease. From now until the end of the month, a midweek stay at Saddle Creek Resort in a two-bedroom, two-bath bungalow with full kitchen, dining area, and living room with fireplace is only $220 a night!
Learn more about family friendly lodging in Gold Country.
Eat, Drink, Be Murphys
In 1848, Daniel and John Murphy settled into Murphys and made their fortunes supplying miners at the start of the great California Gold Rush. One afternoon, the two brothers started arguing about who had possession of the camp and nearly killed each other in a fist fight when they fell into a 30-foot mine pit. Only by working together were they able to climb out. Grateful to be alive, the men decided to call the town "Murphys" rather than "Murphy's". Without the apostrophe, there was no single owner of the town.

Twenty-three tasting rooms decorate Murphy's Main Street and many of them cater to families. At the Hovey Tasting Room, a large basket of toys is a huge hit with children and buys parents precious time to sip and savor. Shaded picnic tables made by local high school students offers a place for kids to run around and burn off steam while parents enjoy tastings from wicker love seats on the porch.

River Klass is the owner of two restaurants on Main Street: Grounds and Firewood. Firewood features kid-friendly fare in a casual and hip environment. Grounds is an elegant restaurant with sophisticated food choices and wine. At Grounds, parents can enjoy a steak and martini dinner and have food from Firewood's more kid-friendly menu delivered piping hot to their table for their kids to enjoy.

Have you dined out in Murphys? Leave a review!

Murphys Suites is Historic Downtown Murphys' newest accommodations. Suites include a separate sitting area, a microwave, and a small refrigerator. Each morning complimentary espresso, miniature homemade donuts, and orange juice can be picked up in the lobby or delivered to your room upon request.
Just 10 minutes beyond Main Street in Downtown Murphys, Mercer Caverns was discovered over a century ago and offers year-round 45-minute guided tours through a quarter mile of its chambers, nearly 200-feet underground. Prior to entering the caverns, I told my 4-year-old son we were going to visit Batman in his bat cave to ward off any initial hesitation he may have been feeling about descending into the cave; it worked like a charm! Either before or after the tour, kids can experience the fun of mining for minerals in a mining sluice with a bag of purchased mining rough. Each bag of mining rough comes with a cheat sheet to help kids identify found treasures.
Arnold's Natural Wonders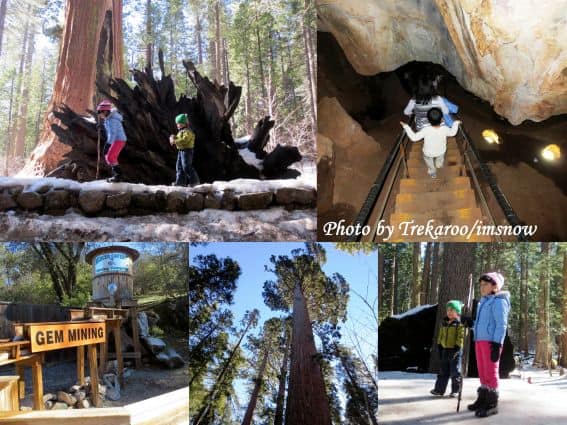 Twenty minutes up the road in the town of Arnold, complimentary snowshoe hikes are offered at Big Trees State Park through the North Grove every weekend at 1 p.m. In the winter, guided snowshoe treks are offered. Snowshoes in adult and child sizes are available on a first-come, first-served basis. Entrance to the park is $8 per car. There's even a warming hut with gratis hot chocolate provided by Calaveras Big Trees Association!
Disclosure: Thanks to Saddle Creek Resort, River Klass, Hovey Tasting Room, and the Calaveras CVB for hosting my Gold Country adventure. All opinions are my own.