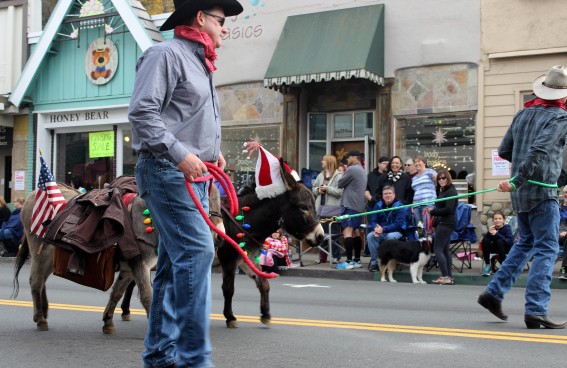 El Dorado County is a county in Northern California beginning on the outskirts of the greater Sacramento area and extending east to South Lake Tahoe. It's rich in Gold Rush history, historic towns, breathtaking geographic features, ski resorts, and many state and national forests. It's also a lovely area to spend the holidays with your family. This holiday season, my son and I took a 3-day road trip to explore the cities of Folsom, Placerville, Coloma, and Camino, located about an hour apart by car. Our weekend adventure was loaded with festive pit stops, unexpected surprises, and delicious holiday treats.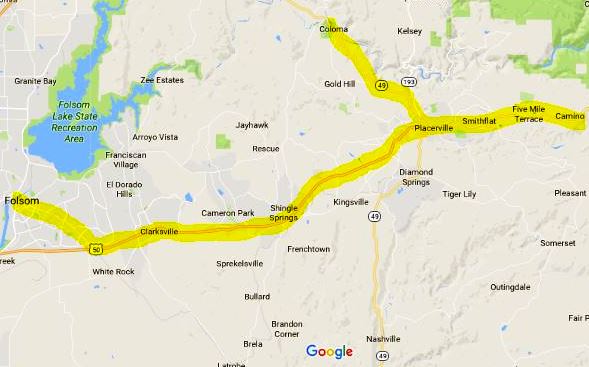 Experience Historic Folsom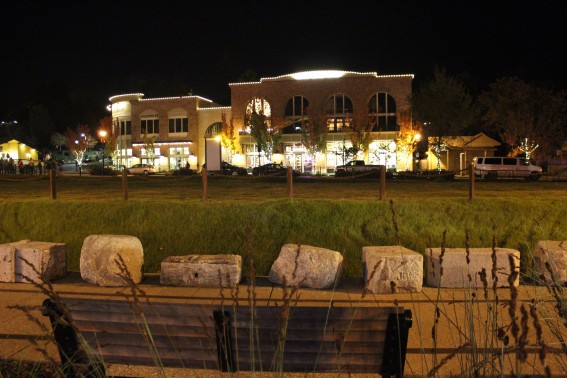 Historic Folsom is a two-square-block area that's being redeveloped as a railroad themed plaza. The Folsom Visitor Center is housed in the Historic Train Depot Building that once was a major stop along the Sacramento Valley Railroad. The adjacent Railroad Museum, located in a restored rail car, offers a tour of the oldest freight station still in existence in the West. Next door, the Pioneer Village is a Living History Museum operated by the Folsom History Museum. My son and I enjoyed a volunteer-led demonstration in blacksmithing (and learned that gold panning is offered in warmer months). Pioneer Village features a large collection of historical items and exhibits, such as an antique clothes washer and a reconstructed miner's cabin.
As a holiday treat, Folsom Ice Rink was designed specifically for the plaza in Historic Folsom. This unique ice skating rink circles around Folsom's Historic Train Turntable and is popular spot for the community through the winter. This year was Folsom's 22nd Annual Christmas Tree Lighting, which marks the beginning of the holiday season for the community. The festive event includes caroling, ice skating, live music, and Santa.
View Holiday Lights and Travel to Santa's Grotto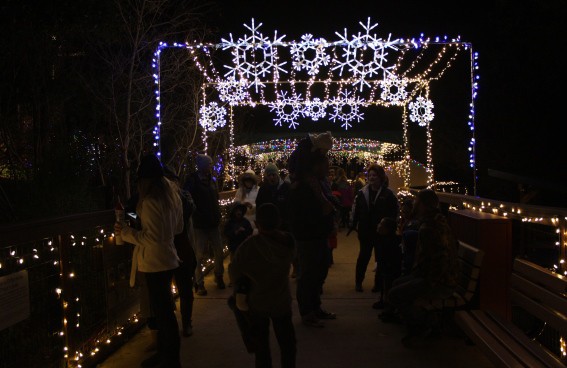 The enchantment of Wild Nights and Holiday Lights is a reoccurring holiday event at the Folsom City Zoo Sanctuary, a sanctuary for animals that have been rescued. Activities include a unique opportunity to see the zoo animals after dark, a visit with Santa Claus, thousands of holiday lights, and a ride on the small-scale "Starlight Express" train. The line to visit with Santa was long and my son wanted to explore the zoo more than he wanted to sit on Santa's lap, so we opted to skip it. I was bummed at the lost photo opportunity, but he's the boss. However, as luck would have it, guess who we ran into in the parking lot on our way out? Santa!
Before leaving Folsom, we hitched a ride with the Placerville and Sacramento Valley Railroad on a restored train car and traveled to Santa's Grotto, snuggled in the woods next to Willow Creek. A multi-generational activity, the quick train ride begins from the Oak Avenue Whistlestop to the Grotto, where passengers are dropped off to visit with Santa and participate in festive arts and crafts. This is an excellent activity for parents who want a picture of their child with Santa, but aren't willing to stand in long lines at the mall to get it. Willow Creek is also an excellent place for young boys to skip rocks. It really doesn't matter the time of year, any day my son can chuck rocks into a river is a good day.
Hotel and Dining Recommendations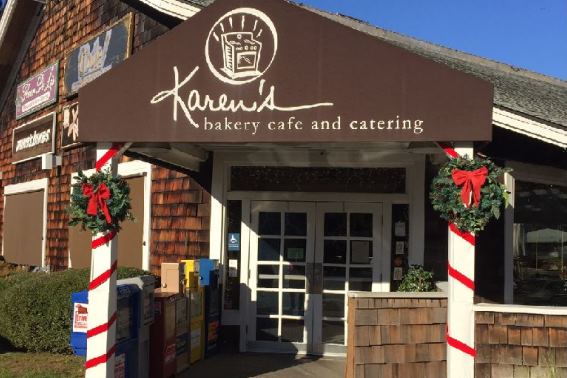 The newly constructed extended stay, all-suite Staybridge Suites Sacramento – Folsom offers complimentary breakfasts, fully equipped kitchens, and is pooch-friendly (and is conveniently located across from a Costco!). After a long day of exploring Folsom, I was grateful for the convenience of takeout from nearby Chicago Fire, located in the Palladio. I was tired and wanted nothing more than to eat dinner in my pajamas with my feet up, and that's exactly what I got. Thank you vacation Gods. The Palladio is a gorgeous outdoor lifestyle center that brings Italy to Folsom through massively constructed buildings which embrace Italian architecture. It's a fantastic place to walk around with a baby in a stroller, to catch a movie, or to grab a glass of wine and a bite to eat.
My overnight stay exceeded my expectations. Everything I was accustomed to having at home was provided by the hotel, right down to my favorite flavored coffee creamer. My son was thrilled about the indoor pool and hot tub, and of course the free WiFi for his iPad. The next morning, he stayed in bed to watch cartoons while I plated up a hot breakfast from the buffet and brought it back to him. Breakfast in bed. #Winning!
Karen's Bakery and Cafe is located across the street from the ice rink, and is one of the most popular spots in Folsom for families and cyclists because of the immediate access to the trails across the street. They pride themselves on a seasonal, fresh approach to food and delicious baked goods.
Optional Folsom Activities: Cycling, Water Recreation, The Folsom Valley Railway
Bike rentals are available at Folsom Bike. Cyclist and runners can take advantage of the 11 mile, class one trail loop around the lake along with 52+ miles of paved trails in the Folsom community. Lake Natoma is the smaller of the two lakes in Folsom, but boasts all kinds of water recreation from kayaking, paddleboarding, rowing, and fishing. Seasonal rentals are available.
The Folsom Valley Railway was built in 1970, and is a top attraction for families. The railway is a fun way for the community to reflect on Folsom's rich railroad history and tour around City Lion's Park and the Folsom Zoo Sanctuary.
Insider Tip: The Folsom Public Library is a state-of-the-art facility with a collection of over 100,000 items, online databases, WordPress, classes, and children programs. The Folsom Zoo is behind the library, so planning an outing around the two activities on the same day is convenient.
Learn about the Gold Rush at Marshall Gold Discovery State Historic Park and Gold Bug Park & Mine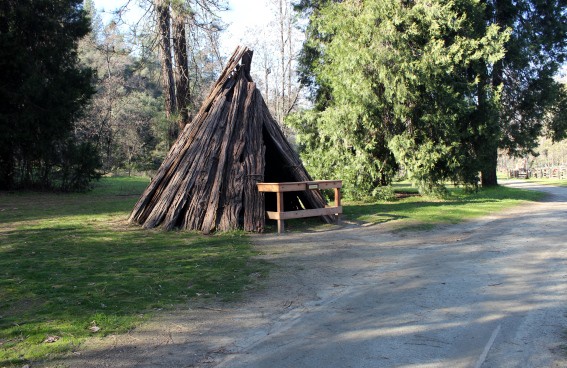 Marshall Gold Discovery State Historic Park is located in the city of Coloma. Family gold panning lessons are available on weekends for $7 per person. 45-minute lessons include supplies to pan in park troughs and participants can keep any gold they find. Growing up, my father was a rock hound. I watched him pan gold on many a weekend and I had been looking forward to gold panning all day, but my 8-year old son didn't want to try his hand at it, so I begrudgingly skipped the activity. Whose kid is he anyway? Instead, we toured the small museum in the Visitor Center and perused the gift shop where I saw a wonderful collection of books about women of the gold rush. Afterwards, we participated in a guided walking tour with a park ranger sharing the story of the California Gold Rush. It was here, on Jan. 24, 1848, that James Marshall discovered gold, launching the largest human migration in America's history. This singular event not only changed the fate of California, but the entire nation.
Another excellent place to catch gold fever is in Placerville at Gold Bug Park, a 61.5-acre park located just one mile off of highway 50 with two hard rock mines, a blacksmith shop, museum, stamp mill, and miles of hiking trails. Gold Bug Park and Mine is a designated State Point of Historic Interest and is part of the National Register of Historic Sites. Admission to Gold Bug Mine includes a self-guided audio tour and a hardhat. There's no park entrance fee and parking is free. In October, the park hosts a Halloween event in the dark chilly mine which I think sounds absolutely spooktacular!
In spring and summer, children can Gem Pan for just $2.00 an hour; this includes the pan rental. If you're within driving distance, Gold Bug Park is a hell of a deal for families. Free to enter, free to park, practically free to play, and there's a whole summer's worth of history lessons to be learned here. If you're unable to make it in person, or would like to get your kids excited about your upcoming visit, Gold Bug Park has an app of the audio tour of Gold Bug Mine that you can download on your iPhone.
Dining Recommendations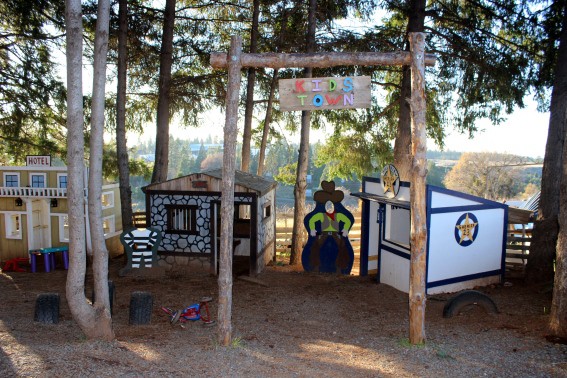 The Argonaut Farm to Fork Café, located within Marshall Gold Discovery State Historic Park, serves up healthy lunches. Their breakfast and lunch menus feature organic and locally-sourced ingredients. The giant party-sized Jenga inside the dining room entertained my son until his food came.
Mill View Ranch, in Camino, serves up baked treats with a unique play area: an entire town made just for kids. Over the years, I've heard many bloggers remark that the phrase "hidden gem" is cliche, but I've lived an hour away from Mill View Ranch for over 20 years and I had no idea it existed. It's one of those places that's so amazing you immediately text all of your closest friends with pictures. It's a hidden gem if there ever was one. My son was having so much fun running in and out of the storefronts with the other kids he had met there. They have quads and even an old boat that kids can climb all over and pretend to ride or sail.
View the Special Floats that Grace the Hangtown Christmas Parade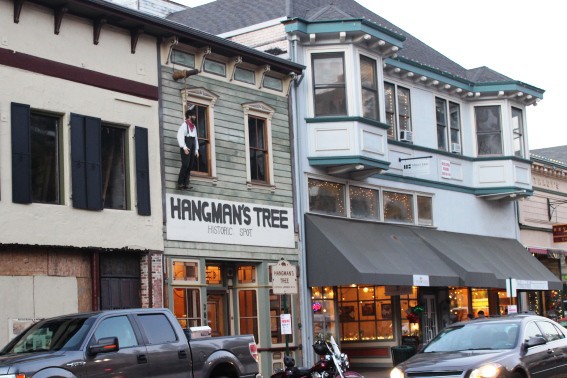 Placerville is a charming California Gold Rush town named after the placer gold deposits found in its river beds and hills in the late 1840s. In the Gold Rush era, it was more commonly known as "Old Hangtown." As the story goes, back in the day when miners stole gold, there was a lot of vigilante justice which included hanging from an Oak tree that used to stand on Main Street. In the mid 1800s there was a lot of gold, hence a lot of miners and frequent hangings. Today, there are lots of fun shops, art galleries, museums, and eateries. Placerville Hardware is "the oldest hardware store west of the Mississippi" serving the community for over 150 years.
Each year Placerville's Hangtown Christmas Parade winds its way down Broadway then onto Main Street beginning at 1 pm. You'll see everything from fine equines decked out in their best tack to high school bands in bright uniforms, and the always stunning and eagerly awaited special floats that grace the Hangtown Christmas Parade. This year's theme was, Old-Fashioned Gold Country Christmas.
Hotel and Dining Recommendations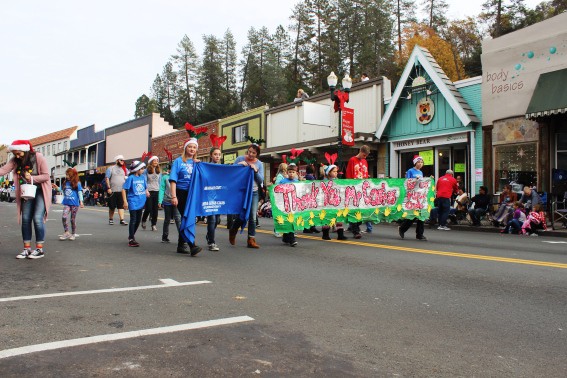 Located on Historic Main Street in Placerville, Historic Cary House Hotel is "The Jewel of Placerville." My son went bonkers over its historic elevator. The lobby is decorated with period pieces and antiques dating back to 1857. A stay here can best be described as authentic; the history buff in your family will love it. Second floor rooms have an outdoor balcony that face Main Street. If you're driving up for the Christmas parade, request a room on the second floor. The balcony is the perfect spot to watch the Christmas parade go by.
Walking up and down Main Street is a joy. In addition to all of the fun stores, there's also several out of the ordinary sights such as the hanging dummy across the hotel and Placerville's historic Bell Tower. The city was ravaged by several fires in 1856 which destroyed many of its businesses. The townsfolk realized they needed a way to quickly alert its citizens of a fire, so a bell was purchased from England for $380.00 and a wooden bell tower was constructed to house it.
Though our hotel lacked a restaurant, feeding my son was easy because there are many eateries within walking distance. Pizza Bene! brings the Napoletano-style pizza and culture to Placerville, and kids can watch the pizza cooking in the Maria Forni pizza oven. It's loud and packed with families. Hey Day Cafe is a small family-owned-and-operated restaurant providing a relaxed, friendly gathering place for locals as well as visitors. I think of Hey Day Cafe as a family-friendly upscale bistro.
Before heading home, make time for Apple Hill, located just a few miles east of Placerville. Fudge Factory Farm in Apple Hill offers an amazing variety of fudge, and a kids play area around back with two Alpacas, Cry Baby, and Dreamaker.
Disclosure: Thanks to Visit California, Visit Folsom, and El Dorado County Visitors Authority for providing complimentary meals, activities, and lodging on the author's visit to El Dorado County. All opinions are her own.
All photos by Tina Buell.
Featured photo by: Bigstock/Andy777