Due to my husband's limited and unpredictable vacation schedule, we knew we had to make our week off together both unforgettable and enjoyable for each member of our family. To hit all of these bases, we came up with a road trip titled "Baseball, Basilicas, and Breweries." Yep, we are that geeky that we title our family road trips before they happen. We planned our trip to begin in San Diego and go up the California Coast to Sonoma County, while including a fourth grade history lesson of the California Missions, and enjoying a nice brewery here or there. Our stipulations included that the brewery must brew their own beer in-house, serve food, and be kid-friendly as well. It was a tall order to please everyone, but we did it, and had a lot of fun along the way!
Watch video of our California Coast Road Trip:

San Diego/Coronado

We kicked off our road trip at Mission Basilica San Diego de Alcala. While I was expecting a sizable, historic monument, what we found was a simple, white stucco building with the traditional mission bells, nestled among apartment buildings and strip malls. Upon closer examination, we saw it to be a modest, but beautiful, working chapel that maintained its roots by being lined with statues of the saints of the missions. There was also an archeological dig and a monument to the first martyr in California. It felt apropos to begin our mission quest at the first mission ever erected in California.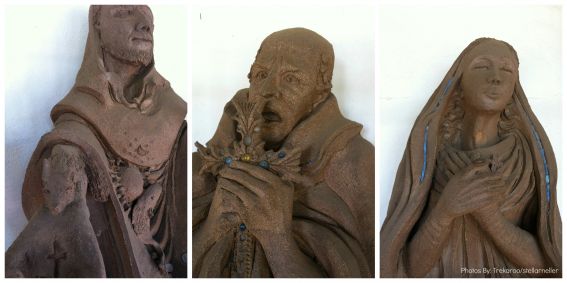 From the mission, we hit our first brewery across the bridge at the Coronado Brewing Company. We were surrounded by families which always makes a place kid-friendly, and the Hibiscus beer added to the "island" feeling the sea breezes created. To round out our first day, we crossed the bay from Coronado to San Diego on Flagship Ferries to watch the Padres at Petco Park. Taking the ferry allowed us to avoid rush hour traffic and parking nightmares, and gave us a chance to enjoy a family walk straight into the park. Petco Park caters to kids with their kid's baseball field and sand pit and grass seats that allow fidgety children alternative seating. The ferry ride back was magical as the stars were out and the night sky brought a perfect end to a perfect first day.
Search for amazing lodging deals in San Diego, CA
Point Mugu/Oxnard
We had already explored Mission San Juan Capistrano (a must do) during a field trip, so we veered off onto Hwy 1 as soon as possible and took the beautiful drive through Malibu, making a stop at Neptune's Net to try their much talked about fish. This was not a brewery, but it did have some nice alternative beer choices (such as Costa Rica's Imperial), that complimented the amazing fish. We found Point Mugu and knew this was a place we would need to come back and explore more by camping at Leo Carillo State Park or Point Mugu campgrounds.
Santa Barbara/Central Coast

We started early to be the first ones in Mission Santa Barbara. When my husband and I turned the corner to the mission, we both audibly gasped. This is a beautiful mission! The Santa Barbara hills frame the ornate exterior and olive trees and grape vines decorate the surrounding. Here, the woman who inspired the book Island of the Blue Dolphins was brought, so my daughter who loves the book, was excited to walk in her footsteps. The mission quickly filled up with tourists and we slipped away having had it to ourselves in the morning.
The next stop Pismo Beach (our usual half way stop when driving from So Cal to Nor Cal) was completely booked, so we continued on. The Pismo Beach Brewery is a brewery only, so it didn't fit our criteria. Looking for some lunch, we stopped at the San Luis Obispo Brewery, but again, there was no food, just a brewery, so we made some PB&J's out of the trunk, and kept on going up the 101. Mission San Miguel Arcangel came upon us quickly, and we missed the off ramp. We didn't turn around, even though it is right off the 101, and thus our one regret of the trip.
Explore great deals on hotels in Santa Barbara
Monterey/Carmel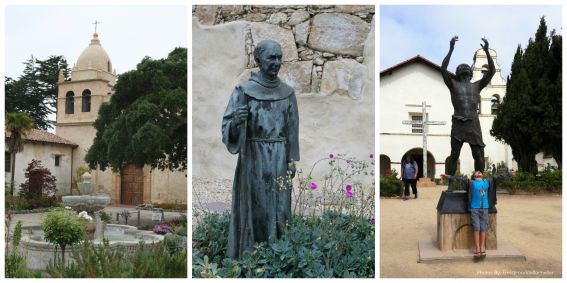 We made it to our hotel, the Monterey Post-Graduate Naval Academy. Only active or retired military can stay here, but for those who qualify, this is a hidden gem of a hotel. Once THE resort to be at on the west coast, the naval academy (known as the Hotel Del Monte in the early 1900's) is packed with history, tradition, and roaming peacocks. We dined at Peter B's Brewery, where the fruity beer was delightful and the location kept us out of Cannery Row's tourist inundation.
The next morning, we found  Mission San Carlos Borromeo Del Rio Carmel and it was exquisite! It was a Sunday morning, so this working chapel was full of parishioners, but this allowed us to see the priest enter at the sound of the bells, and meet the kind church workers who welcomed us warmly. On Sundays, there is no admission charge and a farmer's market is set up in the courtyard. This is where Father Serra is buried and the ornate altar and beautiful gardens alone are worth a stop.
Off our list, but we were so glad we did it, was Mission San Juan Bautista. One of the clergy in Carmel suggested this one because it has an original portion of the El Camino Real, the trail that connected all the missions up the coast. The chapel is beautiful and is in the process of being restored, but the surrounding town and historic buildings which look as if time stopped, are really the draw at this mission.
Best rates guaranteed on lodging in Monterey, CA
Sonoma County

Our ending destination brought great food, good weather, and an awesome mission. We were going to continue our baseball sweep, but unfortunately one of our kids got sick on the day of the A's game. We rallied the next day and went to the Mission Solano de San Francisco in Sonoma Square. I lived here for 20 years and never ventured inside. What a shame! This is where Californians claimed themselves a republic for 23 days! This is where the Mexican Army held off the Russians from overtaking any farther. The history is thick here and it was the one mission that really focused on the mistreatment of the Indians that were there first. It was also the least religious in tone of all the missions, not being a working chapel.
The Russian River Brewery in Santa Rosa beckoned us with promises of Pliny the Elder, their infamous beer that people flock to from around the U.S. Kids even sit at the bar here, and with pizzas served its a kid-friendly brewery during the day. Lagunitas was another brewery on our list, and we enjoyed the outdoor seating and music playing while kids and dogs danced around. We as also tried Stumptown Brewery in Guerneville. Order the pulled pork sandwich, a great in-house beer, and take a seat at the picnic tables out on the deck under the trees, overlooking the Russian River. Our kids went down to the river to run around on the grassy field, while we could keep an eye on them from up above. It was a beautiful afternoon to end a great family road trip.
Search for great hotels in Sonoma County, CA
We'd love to hear from you. Do you name your family road trips? Have you thought about a "themed" road trip? Would you work your road trip around what your child is learning in school?  Tell us in the comments.
Featured photo by: Shutterstock