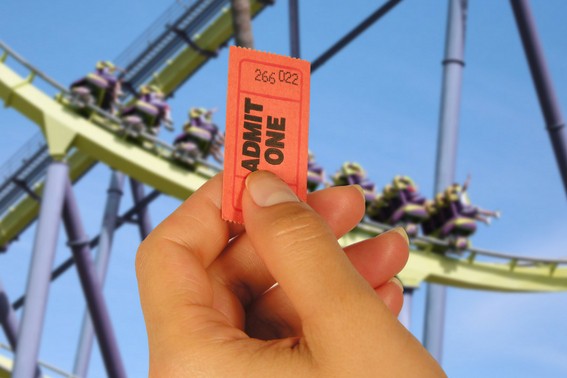 Did you know that there are lots of ways to get cheap travel tickets to attractions and to find ways to have loads of fun for free? Time spent researching and planning ahead really pays off so that you're never paying full price. With a family of four, the savings can really add up.
Lead Photo by: bigstock/nruboc
Cheap Travel Deals for Families
Get into attractions for free
Many libraries hold attraction passes can be checked out to get free admission to area attractions. It's a great way to save even more on a staycation, but if you're visiting friends or family, ask them to check with their local library and reserve a pass for the week you'll be visiting.

"The Chicago Library has free passes to many of the museums – so if you have friends or family in the area, have them reserve the pass for the week you'll be attending."
– Minnemom

"Pick up free passes for area attractions from the library. Ours offers local zoo and aquarium passes. Some are buy 2 get 2 and others are completely FREE."
– Meb123
Check museum websites for free days sponsored by companies and note that on your itinerary. Target and Bank of America also offer free days to many of the local museums so keep an eye out for those schedules.
Hang out like a local
Local moms and dads aren't hitting all the tourist destinations to have fun with their kids. Get the inside scoop from local parents on Trekaroo about where the locals hang out. When searching for activities on Trekaroo, use the "Cost" filter to see activities that are free or nearly free. When you're already at one paid attraction, you might want to look for a playground or free attraction nearby. Now with Trekaroo's iPhone app and mobile site, you can find attractions nearby with a couple of clicks on your phone.
Bundle passes offer great discounts on major tourist spots
If you're planning to hit up many major tourist spots, a visit to the tourism website or visitor's center is a great place to find out if there is a bundle pass for the city you're visiting. Citypass offers bundles for most major cities in the US.
"City Pass in San Francisco includes a 7-day bus & cable car pass. We park our car in the hotel and use public transportation to get us where we need to go without the hassle of finding and paying for parking at every venue."
– filmdncr
Military discounts
If mom, dad, or grandparents were in the military at some point of time, you might be able to take advantage of military discounts. Check with your local base.
"Don't forget to take advantage of military discounts also. My mother can get discount admission tickets from the nearest airforce base."

– Imsnow
Get around for cheap in big cities on special buses that stop at major tourist stops
"There is the Philly Phlash – a fleet of purple trolleys that make continuous loops around the city, stopping at 27 different stops of interest. Pay $2 per ride or grab a full-day pass for $5 or a family full-day pass (2 adults and 2 kids) for $10 – unlimited rides."
– mamacheaps
Pick up coupon books and join AAA
AAA members get discounts at many attractions and hotels. 10% here and there can add up. Coupon books from tourism offices also offer discounts to places you're already planning to go to. Some tourism offices even have the coupon books online these days.
– Kate Pocock
See Sites on the Cheap
Take an inexpensive City Tour
We've had the most entertaining (and most eye-opening) tours on local public transportation. Ask tourist offices for the most scenic routes, or the routes where you can stop off with the kids to visit music stores, toy stores, or attractions. On the #506 Streetcar in Toronto for example, you'll travel the world from Little India in the east end to Little Italy in the west end and end up with a romp through the fabulous playground in High Park. In London, England, we took the double-decker that swings by Trafalgar Square. For pennies, you'll get a fabulous tour that's more authentic than a tourist ride.
Friendly City Greeters
Have a local resident guide you through kid-friendly parks or neighborhoods. Many world cities now offer this free service: New York City (www.bigapplegreeter.com), Houston (www.houstongreeters.org), and Toronto (www.toronto.ca/tapto) among them. On a recent visit to New York City, our friendly Big Apple Greeter took us on a fun walk through Central Park with a stop at the kid-friendly sculpture garden of the Cathedral of St. John the Divine, the largest Gothic cathedral in the world. In Houston, our effervescent greeter took us to the children's library. In Toronto, we toured Little India for bangles and samosas.
Featured photo by: Bigstock/nruboc