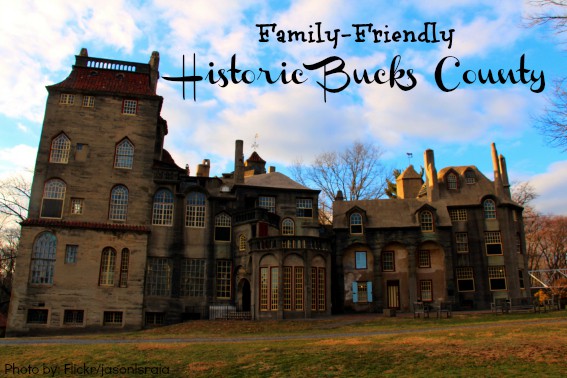 Historic Bucks County in Pennsylvania is located just over the Delaware River from New Jersey and a short drive from Philadelphia. Its prime location, quaint towns, picturesque scenery, and fun, family friendly attractions make it a perfect day trip or weekend getaway for the entire family. The many events and festivals make it a great year-round destination.
Where to Visit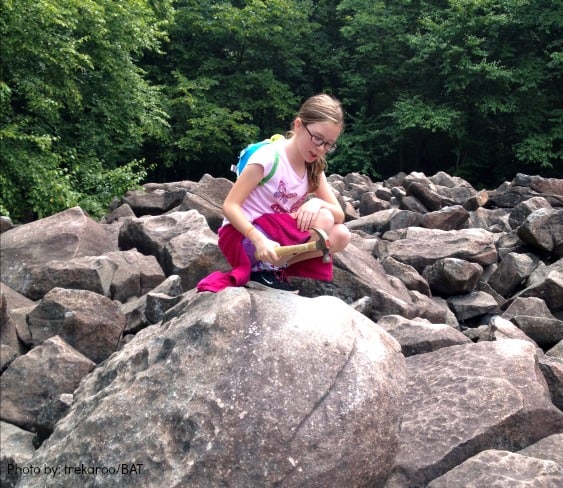 We had the pleasure of exploring Central Bucks County where you will find the quaint towns of New Hope, Lahaska, Doylestown, Chalfont, among others. Located in this section are the castles of Bucks County. These castles are a result of the vision of Henry Mercer, an archeologist and avid collector, who was inspired by his many travels. The castles are built of concrete, because Mr. Mercer felt this was the safest material to use to protect both his home and his treasured collections. A guided tour through Fonthill gives you a look at unique architecture, the use of handcrafted tiles, and his vast collections. The Mercer Museum was built to house the ever-growing collection of historical artifacts that Mr. Mercer loved to collect. Throughout the six stories of the castle, visitors will enjoy the vast display of antique curiosities and tools from the early American periods. More a Spanish Mission Style than a castle, the Moravian Pottery and Tile Works completes the tour of Henry Mercer. Here, visitors learn how he began tile work, and even observe a tile maker at work.
One of Bucks County's more scenic hotspots lies just past Doylestown in the small town of Lahaska, PA. Peddler's Village was created by the late Earl Jamison in 1962. Since then, it has grown to include 60 independently owned and operated boutique shops, six restaurants, a 71-room inn, and festivals and events that span the entire year. The village is expertly kept and beautifully landscaped so even walking around here is a beautiful visual treat. Brick walkways lead you past the shops and restaurants as well as a pretty gazebo you can sit in to relax, an area with bunnies and birds for the kids to enjoy, an operational water wheel, small ponds with fish and frogs, and row after row of gorgeous flowers. Kids will enjoy blowing off steam in the newly rebranded family entertainment center, Giggleberry Fair. This center features an area for the under-five set, an arcade with new games, Giggleberry Mountain, a café, and a beautifully restored carousel.
If you prefer to stray off the beaten path then a trip to Ringing Rocks Park is in order. This unique bolder field has rocks that actually ring when struck with a hammer! The kids will love exploring the different sounds the rocks make. Don't forget your hammer and your camera! After you've had your fill of striking rocks, take a walk down the path to the largest waterfall in Bucks County. Another hidden gem is Van Sant Historic Airfield. This airport, turned County Park, flies and displays aircraft from 1940 and earlier. Head up in the air for a birds-eye view in a biplane, or if you prefer to keep your feet on the ground, stop in the office to peek at the antiques, enjoy the hangar display, or see what the latest restoration project is being worked on. During select weekends, families will especially enjoy the entertainment which includes music, dinner, and movies under the stars.
To enjoy a leisurely view of the country side, climb aboard the New Hope and Ivyland Railroad. Whether you decide to take one of the hourly excursions, partake in a family dinner train, or participate in one of the special seasonal event tours, you will be sure to enjoy the scenic views and relaxing ride. History buffs and paranormal enthusiasts will enjoy a walking tour with Ghost Tours of New Hope. Guides lead guests by lantern light through downtown New Hope and regale legends and folk-lore of the mysterious happenings of the area. Be aware, timing is everything. Halloween may seem like a great time to take this tour, but it is the busiest month of the year!
Where to Eat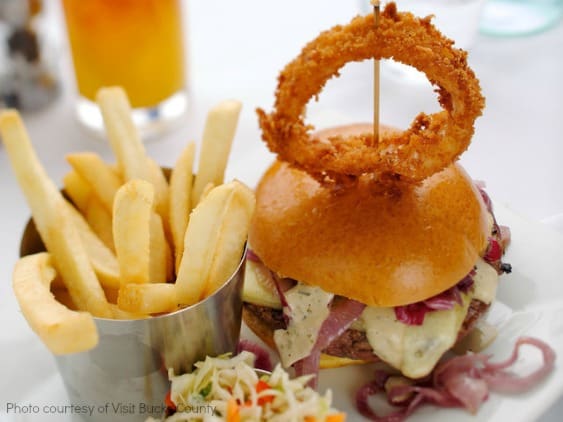 I promise you won't go hungry while visiting Bucks County. From casual and quick, to fancy and gourmet, there is a restaurant for every taste.
Located in Peddler's Village, Buttonwood Grill offers lunch and dinner in a casual setting. The Cock 'n Bull is the perfect venue for a group or a family looking for an option for dinner. Just next door to the village is one of Buck's County's newest and most talked about restaurant, Caleb's American Kitchen. Families will enjoy a tasty breakfast or lunch, and mom and dad will enjoy a delicious night out.
Hickory Kitchen offers good food and great service right in the heart of downtown Doylestown. Starting as a traditional BBQ house, they have expanded their menu to include salads, burgers, wraps, and more to ensure everyone can find something delicious to eat. When wandering down Main Street in New Hope and hunger hits, Mother's Restaurant serves sandwiches, burgers, salads, homemade soups, and much, much more all while using fresh local ingredients.
Where to Stay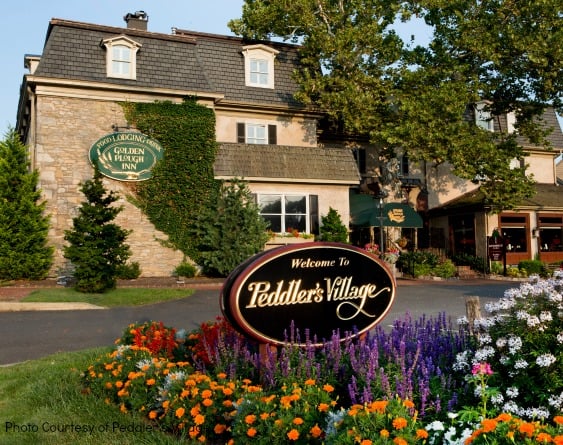 Bucks County offers a variety of lodging options but among the quaintest are the Bed and Breakfasts and Inns. Don't think that a B&B or an inn is set up for families? Think again. We recently stayed in the Junior Suite of Holly Hedge Estate. The spacious room, kitchenette, dining area, and room to sleep six made it perfect for our family. The homemade breakfast allowed us to get a great (and delicious) start to our day, and the thoughtful touch of the snack stand that was always kept stocked was a great way to end the day.
Located within Peddler's Village, the Golden Plough Inn is another wonderful choice when visiting the area. The Inn was recently remodeled in 2014 and no two rooms are exactly alike. What makes this inn unique is that in addition to the main inn, rooms here are spread out in 9 buildings on-site. All stays include a complimentary continental breakfast. Be sure to check their website for special getaway packages.
Disclosure: The author and her family were hosted by Visit Bucks County and received complimentary lodging, meals, and attraction admission. While the hospitality was greatly appreciated, at no time was a specific point of view asked to be shared. Special thanks to fellow Guroo Sharon Rigney for her contributions to this article.