Last Updated on
Trekaroo generates revenue from purchases made through links to our partner brands.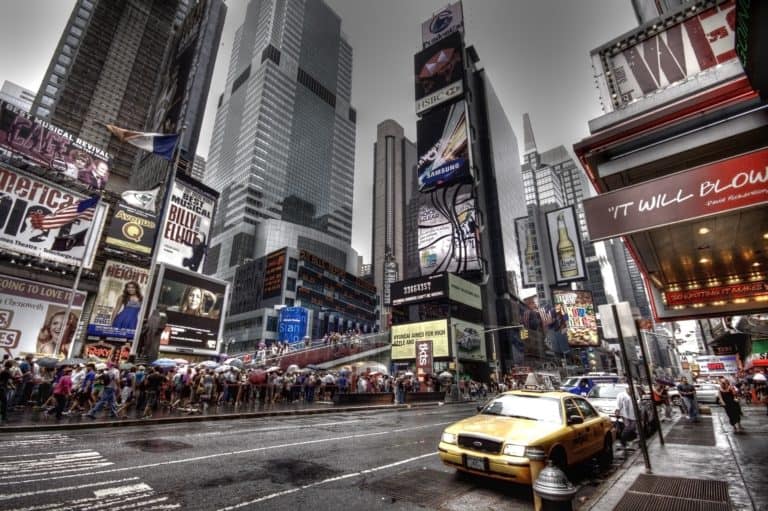 We are big fans of musical theater. As a former high-school theater teacher and current in-the-wings theater mom, I can belt out pretty much every show tune and encourage my kids to devour as much live theater as possible. Although tickets can be pricey, there is little I would rather spend my money on than the chance to see a live, Broadway-style production. But you don't have to be quite this obsessive to enjoy the art form. Here are some musicals to see with kids, organized by age-appropriateness for handy reference.
Best Broadway Musicals to See with Kids
Frozen – Live at the Hyperion
Age Recommendation: All ages
If you've never taken your kids to see a musical, don't miss the chance to see Frozen, Live at the Hyperion on stage daily at Disney California Adventure. This first-class production, with all the amazing talent, costumes, choreography, and scenic design of a Broadway musical takes to the stage up to five times a day, and it is included with your theme-park admission. The short(er) run time (just about one hour), familiar story, and stunning special effects makes this musical a must-see for families with young children.
Where to See Frozen – Live at the Hyperion
The one and only place to see this production is at Disney California Adventure, located next to Disneyland. Tip: FASTPASS is now available to save a seat for this musical. We've got all the best tips and tricks for exploring Disneyland California Resort, so start planning today!
Heading to Walt Disney World instead? Live, Broadway-style theater is available there as well including Beauty and the Beast Live and Finding Nemo – The musical.
Matilda The Musical
Age Recommendation: The production staff recommends 6 and up, but be sure your child can sit still for the 2 1/2 hour performance (there is one intermission).
Based on the kid-favorite book of the same name by Roald Dahl, this musical about a five-year-old full of mischief and the power to change her circumstances delights audiences of all ages. From the acclaimed Royal Shakespeare Company, the play has received numerous accolades from critics and audience members both young and old.
Where to See Matilda the Musical
Broadway. Through January 1, 2017, you can still see Matilda on Broadway at the Shubert Theatre, with the final block of tickets on sale now. Explore the Top 10 Things to do with Kids in NYC!
London. Running through mid year 2017 at the Cambridge Theatre in London, seeing the play where it was written is a great option for families.
National Tour. The national tour of Matilda the Musical is slated through June of 2017, visiting over 13 states across the US.
Aladdin

Age Recommendation: 6 and up
Bringing to life the beloved Disney classic film that your kids might not be too familiar with, Aladdin uses amazing music (with new songs by Alan Menken), beautiful sets and costumes, and stunning special effects to bring the timeless story of rags to riches to life on stage.
Where to See Aladdin
Broadway. The New Amsterdam Theatre is home to Aladdin through August 2017.
Need a place to stay in NYC? Check out the best kid-friendly hotels!
London. Live on stage through 2017, don't miss Aladdin at London's Prince Edward Theatre.
National Tour. A national tour has been announced, with Chicago as the first city to enjoy this production (April-July 2017). Two other cities, Minneapolis and Seattle, have been added to the tour.
Note: The production is also currently on stage in Germany, Japan, and Australia.
School of Rock: The Musical
Age Recommendation: School of Rock is recommended for ages 8 and up.
From famed composer Andrew Lloyd Webber (Phantom of the Opera, Evita, Cats, etc…) comes a fun, family-friendly musical based on the hit film of the same name, School of Rock. The story-line will keep you interested, but you'll leave feeling amazed by the skill of these child actors and musicians, who all play live on stage throughout the performance.
Where to See School of Rock the Musical
Broadway. Live on stage at the Winter Garden Theatre with five performances offered each weekend, School of Rock is a great option for a quick NYC getaway. Lottery and Rush tickets are available. While you are in town, check a few items off of our Top 10 things to do in New York City with Kids.
London. See School of Rock the Musical onstage in London's West End at the New London Theatre through January 2018. Looking for more London tips? Don't miss our Top 20 FREE Things to do in London with Kids.
Wicked

Age Recommendation: 8 and up for some suggested sexuality & adult themes.
Fans of the Wizard of Oz won't want to miss this Broadway delight, especially before it becomes a film (planned for a 2017 release). Based on the book of the same name (but without the sex scenes, FYI), the show tells the untold story of the witches of Oz before Dorothy pops in.
Where to See Wicked
Broadway. On stage at the Gershwin Theatre through the end of 2016, student tickets are available on select dates.
London. You can catch Wicked on stage at the Apollo Victoria Theatre in London now through mid 2017. A UK tour is also currently running.
National Tour. The national tour of Wicked continues throughout 2017 with dates in cities near you.
Note: Heading to Asia? Wicked is currently on stage in Singapore, Manila, & Hong Kong.
Hamilton the Musical
Age Recommendation: Hamilton uses explicit language and talks about sexual situations. The producers of the show recommend it for ages 10 and up. My 11-year-old fanatic says it is nothing she doesn't hear in middle school.
If you haven't heard of Hamilton, well, you just need to check this phenomenon out. This amazing Broadway musical, created, written, and starring Lin-Manuel Miranda (of In the Heights fame), has taken the theater community by storm (and it also won 11 Tony Awards this year, including Best Musical!). Endorsed by President Obama as a must-see civics lesson, your kids won't be bored as they watch hip hop, jazz, R&B, and rap music blend together onstage to recreate the historical account of one of our nation's founding fathers, Alexander Hamilton.
Don't think you'll care about seeing Founding Father history unfold on stage? You'll likely fall in love and become #Hamiltontrash. Not that I know from experience…
Where to See Hamilton
Broadway. Currently playing in The Richard Rodgers Theatre with dates well into 2017, you would think you could plan yourself a NYC trip and secure seats. Alas, tickets are mostly sold out. Sign up for their waiting list or put yourself on the daily lottery for front-row seats; who knows, you might get lucky!
London. Rumor has it that creator Lin-Manuel Miranda might reprise his role as Hamilton at the Victoria Palace Theatre at some point during this long-term run that begins fall 2017. Tickets are moderately priced for this event as electronic tickets will be issued at curtain for named buyers, keeping scalpers out of the loop entirely.
Chicago. Hamilton is in its long-term run in Chicago at the PrivateBank Theater. Group and individual tickets are on sale now. Ready to explore Chicago & plan your trip? Check out our Top 10 things to do with kids in Chicago.
National Tour. The national tour of Hamilton begins March 2017 in San Francisco, followed by a fall/winter run in Los Angeles, with runs across North America through 2019.
Explore San Francisco with Kids | Explore Los Angeles with Kids
Dear Evan Hanson
Recommended for ages 12 and up.
From the director of Rent and Next to Normal, both known for their true-to-life portrayal of humanity, comes Dear Evan Hanson, a musical about teens dealing with social anxiety, loss, and regret.
Broadway. Dear Evan Hanson is playing at the Music Box Theatre through November 2017.
Amélie, A New Musical
Age Recommendation: Producers recommend ages 13+ for this due to mature content and language.
Staring Phillipa Soo, of Hamilton fame, follow Amélie in her imaginative search for love and life in Paris. Based on the popular film, yet entirely in English, Amélie is a best bet for older kids and tweens.
Broadway. After an initial run in Los Angeles, where I was pleased to see this sure-to-be-a-hit production, you can now see Amélie at the Walter Kerr Theatre through late fall 2017.
Featured photo by: Shutterstock