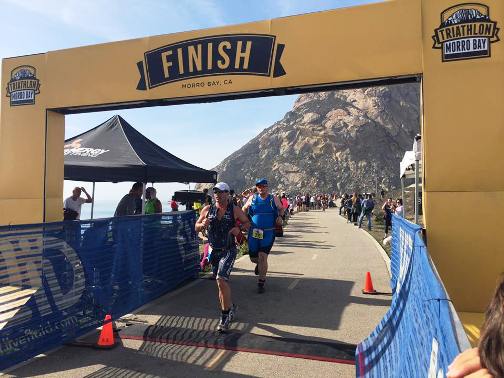 Photo by Kristine Dworkin
My husband is an endurance athlete. For more than two decades I've cheered him on at triathlons, marathons, open water swims, and bike races. He's a living testament that it's possible to balance raising a family with an intense exercise regimen; it just requires a little creativity and an understanding partner. Over the years he's picked up kids at preschool with a trailer attached to his bike and taken them on a very scenic route home. He's run or biked to events where we later met him and brought him home with us. We've even taken triathlon vacations. Yes, destination races make for fun vacations! So, if you've been mulling over a new year's resolution that involves training for an endurance race (or any other race for that matter) but were concerned about taking your family along to such events, I'm about to ease your mind and lift that last barrier to following through on your new year's resolution!
Read about our most recent destination race in Morro Bay and then check out my tips for vacationing during a destination race event.
Destination Race: Morro Bay Triathlon
Located on California's Central Coast, the little beach town of Morro Bay hosts an annual race with the city's famous rock as the back drop. A 15-minute drive from the college town of San Luis Obispo, it's a great spot for proving that racers can bring their families to a triathlon and not have to worry about complaints of boredom. Leading into an event like this, our endurance athlete is busy getting familiar with the course and making sure his equipment is in tip top condition. Here's what we were up to while our racer got his game face on:
Kayaking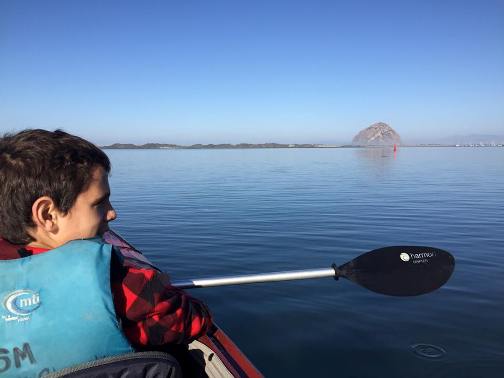 Photo by Kristine Dworkin
Central Coast Outdoors takes groups on a half day kayaking tour through the back bay. Fog hung in the air yet you could still make out Morro Bay's most famous landmark, the Rock. Our guide, John, was knowledgeable and fun. He knew so much about the area and shared it so naturally. We saw herons and harbor seals. Our group made a stop alongside an oyster farm. Eventually, we even parked our kayaks and walked the pristine sand dunes that offer the bay protection from the ocean. We returned to the marina with an appetite worked up and souls fed with a happiness that only a morning spent in nature can bring.
Bone Up on Skateboard History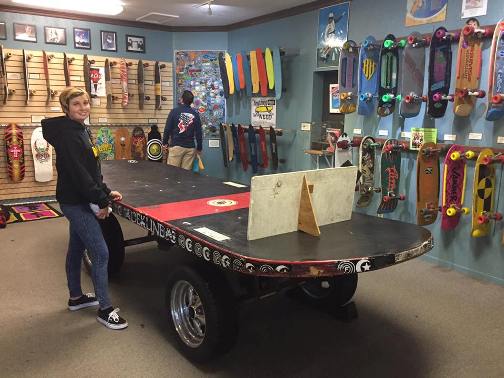 Photo by Kristine Dworkin
The Morro Bay Skateboard Museum is a cool collection of exhibits dedicated to the history of skateboarding. Spread over a couple of rooms, more than 200 skateboards from the 1930s to present day line the walls. It's really quite a sight because honestly, this skateboard novice had no idea that there was such variation among boards! My teenage daughter filled me in on a lot of the differences and designs as we walked through, offering a great opportunity for the child to school the parent for once.
Rent a Surrey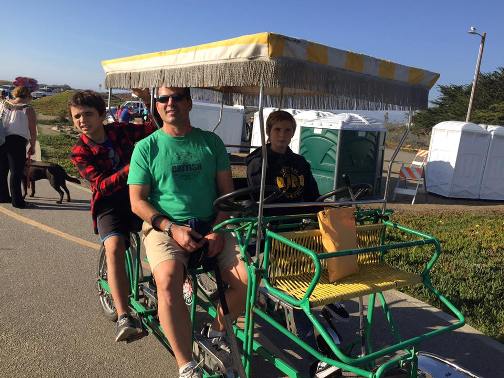 Photo by Kristine Dworkin
Stop by Farmer's Kites & Surreys and rent a surrey. Picture this: your family laughing, working together on surrey navigation as the scenery the Morro Bay Marina passes by. We set off toward Coleman Park, home of Morro Bay's most famous landmark – Morro Rock. We saw the triathlon volunteers setting up for the big race and took note of a potentially great photo opp at the finish line. During our ride, cyclists and walkers stopped and took note of our surrey, perhaps thinking that they ought to rent a surrey too.
Shop For Shells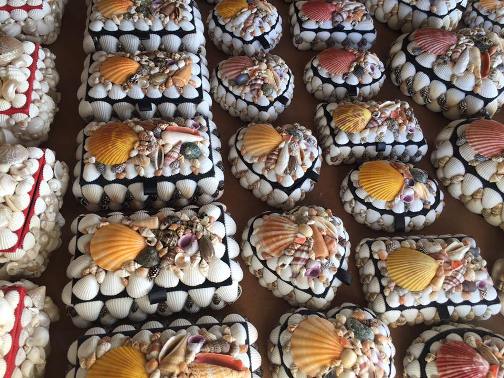 Photo by Kristine Dworkin
The Shell Shop: Walk the rows of merchandise at this wonderfully kitschy shop and you will wish you had a beach house to decorate. There were intricate trinket boxes, wind chimes, wall hangings, and plant hangers for starters. The Thomas family has owned and operated this fun little shop since 1955. While I may not be in the market for a ship or a bell made of shells, I did have my eye on a heart-shaped wreath of white shells. Now to go find that beach house to hang it in!
Where to Eat in Morro Bay
While your New Year's resolution may be to get in shape and tackle an endurance event, you still need to fuel up!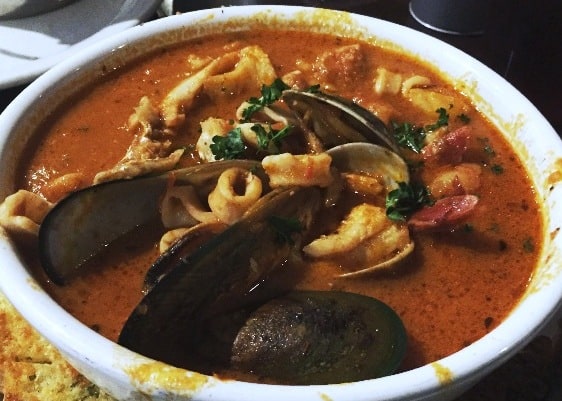 Photo by Kristine Dworkin
Dutchman's Seafood House: Located on the water, within view of the town's famous Morro Rock, enjoy dog-friendly deck seating and watch the boats go by. The clam chowder is amazing; it's made with real butter and bacon! The Cioppino is also a must-try! As the restaurant's name suggests seafood is the specialty of the kitchen in this establishment, yet the two non-seafood eaters in my family found something that appealed to them.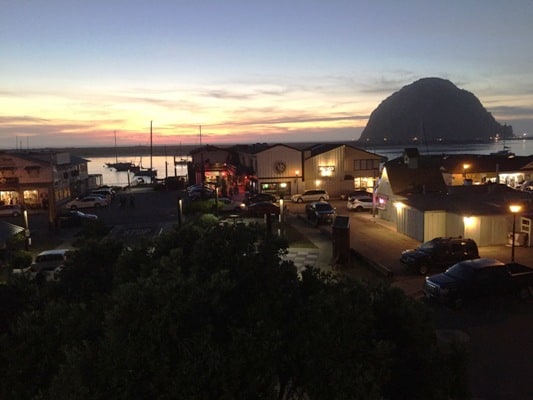 Photo by Kristine Dworkin
Dorn's Original Breakers Café: You want a table at one of the restaurant's big picture windows. Morro Bay's main drag, Embarcadero, is laid out below, lit up and twinkling, highlighted with orange, yellow, and blue sprays as the sun sets behind Morro Bay's iconic rock. Family owned and operated for three generations, the clam chowder in this place is made from an award-winning 70-year-old recipe.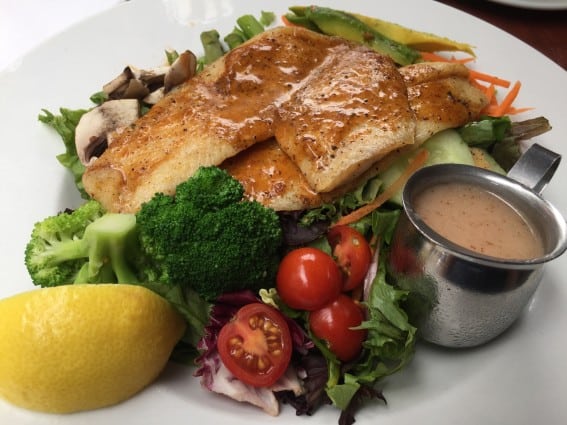 Photo by Kristine Dworkin
Bayside Café: This little gem has a devoted fan base for lunch and dinner and with good reason! We were hungry, having just finished a morning kayak tour with Central Coast Outdoors and we had no problem finding a way to refuel! The Fish of the Day salad was fantastic but, my new favorite thing is California Chowder! It's clam chowder with green chilies in it. Why have I not run across this combo before? It is brilliant!
Where to Stay in Morro Bay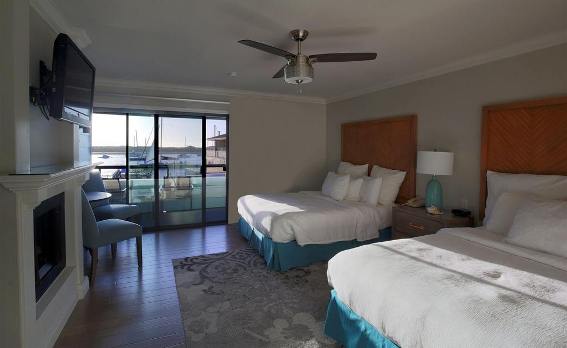 Photo courtesy of 456 Embarcadero Inn & Suites
456 Embarcadero Inn & Suites: Located at the quieter end of Morro Bay's main drag, but still within walking distance to many popular restaurants and hangouts in the area, 456 Embarcadero is a great getaway stay for families and small groups. The rooms are spacious, clean, and comfortable. The Inn is also dog-friendly. My favorite amenity was the terrace that looked out over the channel, a great place for watching sunrises and sunsets during our stay.
Tips for Destination Race Travel
When you have an endurance athlete in the family, the entire family participates in the quest for victory whether they know it or not. Here are some simple tips I follow when we travel to races as a family:
Be Prepared to Solo Parent
We usually arrive at a destination 2-3 days before the race event, allowing time for our endurance athlete to prepare himself, attend race expos, acclimate to any climate change, and get familiar with a race course. This usually means 2-3 days of solo parenting for me. Go into it with a plan and be prepared to change or adjust it for weather or your kids' needs. We've explored plantations, ocean centers with touch tide pools, zoos, and historic sites while our athlete did his thing.
Make Race Day Fun
Break out those cow bells and noisemakers! Get the kids involved in making an encouraging poster. My family just grew out of our latest t-shirts featuring our racer and declaring ourselves part of his team. We'll soon be investing in new ones.
So make that new year's resolution to start endurance training. Before long, the click-clack of bicycle shoes heading out into the garage, the systematic filling of water bottles and other signs that training season is here, will have your family excitedly asking,where are we going next?
DISCLOSURE: Thank you Discover Morro Bay for hosting my family. Although my family received complimentary lodging, dining, and activities, my reviews are always my own opinions and are not influenced by staff or its affiliates.
Featured photo by: Bigstock/Rawpixel.com