Breckenridge, Colorado is one the Rocky Mountains' magic towns. Here, the snowy mountain peaks hug the sky like two old friends coming together to share a secret. Their secret? Perhaps its the boundless beauty of Mother Nature or the endless opportunities for visitors experience discovery- the discovery of new paths, new experiences, and deeper bonds. Recently I set out to explore Breckenridge with kids, and found plenty for the whole family to discover along the way.
Hit the Slopes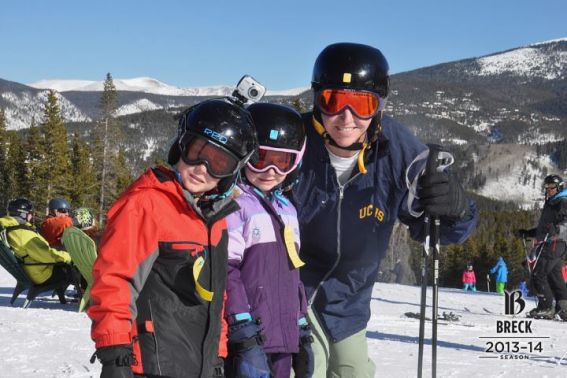 Breckenridge is a high elevation ski resort. The town sits at 9,600 feet and the resort's highest chairlift, the Imperial Express, take skiers and snowboarders all the way up to 12,840 feet! The high elevation and average of 300 inches of snowfall per year results in one of the longest ski seasons in North America. Many people seem to forget that Spring Break can be a great time to take a ski vacation. In past years, my own family discovered on our own Spring Break ski trips that the crowds are sparse, the weather is often quite pleasant- odds are in particularly your favor at Breckenridge where they see 300 days of sunshine per year- and the deals are abundant. This year, the ski season extends all the way until April 27th and lodging is 40% off during the month of April, making spring skiing at Breckenridge a tremendous value.
Experience has taught me that nothing really improves skill and confidence faster than a day in ski school and the time my kids spent at Breckenridge Ski School at Beaver Run only solidified that belief. On the first day of skiing, my daughter made her way down the hill like a snail on skis. After a day of ski school, she came out skiing like a completely different kid and was able to confidently keep up with her speed demon brother. Speaking of speed demon, his day of ski school took him from the skiing easy green runs to expertly coasting down the intermediate blues. Yes, my kids are now officially out-skiing me.
Read reviews from families who have experienced Breckenridge Ski Resort for themselves.
Tip: When visiting high elevations, altitude sickness can sometimes hit those of who spend most of our time near sea level. There are oxygen bars and all sorts of gimmicky products you can buy to "help" with altitude sickness but when my family visited Peru, our tour guide who was native to the Andes and frequently encountered out-of-towners not used to the elevation, told us that the best way to combat altitude sickness was to drink plenty of water and skip the oxygen shots because they don't allow your body to adjust to the altitude. Typically a body will adjust to the new altitude within 24 hours. Be sure to watch little ones, who aren't often the best at communicating, for signs of altitude sickness such as lack of appetite, high pulse, upset stomachs, and excessive fatigue. Keep kids well hydrated, encouraging them drink twice as much as normal to combat the thin, dry air, and they should do great!
Mush Puppies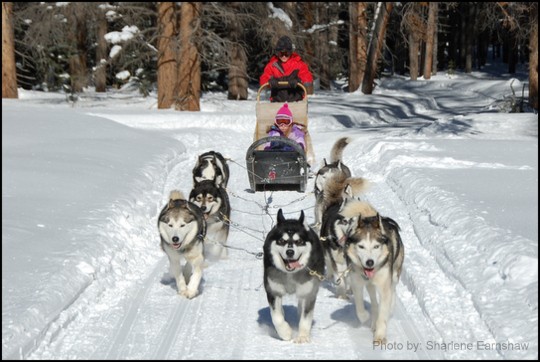 If you want to give your family an experience that they will never forget, take them dog sledding through the Rocky Mountain's stunning winter scenery. Good Times Adventures, a local outfitter that offers amazing dog sled and snowmobile tours to families with children as young as age four, lets the entire family do the mushing. Members of your party will take turns guiding the two-person dog sled through snowy Swan Valley. Guides cater to your comfort level, making the ride as tame or exhilarating as the mushers feel comfortable experiencing. Expect to fall in love with the friendly huskies pulling your sled; each has its own distinct (and loveable) personality and skill set. Everyone in my family agrees that our dog sled adventure was truly the highlight of our time in Breckenridge.
See for yourself just how much fun dog sledding in Breckenridge can be!
Out About Town
Unlike many ski resort towns which are merely a result of the chair lifts being installed, Breckenridge has been bustling since 1859, long before the slopes were groomed and condos were built. As a matter of fact, the charming downtown of this former gold rush town is a National Register Historic District. Main Street and its surrounding side streets are lined with "mom and pop" shops (kids will love exploring Peak-a-Boo Toys) and locally-owned restaurants housed in lovingly cared for historic buildings. The Blue River meanders through town behind Main Street, and a lovely walking trails skirts its banks. During the winter, an Ice Castle dripping with thousands of icicles, stands at the Riverwalk Center.
Fun fact: Many of the outdoor scenes from my favorite movie, National Lampoon's Christmas Vacation, were shot in Breckenridge!
If you would like to enjoy a date night your sweetheart, skip the babysitter and drop the kids off Mountain Top Children's Museum's Kids Night Out so that you can enjoy an adult evening at one downtown Breckenridge's great eateries (I recommend reserving a table at Relish) while the kids are having a blast making educational crafts, playing games, exploring the museum's hands-on exhibits, and chowing down on dinner. A word of warning: when you come to pick them up they won't want to leave!
Looking for more good eats around town? Check out these reviews of family-friendly dining in Breckenridge.
Beaver Run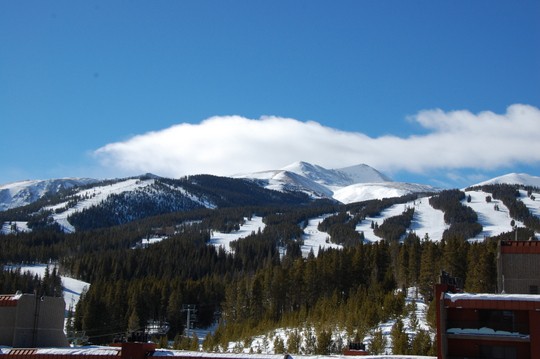 Beaver Run Resort is a great place for families to call home base, no matter which season they visit Breckenridge. The resort is conveniently located at the base of peak 9, features multiple amenities (spa, pool, and mini golf, anyone?), offers guests varied dining options, and has spacious condos that scream family-friendly. The convenience of staying at a ski-in property within easy walking distance of downtown means families won't have to worry about things like lugging ski equipment (Beaver Run offers complimentary ski lockers to its guests) or driving on wintry mountain roads. It also means families can easily come upstairs to their rooms for lunch (condo kitchens= vacation cost savers) or a nap and be back out on the slopes again within minutes.
Read my full review of Beaver Run Resort.
A special thanks to Breckenridge Resort Chamber for hosting my family on our winter adventure so that I could share all that Breckenridge has to offer families with our Trekaroo readers. For more information on Breckenridge, including plenty of summer fun, check out GoBreck.com.