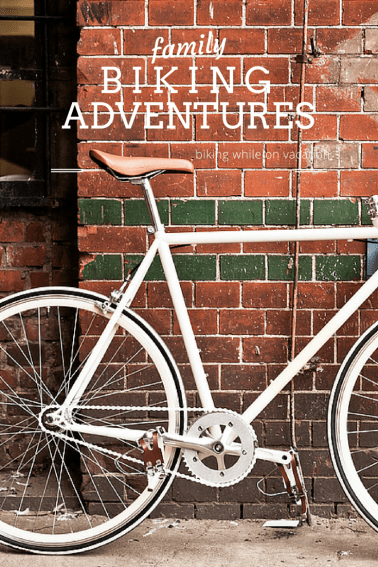 As any traveling family knows, there are a host of great activities available while on vacation. From sports to organized tours to hiking and exploring a new city or region, some activities are geared towards touring, some towards entertainment, and others just great fun. Biking while on vacation is one of those activities that can be all of these things rolled into one, and is something that any member of the family can participate in. No matter what motivates you and your family, from fresh air, fitness, or staying active while on vacation, there's a biking activity for you.
What kinds of tours can you take by bike? Here are a few examples and how they can help make your next vacation more active and enjoyable.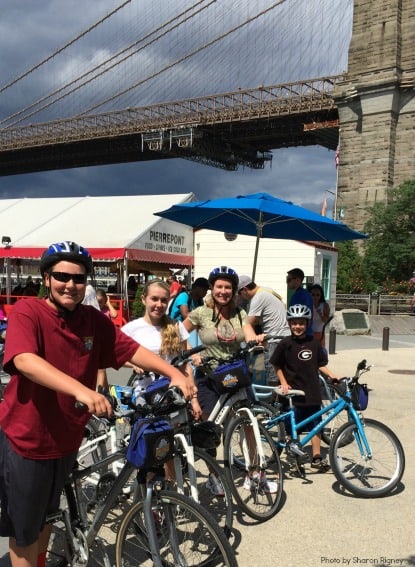 Biking As Part of a Self-Guided Tour
Many places offer visitors the opportunity to rent a bike, grab a map, and see an area on their own. This is a great option for families, as you can often arrive when you'd like to and when your crowd is at their best. You can tour for as long as the kids stay interested and cooperative and can also stop longer at areas they're more interested in, taking the time to include relevant facts or stories. You can also adjust your trip should the weather not be cooperative.
My family has participated in self-guided tours by bike, and we've often allowed whatever child is most interested to lead the way. There are self-guided bike-friendly tours all over the country; we found several such rides available near our hometown, including rides to tour battlefields such as Gettysburg and Valley Forge. Tie the monuments and buildings into things the kids are learning about in school, and you've got a lesson as well as a scenic bike ride. You've also just fit some exercise and time outside into your vacation. You are parent of the year!
Self guided bike tours can be found in rural as well as urban areas. We rode bikes as guests of Bike and Roll NYC, and were able to rent them right in Brooklyn, bike across the Brooklyn Bridge, into and around Manhattan and then head back to Brooklyn to complete our ride. Bike and Roll bikes can be dropped off or picked up at any of their locations, which makes it convenient to find one no matter where your lodging is located. Each bike comes with a basket and helmet allowing you to carry a few things and be safe too. It was a fun and interesting way to see New York City and we loved biking across the bridge together. It was very entertaining and a great way to spend an afternoon.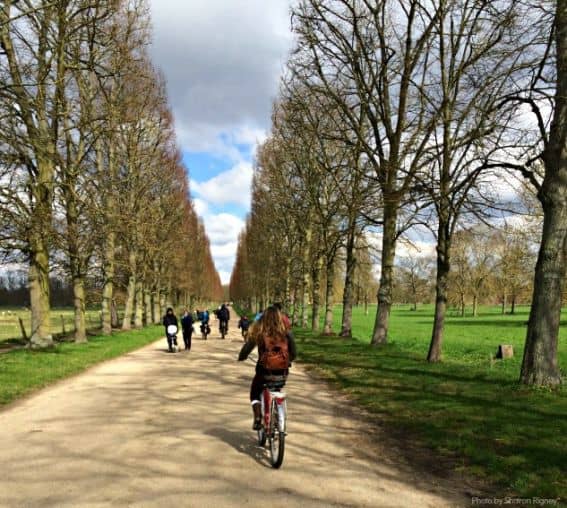 Biking As Part of a Guided Tour

Some families prefer to bike as part of a guide-led tour. This leaves the navigation and information-gathering to the professionals, and allows your family to simply ride and listen. When my family visited Paris, we included a guided biking tour in our itinerary not only to mix things up, but because we'd heard it was a great way to experience the city that traveling by public transport, by car, or on our own would not afford us. We were not disappointed.
Our tour was through Fat Tire Paris, and they come highly recommended. Families can choose from guided tours of the city during the day or nighttime, tours of Versailles, or even Monet's Garden. Once you've chosen the tour that most interests you and your group, you simply show up when and where you're instructed to, and leave the rest to the hugely capable staff here. My family opted for the tour of Versailles. We met at Fat Tire's Paris headquarters and immediately felt like we would be well taken care of. We were assigned a group leader and given an overview of how our day would play out. The group we biked with was limited to a small number so that we could travel together effectively and be able to get the most out of our experience. At no point did we feel that the ride was too tiring or difficult for us to do. Our kids are 16, 13 and 9, and they could all easily keep up. Bikes were readily available and were quickly and efficiently obtained upon our arrival near Versailles. The rest of the day was spent riding and listening to stories of the royalty of the time and the goings-on in and around the Palace. What a different world it was back then.
Biking as part of this tour allowed us to take in the scenery, enjoy the day, and learn about and experience this incredible site in a way we wouldn't be able to had we gone on our own. There was also the reassurance that we wouldn't get lost, or even experience bike troubles that would ruin the day. Guides here are as bike-savvy as they are knowledgeable about their destinations. Our group ended up recording a record-breaking three flat tires (they normally have only a few over the whole year), but they were handled so professionally and quickly that it in no way took away from the excursion. In fact I was impressed that they knew what to do so quickly and easily. We were able to see so much of the area, and even had a picnic lunch by the water after a visit to the local farmer's market for supplies. What a perfect thing to do in Paris. I would highly recommend a biking tour, and would especially recommend Fat Tire Paris. They also run tours in other cities such as Barcelona, Berlin, and London. Look them up if you're ever in one of these cities. You won't be disappointed.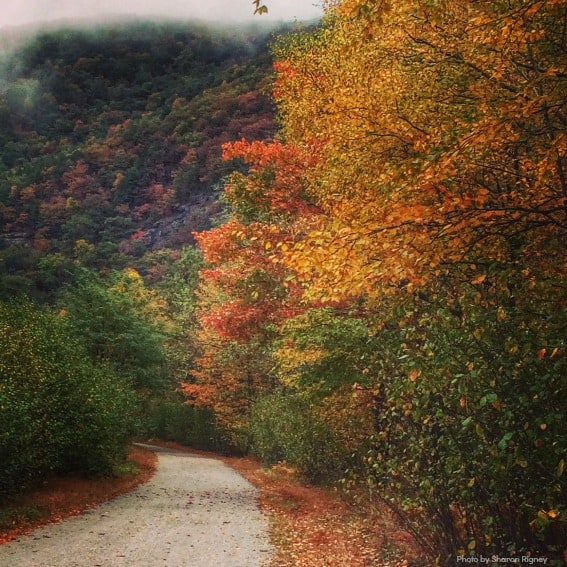 Biking To Take In The Scenery
Sometimes biking can simply be scenic instead of oriented towards a tour or something specific to see. Biking on flat trails such as the many Rails To Trails located throughout the country are perfect options for families, as these trails are flat and easy to navigate. Pocono Biking in Pennsylvania is one such organization that allows you to rent bikes, can drop you off at the end of the trail, and you are then free to bike your way back so that hopping into your car at the end is quick and easy. Riding this trail in the height of fall foliage season is a true treat.
AJ's Ski and Sports in Stowe, Vermont is another company that helps you enjoy the best of the great outdoors. Here you can rent bikes for the family by the hour, the half-day or full-day, and hop right on the Stowe Recreation Path, taking in lovely scenery as you traverse the easy 5.3 mile trail. It's picturesque as well as a nice way to get out and get the blood pumping. The staff helps you get the best bike for your needs, hooks you up with a helmet or water bottle if needed, and cheerfully sends you on your way. There are plenty of great spots along the way to stop for a quick picnic or to take a break and play. Bring a camera for scenic or silly shots, and enjoy the opportunity to connect with the area in a way you can't do by car.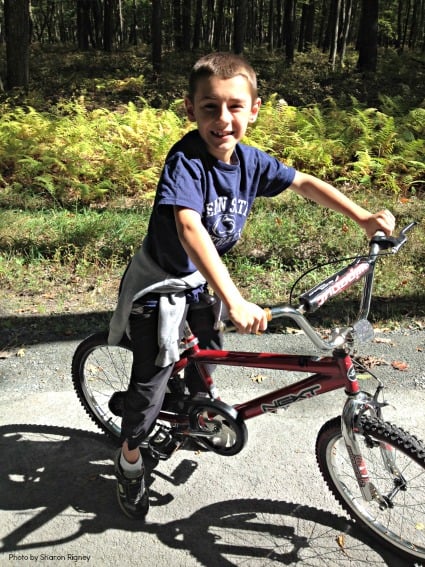 Biking Vacations
Biking from site to site as a vacation in and of itself is also a possibility. Families who bike a lot or especially those with older children may want to look into this option.
No matter what reason brings you to biking, it's a great way to mix things up on vacation, and is a nice way to include everyone in on the fun. Whether you pull your little ones behind you in a carrier or ride alongside them, whether you're in it for the scenery or looking to tour a palace or a city, biking can be an interactive and fun activity and might just be the one you remember most about your next trip.
For additional biking ideas, check out Family Bike Trips, Tips and Gear for Family Biking Fun or search Trekaroo for biking trails and tours near you.
Disclosure: My family and I received bikes and admission to some of the activity venues listed here, although the opinions are always my own.