Last month, my family and I spent three busy days exploring New York City. We covered a lot of ground on foot, on subways, and in taxis, but never so much (and in as enjoyable a manner) than when we spent a full morning biking the Hudson River Greenway and Brooklyn Bridge with a fleet of bikes rented from New York City's Bike and Roll.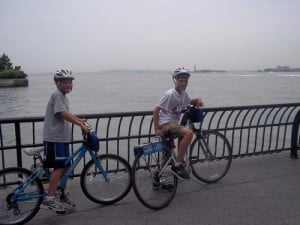 Bike and Roll (which has eleven NYC locations) offers guided tours along the Greenway and Brooklyn Bridge daily, but families can also opt to pedal off on their own at any time, which works great with packed travel schedules. We choose to partner our self-guided rentals with New York Water Taxi, experiencing their 'Bike the Brooklyn Bridge, Water Taxi Back' package, which includes rentals from Bike and Roll and vouchers for a water taxi ride from Brooklyn back to our point of origin (Pier 84).
A fabulous way to see a large amount of the city without worrying about navigation (and not getting tired feet!), we found this route to be much more relaxing than we'd thought it would be. The kids loved the bike riding, and three-fourths of the time, we were on bike and pedestrian-only paths paralleling the street and the Hudson River. During the stretches we did have to join traffic (in bike lanes), the route was well marked with green bike symbols and arrows.
The route took us south from Pier 84 (next to the Air and Space Museum) to Battery Park, at which point we retraced our last mile to Warren St, where we cut through the Financial District (just a few blocks in a bike lane) to the Brooklyn Bridge. (We could have shortened our route by not continuing to Battery Park, but the views of the Statue of Liberty and Ellis Island are well-worth the detour.) Once we'd crossed the Brooklyn Bridge (which was very cool, and again, easier to navigate than we'd thought), we followed signage to Fulton Ferry Park where we caught a water taxi back to Pier 84. The water taxi included a friendly guide pointing out the sights along the way, was not at all crowded, and afforded yet another great view of the Statue of Liberty, Ellis Island, and downtown Manhattan.
The Details: Cost for New York Water Taxi's Bike the Brooklyn Bridge package is $49 for adults, $29 for kids, which includes bikes and vouchers for the water taxi. Should you prefer to experience your ride with a guide, you can do so through Bike and Roll for $49 and $35, respectively. Tours depart daily at 2 pm. One perk of opting to do the tour on your own is that you get the bikes all day, so your tour can be as long or short as you'd like. (Your water taxi voucher is not restricted to a particular time, so you could bike half a day before boarding one, or board one earlier on and ride longer afterward.)
Bike rentals are located at Pier 84, where you can join the greenway bike path immediately. Many types are available, including child-sized bikes, baby seats, and 'tag-along' trailers and seats (which I recommend for the under age five set, simply so you don't need to worry about them getting ahead of you on the path and navigating traffic). No need to reserve ahead of time, but because their bike inventory changes as cyclists come and go, any given location may not have every size available at any one time. When we showed up at the Pier 84 location, for instance, they were out of child-sized bikes for our 10-year-old. He made due with a larger one, but we exchanged it at the next location (Battery Park). Allow for at least two hours to complete the tour from Pier 84, or three hours to do so at a more leisurely pace.
Tip: Bike and Roll lists an option for an 'all day pass', which is similar in price but only includes a discount on the water taxi (in addition to other attraction discounts throughout the city), but as families are given their bikes until 8 pm as part of the Bike the Brooklyn Bridge, Water Taxi Back package, so that's the better deal. Rentals through Bike and Roll not including the water taxi start at $12 an hour. Tandem bikes, bike trailers, and baby seats were also available.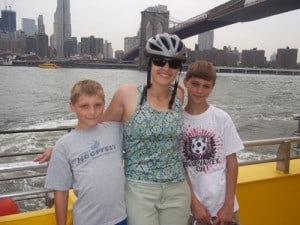 Water Taxi Tip: In addition to being a fun way to return your bikes at the end of your greenway and Brooklyn Bridge tour, water taxis are a great way to see the harbor. Their hop-on, hop-off passes are $25 and $15, and make for a great way to see the harbor and the Statue of Liberty up close.
To contact Bike and Roll:
212-260-0400
To contact New York Water Taxi:
866-989-2542
Disclosure: The author and her family experienced the Bike the Brooklyn Bridge tour as guests of New York Water Taxi. This hospitality came with no expectation of a positive review.
Amy Whitley is the founding editor of Pit Stops for Kids, a family travel resource covering kid-friendly resorts, attractions, outdoor adventures, and all the pit stops you'll need along the way. She also writes for a number of print and online travel publications, and is a family travel expert at Best Family Travel Advice. She lives in Oregon with her husband and three sons, where they enjoy backyard adventures when they're not traveling.
———————————————————————————————————–
Travel with kids to: CA |CO | DC | FL | HI | IL |MA | NC | NY | OR | PA | TN | TX | VA | WA