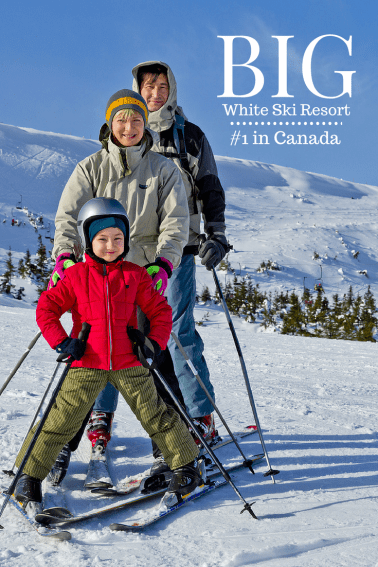 Big White Ski Resort for Families

Big White: voted Canada's #1 ski resort for families. It sounded like a challenge. As a skiing family, we've seen many family friendly resorts. What sets Big White apart, we wondered? Within minutes of arrival at this Kelowna, BC-based resort, we had our answer. One look at Big White's weekly family activity sheet offered upon arrival, and my 11-year-old turned to me and said, 'This place is like the cruise ship of ski resorts.'
He was right. Daily activities at Big White can include family apres ski fare and entertainment, bi-weekly carnival nights (free cotton candy and bounce house included), hot chocolate at the skating rink, family bonfires, nightly supervised theme nights in the Kids' Centre, teen Wii nights, culinary creation classes, and more. And that's just the scheduled stuff: in addition to daily skiing and snowboarding, families can go tubing, ice skate, or play hockey on the highest alpine skating rink in Canada, take a sleigh ride, climb an ice tower, snowshoe, ride in a dog sled, or soak in a hot tub. (Yep, you'll need more than a few days.)
All of the above takes place in the only completely ski-in, ski-out resort we've ever reviewed. In fact, we like to call it 'ski-everywhere', because Big White was designed to be completely accessible by skis. Want to jump on a lift? Ski straight to it. Having dinner in the village? Walk through a snow-laden tunnel directly into the centre. Feel like night tubing or skating? Hop on the gondola or ski down. No matter where you stay in the resort, you can ski to a lift and ski or walk to both the Village and Happy Valley areas for recreation, shopping, and dining. We parked our car and never thought about it again.
Where to stay at Big White Resort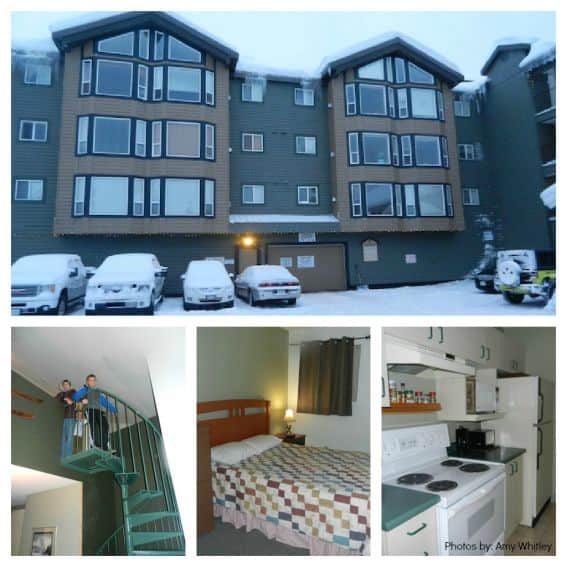 As I skied around Big White, I challenged myself to find 'bad' lodging in this resort, and came up empty. No matter where you stay, you can ski in and out. That said, some locations are better than others, depending on what you want in your ski vacation. For families with kids, I recommend our accommodations at The Eagles Resort. Our three-bedroom plus loft condo had the perfect layout for skiing families, and was steps from the village and its Kids' Centre. The Eagles has seen a few winters…this is not what you'd call swanky ski lodging (though you can find that at Big White, too). Instead of granite counter tops and exposed wood beams, it has the ultra practical stuff: a huge (and I mean huge) coat and boot storage area, a large kitchen, and, in the case of our 5th floor condo, a fun kids' loft with three beds at the top of a spiral staircase. Our 9-person condo had three full bedrooms in addition to the loft, a spacious living room with fireplace, TV, and window seats, two bathrooms, and lots of storage area. Our skis were stored in our own ski locker on the 2nd floor of the Eagles building, which opens out directly onto the green-level Hummingbird run. After skiing, we could deposit our skis and go soak in the indoor-outdoor communal hot tub or play ping pong or foosball in the game room. Our Eagles condo allowed us to make our own meals and ski in for lunch or snacks.
Where to eat at Big White Resort
Many Big White families eat in, which means on-mountain dining is uncrowded. Family-friendly (and family-priced) restaurants can be found both in the Village Centre and in the lower Happy Valley areas. The way Big White is laid out with the Village Centre at mid-mountain, no peak lodges or dining exist.
Breakfasts and Lunches: We ate a delicious breakfast of hot chocolate and cinnamon rolls and breakfast sandwiches at Beano's in the Village Centre Mall (directly across from ticket sales). It's easy to get a quick bite here before registering the kids in ski school (located directly across the snowy pedestrian and ski-only 'street'). For an uncrowded and reasonably-priced ski lunch, ski to the Westridge Hut by the Gem Lake Express on the far side of the resort for homemade soups, wraps, and sandwiches. If you want to take the time for a more relaxed lunch, sit-down service is friendly and quick at The Bullwheel, located in the village. The gourmet burgers are huge (we recommend the salmon burger and veggie burger), and kids will get a kick out of making their own pizzas table-side.
Dinners: Casual meals can be had at Snowshoe Sam's in the Village Centre and Moose Lounge in Happy Valley. (Check out the fun atmosphere of Family Apres Ski at the Moose Lounge almost every evening from 4pm to 6pm, where free popcorn and coloring books keep kids entertained, along with mocktails to sip while adults enjoy a cocktail or beer.) For higher-end dining, make a reservation at Gunbarrel Grill or Kettle Valley Steakhouse. We ate amazing pasta and seafood at the Gunbarrel before ordering the famous 'Gunbarrel Coffee' for an adult-only dessert. (Hint: this comes with a show involving a rifle and fire that the kids will love.) If you visit during the holidays, Kettle Valley Steakhouse will deliver a fantastic holiday dinner to your condo or hotel room: our Christmas Day dinner included turkey, perfectly-cooked veggies, a salad with cranberries and candied pecans, bread, stuffing, and cheesecake.
If you plan to make meals in your condo, grocery shopping is best in Kelowna en route to Big White. For anything you forgot (plus a great selection of local Okanagan wines), The Market at Big White has you covered.
What to do when off the slopes at Big White Ski Resort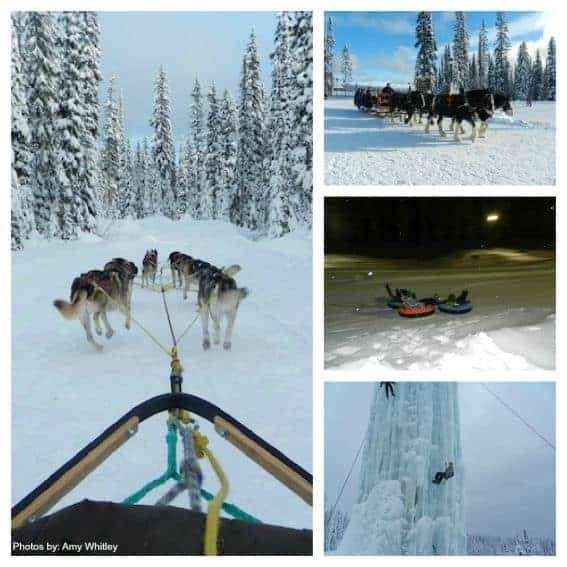 Lifts stop turning at 3:30-4pm at Big White (with the exception of night skiing…more on that later), but that doesn't mean your day ends. With early-onset darkness, sometimes it can be a challenge to find things to do with kids in the evenings at ski resorts. Not so at Big White. Once your ski day ends, your snow fun begins in the Happy Valley section of the resort. Either before dinner or after an early dinner, we took Lara's Gondola down to the base for nightly outdoor fun in Big White's Adventure Park and Happy Valley areas.
Ice skating: Given the number of times they begged to go, I'd say ice skating was my kids' favorite evening activity at Big White. What makes it special? You can rent hockey sticks and buy pucks to play on this free-form outdoor rinks nets. There are even referees ready to orchestrate games. Figure skates are also available. Skating is only $5 CAN if you have your own gear. Rentals are another $9 CAN.
Mega Coaster Tube Park: Families can also buy tubing and skating combination tickets for $20 CAN, or just spend their evening tubing on the two hills with multiple lanes. When you get chilly, there's a real wood fire burning at both locations (and occasionally marshmallows and roasting sticks are handed out). Kids and adults are whisked up the hill while sitting in their tube, attached to a rope tow, so you won't even have to 'earn' your ride down.
Ice Tower: During the afternoons, families can try their climbing abilities on the 60 foot Big White Ice Tower. Truly unique, this ice tower is the only one in North America, and offers even very young kids through adults the chance to try the sport of ice climbing (no experience necessary!). After being outfitted with ice picks, special ice-climbing boots, helmets, and harnesses, our whole family took turns climbing the wall's beginner side, cheering each other on the whole way. Though challenging (and a bit intimidating!), I definitely recommend trying this at least once! (Experienced ice climbers will want to get a daily pass!)  Want to see a video of this fun activity? Watch now.
Nordic Tracks: From the Adventure Center, families can depart via snowshoe or cross-country skis along Big White's extensive nordic trail system. One thing we loved about Big White was how relaxed it is: guests can sled, snowshoe, walk, or play in the snow just about anywhere they please. Be on the lookout for Big White's horse-drawn sleigh and dog sled team while you're enjoying the trail system!
Snowmobiling: Families can sign up for guided snowmobiling excursions (again, right from the Adventure Park…no driving required), or let the kids tool around a snowmobile track using mini-snowmobiles (must be under 100 pounds). We didn't get a chance to try this activity, though the kids looked at it longingly.
Dog sledding: Save room in the budget for this activity…you won't regret it. We had an amazing experience dog sledding with Big White's musher Tim and his team of friendly, talented dogs. Plan for at least 1.5 to 2 hours for this experience, because in addition to riding on a sled pulled by the team (and getting your turn to help mush), Tim takes the time to introduce you to his dogs and educate you on the culture of dog sledding. We loved meeting the team and learning what the dogs eat, how they're trained, and how their unique physicality makes them ideal for pulling sleds over snow. Note: there's a weigh limit on the sleds, so if your whole family wants to go, consider booking two sleds at once, or blocking out a larger part of the day to take turns. Want to see a video of our experience?  Watch now.
Explore our detailed reviews of on-the-mountain skiing for families at Big White
We experienced Big White as guests of the resort, for the purpose of review.