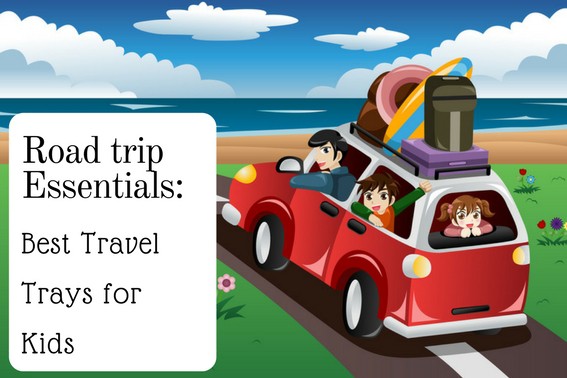 You're driving and you've got kids in the back with drinks and activity books. "MOM!!! I dropped it!" Your heartrate rises. You reach behind the driver's seat and feel the handle of the cup. Thank God it didn't drop in a place where you can't reach.
Sound familiar? After dealing with that for a couple of months, a friend of ours gave us the StarKids Snack and Play Tray. Ingenious product. Keeps everything for my 2-year old son within his reach which keeps him happy which keeps me happy. With it, I was able to take a 6 hour trip with my toddler from San Francisco to LA by myself without a hitch.
If you're starting to book your summer vacation, be sure to order a travel tray and make the ride fun for the kids. here are Trekaroo's top travel trays for kids from toddlers to tweens.
Lead Photo by: bigstock/Artisticco LLC 
Best Travel Trays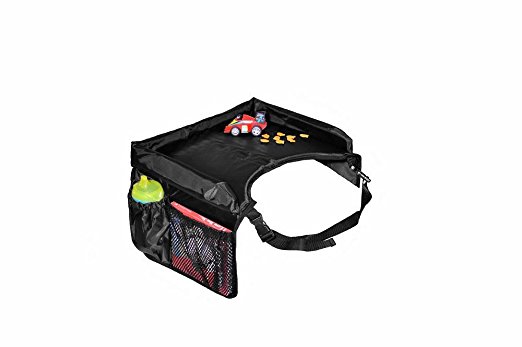 Photo via Amazon
Pros:
Fits any carseat or stroller. Many of the other travel trays don't fit my son's Britax Roundabout
Easy to use and collapsible – aka safe
Raised tray edge keeps toys and snacks from falling on the floor
Mesh bags on the side for drinks and books
Easy to clean and wash nylon material
Cons:
Tray is made of foam so the surface is not entirely flat. Some customers complain that it's hard for a child to draw, but my son has no problems with it. He had a difficult time putting his puzzles together, but I just bring a magnetic board for him to use as a flat surface
Available at Amazon and Family Travel Gear.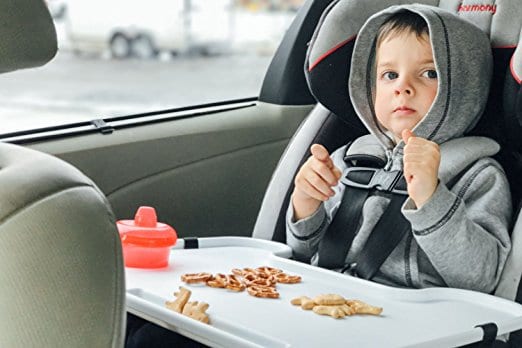 Photo via Amazon by CNC-KE
If your kids want a super solid surface to play on, then the CNC-KE Taby Table Tray is your best bet. The tray has a special spot for cups/bottles and a crayon holder to  help prevent spills. The plastic is light and easy to clean. It attaches via two straps and buckles hooked under the seat. Recommended for children ages 6 months to 4 years but can also be used for older children as a lap table alone.
Pros:
Fits most car seats and strollers. Works best with car seats that have armrests
Light and portable
Smooth and flat surface
Easy to clean with wipes or in the sink
Special cup holder and crayon slots
Cons:
No additional storage space
Meets automotive safety requirements, but it's hard plastic, so some parents are a bit skeptical
Get it on Amazon.
Best Lap Desk for Kids: MegaCraftBrand Lap Desks ($23+)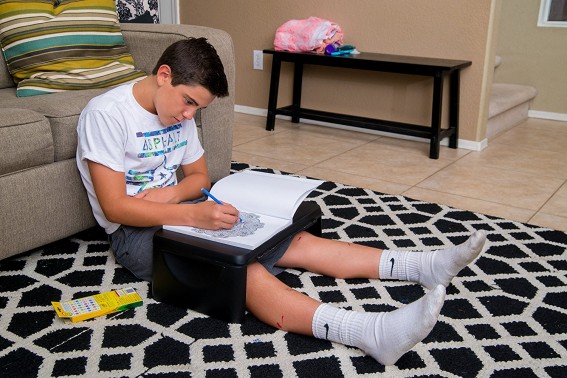 Photo by MegaCraftBrand via Amazon
For older kids who don't need to have their travel trays strapped down, a simple lap desk is just what they need. The MegaCraftBrand lap trays are great because they have a hard surface to write on, fun, brilliant colors, and great entertainment storage space beneath the cover.
Pros:
Fun colors
Storage area for art materials, books, games, etc.
Smooth and flat surface
Easy to clean with wipes or in the sink
Folding
Cons:
More expensive which might be tough for smaller budgets
Get it on Amazon.
Look for more road trip essentials? Learn how to make any trip an educational excursion with our Road School Guide.