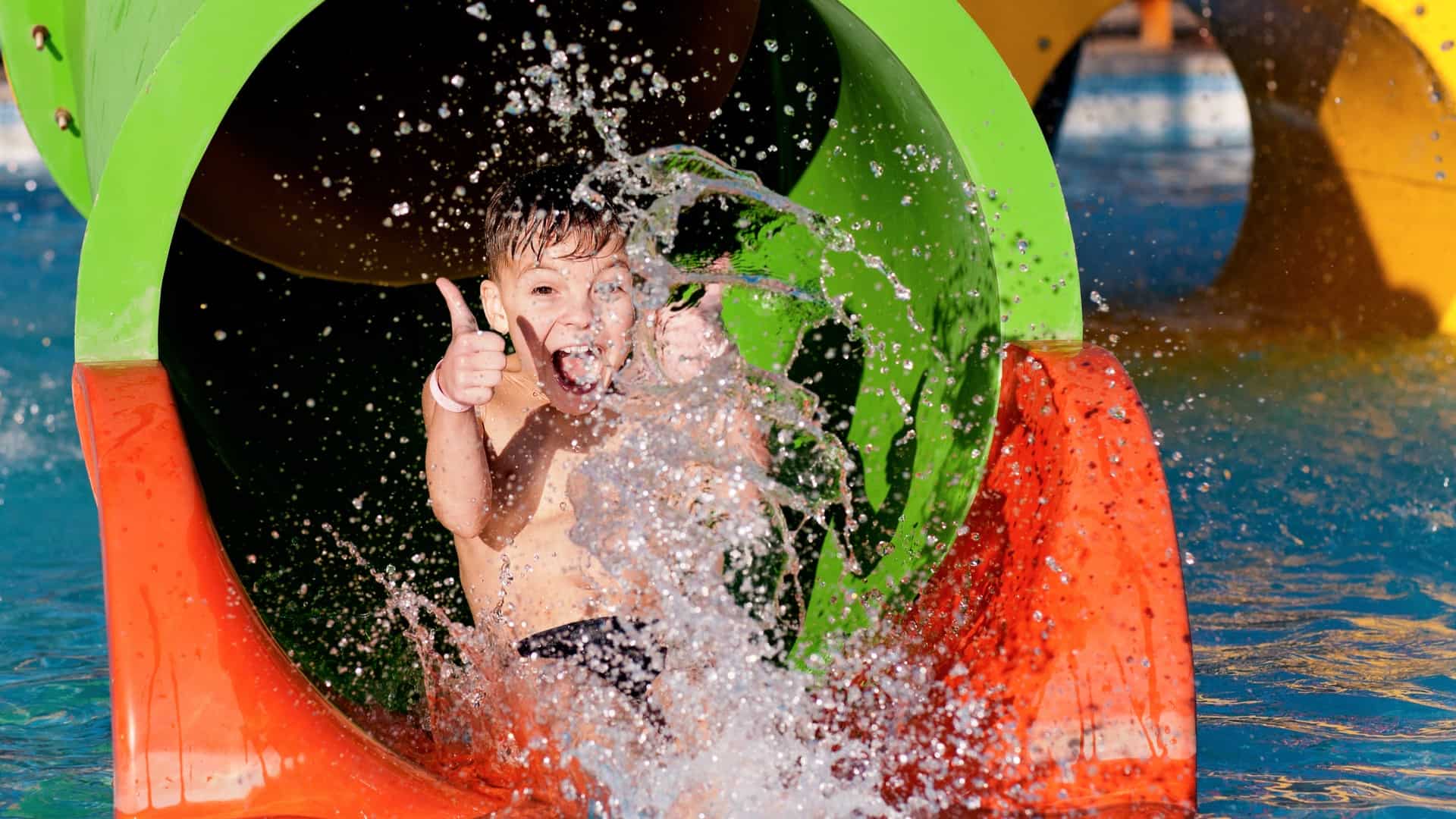 Looking for a swim in the San Francisco Bay Area? You want to head north, east or South this summer? While San Francisco's summer time temperatures never get very hot in the city, a short drive into Marin County, to the East Bay, or into Silicon Valley and you'll find hot days in the 80s and the 90s. Families in these parts of the San Francisco Bay Area cool off this summer at world class water parks, free splash pads, fun beaches, and public pools.
Here are some of the places that Trekaroo families have voted as their favorite places to cool off around the San Francisco Bay Area. So grab those swim suits and head on out.
Best Water Park – Aqua Adventure (Fremont, CA)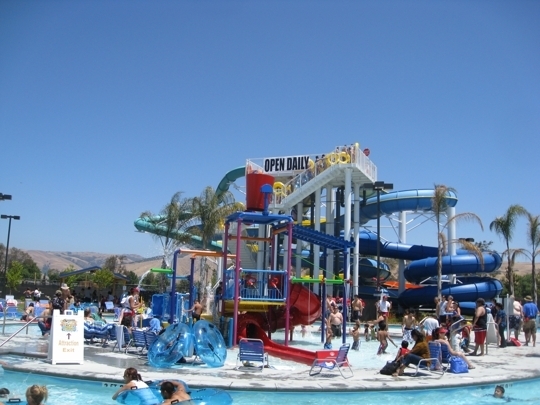 Photo by: Brennan Pang
Surprisingly the new Aqua Adventure Water Park wins over the popular Raging Waters Water Park in San Jose. This one year old facility that's run by the city of Fremont isn't the largest water park, but it's in almost brand new condition, it's clean, and best of all, the price is right. Resident adults pay $15.99, while non-residents pay $16.99. Under 48″ tall? You only pay $11.99. 3 and under get in for just $2. For little ones, you'll be hearing squeals of delight for hours at the Lil' Squirts area for wee ones who aren't quite ready to be fully immersed in water. Bucket Bay is basically a play structure that has water spraying in every which direction that even a 6 year can be quite happy in. The big slides are fun, but nothing too over the top. Reviews of Aqua Adventure Water Park with Kids
More Water Parks in the San Francisco Bay Area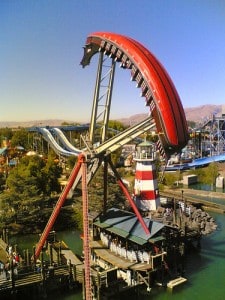 Photo by: Flickr/bryce_edwards
California's Great America is a great hit with Trekaroo families with an impressive 4-star rating. Families with older kids and teenagers, in particular, enjoy the thrilling roller coaster rides. But what's even better is that the admission also gets you into Boomerang Bay. At Boomerang Bay, you'll find 30 foot slides as well as rafting slides. Younger kids will drop their jaws at the not so kiddie area complete with tri-level fortress with 8 family slides connected by bridges and passageways and rope ladders. Best of all, there is water water water everywhere. Thrilling? -Yes! Cool Off? – Yes! Only drawback is that admission is pricey. So, for a summer treat, California's Great America gets rave reviews on Trekaroo and will most definitely bring smiles to everyone's face.
For young kids under 12, Gilroy Bonfante Gardens is a favorite theme park with a water feature too that isn't quite as pricey, but lots of fun nonetheless.
Best Free Splash Pad Area: Mitchell Park (Palo Alto, CA)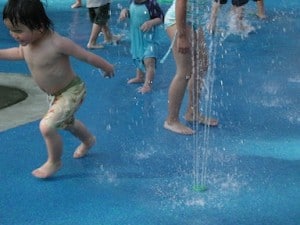 Photo by: Brennan Pang
Mitchell Park is a small playground with a fantastic splash pad. The splash pad is attached to the playground which is small, but adequate in supplying a couple of hours of active play. The splash pad is delightful for little ones with water squirting out at unpredictable intervals catching kids by surprise. Benches around the water play area allow parents to sit and soak in the heartwarming scene of happy children. Best of all, it's absolutely FREE! Reviews of Mitchell Park Playground

Other Splash Parks along the Peninsula and South Bay (San Francisco Bay Area)
Other Splash Parks on the East Bay (San Francisco Bay Area)
Best Swimming Lake – Shadow Cliffs (Pleasanton, CA)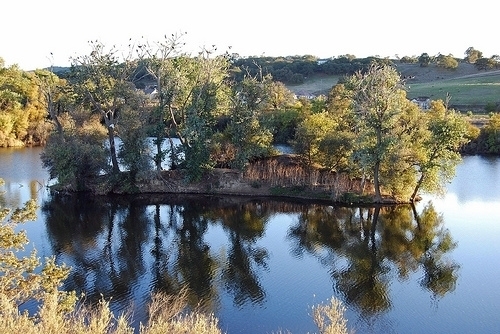 Photo by: Trekaroo/LilingPang
In the 266 -acre park of Shadow Cliffs Recreation Area is no ordinary 80-acre lake. You can swim at the beach complete with a bathhouse and refreshment stand, but the big attraction is the 4 -flume Rapids Water Slide located at Shadow Cliffs. It's privately owned and operated and open on weekends in the spring and fall, and daily during the summer. For those not interested in the water slides, you can also go boating and fishing in the lake.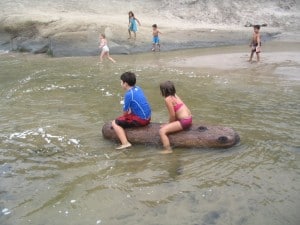 Photo by: Picassa/ Jean Tessier
San Gregorio state beach is a big favorite of families on Trekaroo with a glowing 5-star rating. This beach is unique not because of the wonderful sandy beach, but because it has two other features that are a hit with kids. Most of the year, the top end of the beach is strewn with driftwood that teases a child's (and adult's) imagination. You'll see the remnants of last week's fort that Johnny built as your child is busily adding on to a teepee from a previous visitor. In addition, San Gregorio river pours into the ocean at San Gregorio beach. The slow flowing river is a much safer place for kids to splash around than in the ocean where the waves tend to be rather big. Bring a tube and float down a short section of the river on a hot summer day. Reviews of San Gregorio State Beach with Kids
For beaches closer to the city, you might also consider:
Best Place to Splash around in a River: Russian River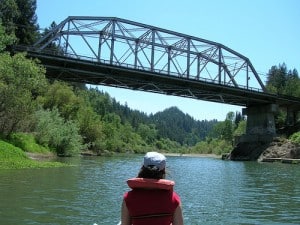 Photo by: Flickr/ ((brian))
To the north of San Francisco, in Sonoma County is beautiful Russian River. You can rent kayaks or just find your way down to the banks of the river and get comfortable on a sandy river bank. You can pick up a canoe at Johnson's Beach and Resort, Burke's Canoe Trips and Kayaks, or Soar Russian River Adventures. However, if you don't want to hang out at Johnson's, there are several river access points along the Russian River you can just hike down to. Some popular ones are Healdsburg Memorial Beach, and Monte Rio Beach.
To the south, you might try San Lorenzo River near Henry Cowell Redwood State Park
Related:
LiLing Pang is a contributing author and co-founder of Trekaroo.

Featured photo by: Shutterstock