Last ski season, Trekaroo conducted a fun reader poll to determine the best family ski resorts across the US and Canada. The results were published in time for mid-winter and spring skiing. Now there's ample time to plan ahead! For the 2016 ski season, we're digging deeper into the ski poll winners, with reviews, expert advice, and insider information on each family-friendly resort. From local picks to best bets for newbies, experts, toddlers, teens, and everything in between, explore the best family ski resorts for 2016.
Best Family Ski Resorts for 2016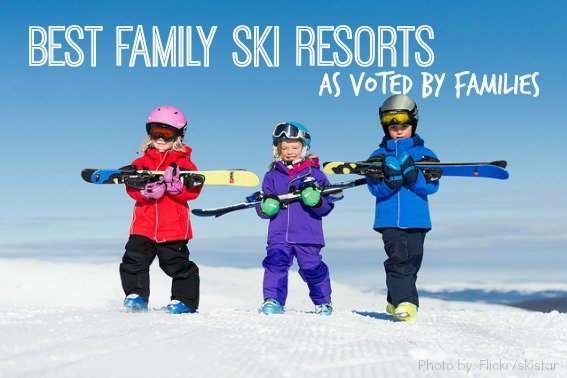 Best for families with preschoolers: Alpine Meadows
What makes Alpine Meadows great for the little ones? Easy access to the single base lodge from the parking lot, an excellent Teaching Tykes program that gets parents on the mountain with their kids, and a design that feeds most lifts back to a central area. Plus, Alpine Meadows is now combined with Squaw Valley, which means lots more terrain to tackle for Mom and Dad.
Read reviews of Alpine Meadows!
Best for School aged kids: Smuggler's Notch
Get ready for fun galore at Smuggler's Notch, Vermont! This resort knows how to throw a party, kid-style. Family travel site Pit Stops for Kids' east coast editor declared Smuggs a winner with her young kids thanks to their indoor Fun Zone, lesson program, and comfy lodging in ski-in, ski-out condos within walking distance of everything. Plus, Smuggs is a blast in summer, too! Read reviews of Smuggs!
Best for families with teens and tweens: Big Sky Resort
Big Ski Resort offers big terrain and big snow, making it a win with families of older kids and teens. Trekaroo CEO LiLing Pang and her family were 'completely blown away' by Big Sky, from the light, soft snow to the lack of lift lines. Family activities are plentiful and Yellowstone National Park is within driving distance, where a second winter wonderland awaits.
Best for beginners and snowboarders: Mammoth Mountain
Mammoth Mountain, CA won a ski poll award in two categories: best for beginners and best for snowboarders. This massive mountain is centrally located in Northern CA, a stone's throw from  Yosemite National Park, making it scenic as well. While lift lines can get long at this popular resort, we've found it to have nice wide, open runs for newbies and a plethora of terrain parks for snowboarders. Read an overview to orient yourself to this mountain at Pit Stops for Kids. Read reviews of Mammoth!
Best for experts: Whistler Blackcomb
Canada's Whistler Blackcomb is a skier's paradise, with plenty of steeps and deeps. We spent three perfect days here with expert skiing kids, and still didn't quite scratch the surface! Look for lots of mogul runs, tree skiing, and glades. Families hoping to escape some of the crowds should concentrate on the Blackcomb side, but if you have younger rippers, keep an eye out for the fun amenities on the mountain, such as a treehouse beside a run and a gaming center in an upper lodge!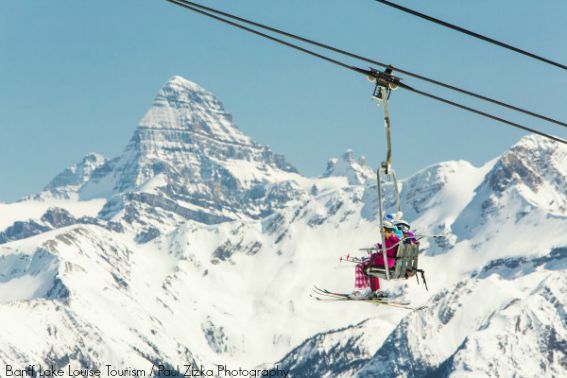 Best for consistent annual snowfall: Alta Ski Area
As one of the last ski-only holdouts, Alta Ski Area is not for everybody. In other words, this resort still doesn't permit snowboarding. But for skiers craving fresh powder and untracked runs, it's hard to beat! And with excellent annual snowfall, Alta is heaven for those skiers who preferred groomed runs as well. Get there early to enjoy fresh tracks.
Best for Powder and Off-Piste: Snowbird Resort
Thanks to its ideal Utah location, Snowbird has some of the best powder around. While you're zipping around the mountain, put the kids in ski school at Snowbird; family travel expert Tips for Family Trips has a full review of their experience with the excellent learning facilities here. Snowbird also offers lodging and a spa on-site, just in case you need it!
Best with activities for non-skiers: Breckenridge Ski Resort
The quaint town of Breckenridge sits nestled at the base of the ski resort, and offers so much for non-skiing family members to do, you'll want to immediately book another ski vacation! Check out the shops along the historic main street of town, get a massage, or check out the breweries and happy hours all over town. Here are some tips on where to eat! Want to find snowy activities for the family off the slopes? Try dog sledding, tubing, or skating! Amber Johnson of the Mile High Mama calls it the perfect family ski vacation.
Best for foodies: Vail Mountain Resort
Not only does Vail have world-renown skiing and snowboarding, but its culinary scene isn't too shabby, either. For the best tips on where to eat out during your ski vacation, head to The Vacation Gals to read up on best hotel and dining packages, yummy apres ski cocktails, and more. Even if staying in a condo and cooking your own meals, definitely budget for some fantastic dining opportunities once off the slopes.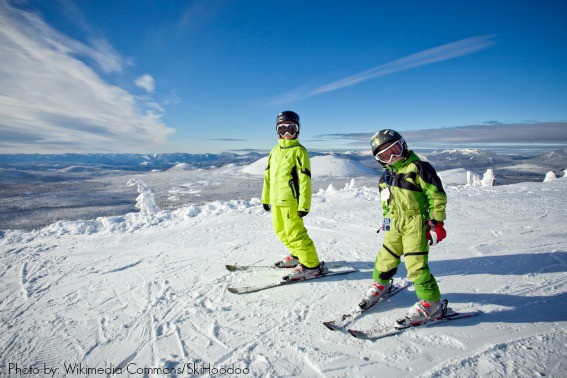 Best for environmentally conscious families: Sugar Bowl Ski Resort
I grew up skiing Sugar Bowl, located in the California Sierra Nevada, and have many fond memories. I loved it for the rustic, historic lodge, the deep powder, and the community feel, and I'm very proud that Sugar Bowl has also become an example of a green ski resort. Sugar Bowl is environmentally conscious in their snow-making and water usage, and have green buildings among their lodges and accommodation options. Best of all, this resort is pristine and beautiful, set against the backdrop of the Sierra.
Best resort with low lift lines: Copper Mountain Resort
One of the lesser known ski resorts in Colorado's Rocky Mountains, Copper Mountain Resort sits beside mountain town Frisco (not far from well-known Keystone Mountain and Breckenridge). Yet the crowds are kept at bay, making Copper a great value for families coming from afar, who may not have time to spare waiting in lift lines. Come back in summer for plenty of kid-friendly outdoor activities…still crowd free!
Read reviews of Copper Mountain Resort! 
Best luxury resort: Deer Valley Resort
Spend a ski vacation at Deer Valley, and you'll be spending it in the lap of luxury. Deer Valley's accommodations are among the most luxurious in the world, with ski-in, ski-out access at most properties, as well as ski butlers, heated pathways and ski locker rooms, and every service you could imagine. Trekaroo editor Sharlene Earnshaw describes Deer Valley as the place to go to take the hassle out of a family ski vacation.
Best resort for budget-conscious families: Solitude Mountain Resort
The first time I skied Solitude, I fell in love. When visiting Salt Lake City-area ski resorts, I'd always headed to Park City. While I enjoy the hustle and bustle of this ski town, it does get crowded and expensive. Just on the other side of SLC, Solitude offers a respite. It's calm, quiet, affordable, and fun, with all the same great slopes and excellent snow. I loved the ambiance, which was filled with locals skiing, not celebrities!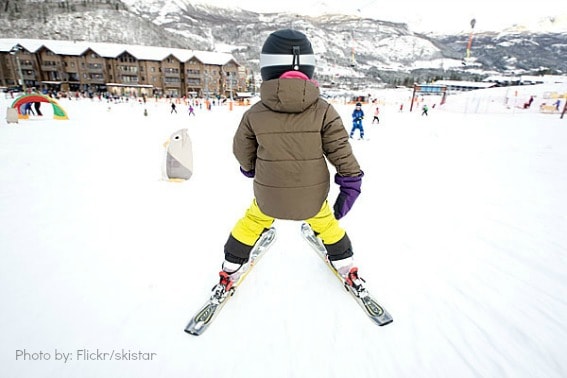 Best hometown resort, Southwest: Angel Fire
This scenic resort in New Mexico offers excellent skiing and riding for the Southwest snow lovers! Trekaroo social media editor Tina Buell described it as very manageable and non-intimidating, while still offering all the activities and amenities families need, like lodge accommodations, snow activities like snowmobiling, and lessons. She suggests coming for the annual 'snow shovel' competition, during which competitors race down the mountain on shovels!
Best hometown resort, CA and NW: Hoodoo Ski Area
One of our family's favorite local mountains here in Oregon, Hoodoo has a very strong community feel, with families bringing communal meals in crockpots and race teams always practicing on the weekends. Hoodoo is known for their fun 'snow biking;' bikes can be rented on-site, and yes, you need to try it if you come! Hoodoo also has very affordable lift ticket prices, and lots of great terrain for a smaller-sized resort. We suggest coming during one of their festivals on the mountain!
Best hometown resort, midwest: Mt. Brighton
Located in Brighton Michigan, Mt. Brighton is a Vail Resorts' owned and operated property that maintains its hometown roots. Dedicated to family learning, Brighton is the place to start your family's ski traditions if you live in the midwest. Plus, with an EpicPass to Mt. Brighton, families have the rest of Vail Resorts' properties at their fingertips.
Read reviews of Mt. Brighton lodging!
Best hometown resort, New England: Mad River Glen
Mad River Glen won enormous reader support during our poll. This beloved resort is a co-op located in Vermont, and offers a family feel and solid terrain. Mara Gorman of Mother of All Trips offers lots of tips for her home mountain of Mad River Glen, including the reminder to save time for some non-downhill activities too, such as cross-country skiing.