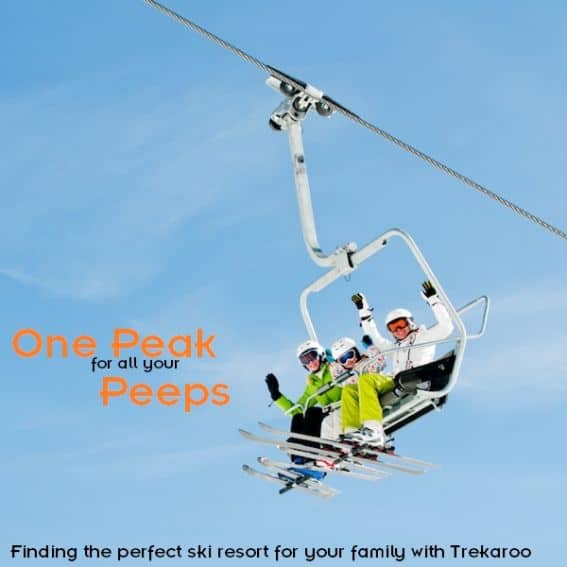 Today is the last day of our One Peak for all your Peeps Ski Resort series (Miss our intro post? Head here for introductions to our five families & to learn about their differing needs) and the last day to enter to win an amazing prize pack full of ski gear for you and your little ones. Head here for all the details or read on to discover Trekaroo's best rated resort for the Lepore Family.
The Lepore Family's Berkshire Ski Resort Pick
Location: Berkshires, MA
Closest Town: Charlemont, MA
Closest Major Airport: Logan International
Why this peak is perfect for these peeps:
1. Size. Berkshire East is a community-friendly ski resort that's not too big for our very young children, yet not too small for the adults. With three chairlifts that feed into one central base lodge, we know we can explore the mountain without our four-year-old son getting too tired. My husband and I can also ski the length of the terrain while our kids are in ski school and still be back quickly if needed. Berkshire East offers a wide variety of terrain, so there's plenty for me–the black diamond lover–and the rest of my family, who are more conservative (for now!).
2. Location. We can arrive at Berkshire East in just over an hour from our Western Massachusetts home. While I know we'll enjoy ski vacations further afield as the kids grow, for now, consistency is key to helping them learn (and become comfortable on the slopes). In order to bring our kids every weekend, we need something close by that also doesn't break the bank. Berkshire East is family-focused and affordable in comparison to larger New England ski resorts. While Berkshire East does not have on-site lodging, that's okay with us: it keeps the crowds down and gives the resort a more local feel. Of course, the resort partners with a number of B&Bs should we want a getaway!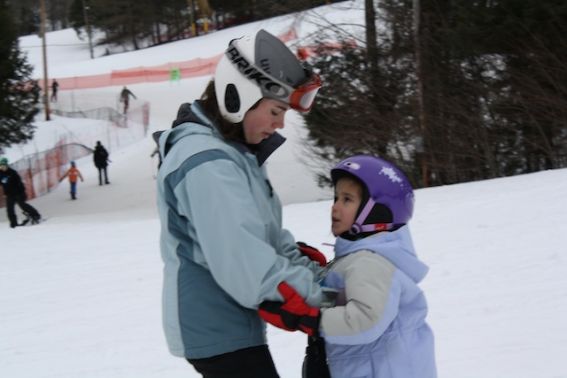 3. The ski school and child care. My kids are picky, picky, picky, and Berkshire East's Children's Play and Ski Center has won them over. Kids ages 2-5 can enjoy child care programming (indoor and outdoor play, crafts, and drama) and learn to ski programs. We make our reservations before heading up to the mountain, and drop our two-year-old off with her favorite 'teacher' while we get our four-year-old ready for his two-hour lesson (lessons up to full day are also offered). Then it's grown-up ski time until lunch! Because we live so close to Berkshire East, if the kids are exhausted after lunch, we can opt to drive home early.
4. The community atmosphere. Berkshire East's central lodge is perfectly fitted to a family with small kids. It's not overwhelming to stop in for lunch or a morning snack, and the people are down-to-earth and friendly. We love Berkshire's commitment to the environment: their innovative wind turbine powers 100% of their operations. Because Berkshire East will grow with our kids (their children's programming extends through a progression program called Mountain Explorers), we'll consider it our 'home' mountain for a long time to come.
Been to Berkshire East? Write a review
Runner-up peaks:
Jiminy Peak Mountain Resort, Hancock, MA Check out kid-friendly reviews of Jiminy Peak
Smuggler's Notch, VT Read all about kid-friendly Smuggler's Notch
__________
Got Suggestions on other resorts? Recommend and Win Ski Gear!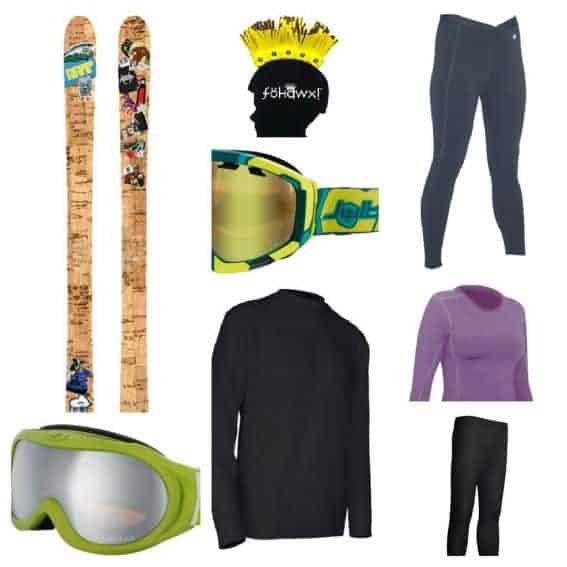 Today is the last day to enter to win great ski gear from our sponsors Julbo, Polarmax, Fohawx, and RAMP.
Make recommendations for any our 5 ski families or share about this One Peak for All Your Peeps ski planning series to enter.
Read the entire One Peak for all your Peeps ski series:
One Peak for all your Peeps: A Week of Ski Trip Planning with Trekaroo!
One Peak for all your Peeps Ski Gear Giveaway
One Peak for all your Peeps: Keystone Resort
One Peak for all your Peeps: Northstar California Resort
One Peak for all your Peeps: Snowbasin Resort
One Peak for all your Peeps: Smuggler's Notch
One Peak for all your Peeps: Berkshire East
This series is sponsored by Northstar California and Mountain Reservations, with gear giveaways from RAMP Sports, Polarmax, Julbo, and Fohawx.
Follow this series: #OnePeak on twitter | One Peak on Pinterest
Travel with kids to: CA |CO | DC| FL | HI | IL |MA | NC | NJ | NY | OR| PA| TN | TX | UT | VA | WA