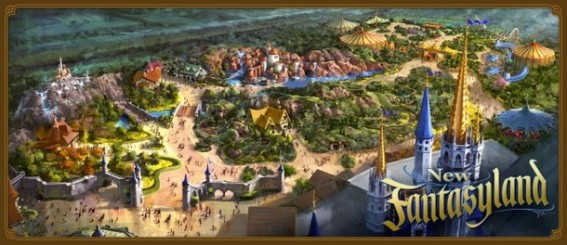 Image courtesy Walt Disney World Resort
I am consistently blown away by the creativity, ingenuity, and execution of every new project developed by Disney Imagineers. Currently, they are hard at work on the largest expansion in Magic Kingdom's history, the all new Fantasyland. When completed, it will double the land's size and help bring to life three classic Disney films in the process. Recently, I was privileged to have the opportunity to go behind the Disney barriers, don a hard hat, and catch a glimpse of Disney magic in the making. Seeing the expansion partially built such a neat experience (unfortunately I wasn't allowed to take pictures to share) and got me even more excited about the future of the Magic Kingdom.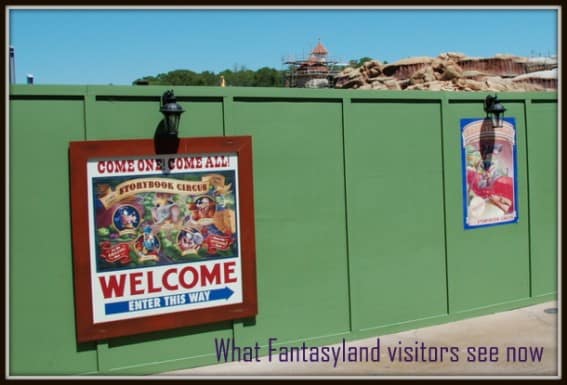 Anyone who has had the pleasure of visiting both Disneyland and Magic Kingdom knows that the former park's Fantasyland has had the leg up when it comes to atmosphere and the character of its buildings. Nobody recognizes the importance of detail better than Disney and the new Fantasyland will bring incredible depth and detail to every new experience. Imagineers are building a region of the park that will take guests beyond the Cinderella's castle walls and into a village filled a new set of fairy tale fantasies.
The Storybook Circus has come to town and the star of the show is a Disney classic, Dumbo. Guests stepping off the train at the newly remodeled Fantasyland Station (designed to look like Carolwood Park of Walt Disney's childhood) will find evidence of elephants in the footprints and "peanut shells" stamped into the ground. Previous waits for Dumbo have been both slow and hot! Luckily, Disney has gone to great lengths to improve this experience by building mirror image Dumbo rides with an air-conditioned and interactive queue which winds through a circus tent. The first revamped Dumbo is currently operating and the second Dumbo, the interactive queue, and Casey Jr.'s Splash 'n' Soak Station (perfect for that hot and humid Florida summer) will open in July.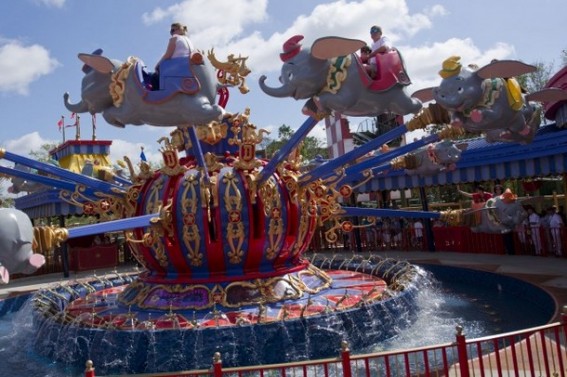 Image courtesy Walt Disney World Resort
Have a favorite ride in Magic Kingdom? Write a review and share your scoop!
Several new attractions beyond the castle walls are scheduled to open in time for the holidays. High up on the hill will sit Beast's Castle, home to Be Our Guest, magical dining experience themed after the iconic scene from Beauty and the Beast. Below in the village a statue of Gaston will stand in the center, commissioned by Gaston and given to the town in honor of himself, in true Gaston style. The village will include Enchanted Tales with Belle which will be a storytelling venue, Gaston's Tavern, and some shops.  Those who love The Little Mermaid will be happy to know that a new ride featuring Ariel and her friends is coming soon. Guests will pass through Prince Eric's Castle on their way to Under the Sea- Journey of the Little Mermaid, which will be similar to the popular new ride at Disney California Adventure. It will take guests through the story of Little Mermaid in classic Fantasyland storytelling-style and be appropriate for all ages.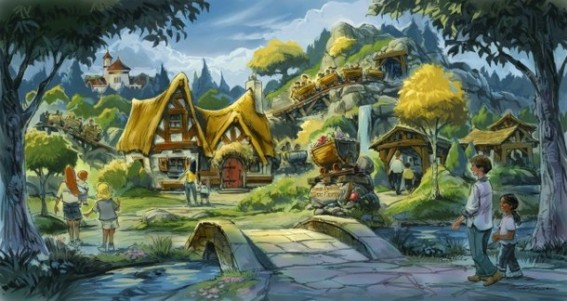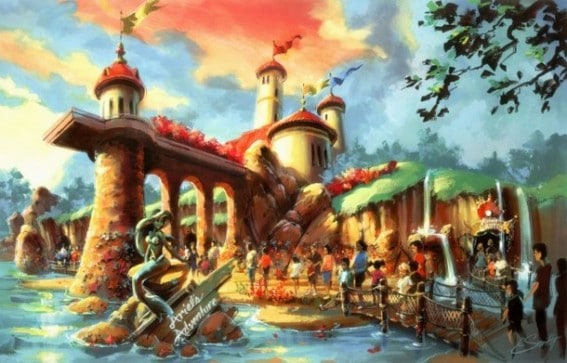 Images courtesy Walt Disney World Resort
Finally, scheduled to be open by early 2014 is The Seven Dwarfs Mine Train, a ride that is sure to go down in Disney history. This family-friendly coaster will take a swaying tour of the mine utilizing new ride technology and featuring amazing detail. The dwarf cottage will serve as the entry to this new ride and rumor has it, a Princess meet and greet will replace the current Snow White ride in Fantasyland. I can hardly wait!
Are you as excited about the new Fantasyland as we are? Share your thoughts and leave a comment.
Disclosure: I visited Walk Disney World Resort as part of a press tour.All opinions are my own.
---
Sharlene Earnshaw is Trekaroo's Editor in Chief.