The holidays are long gone, the excitement of the New Year is over and the winter blahs have firmly set in. Sound familiar?  I thought so.  If you are like me, you need a dose of fun to snap yourself out of the doldrums.  A little warmth and sunshine doesn't hurt either.  So, where can you head with the family where the weather is guaranteed to be a tropical 85 degrees every day?  An indoor water park!  Over the past few years I've noticed that indoor waterparks have been making a real splash and popping up in more and more places.
What you need to know: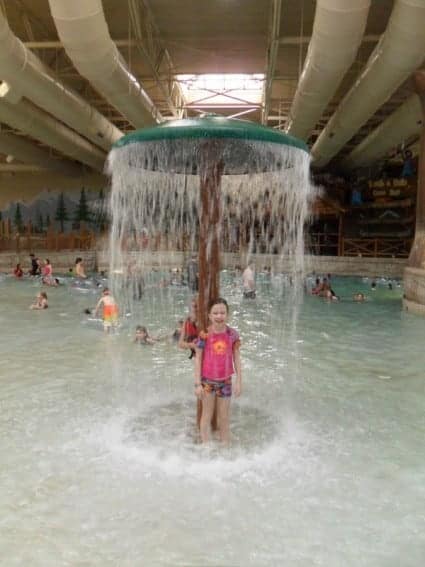 When looking for an indoor water park ,you will need to do a little research.  Water parks may be a "stand alone" business while others are part of a resort.   At water parks that stand on their own families usually just show up and have fun however, be sure to check out "stay and play" options.  Many times area hotels work with the water parks to create packages. If it is part of a resort, is it open to the public?  I have found most resorts only open their water park for guests only but a few out there open to the public on select days.   (Greek Peak Mountain Resort is an example of a resort willing to welcome the public and opens its doors on Sunday and Thursday.)
Know Before You Go:
•  Do you need to pre-purchase your tickets?  Water Park of America suggests pre-purchasing your ticket ahead of time online so that you are guaranteed admittance even if they hit capacity.
• Are there height restrictions for attractions?
• Do they have kiddie areas available for smaller children?
• Is there food available on site?  Can you bring your own food in?
• Do they have life jackets readily available?
• Do they have towels available?
• Are there lockers to keep your items dry and safe?  If so, what is the fee?
• Are there changing rooms and showers?
• Are there other activities available in case you want to come out of the water?   Evergreen Aviation and Space Museum in Oregon may take the cake with that.  They feature a full aviation museum, a children's museum featuring learning about the power of water and an arcade all on site in addition to the water park.
• Are there lifeguards on duty at all times?
• Is there a dress code?
• Is there a seating area?
Taking a little time to find these things out ahead of time will help ensure your family has the best time possible once you get there.  Nobody likes surprises that could ruin a fun day!
Is a Waterpark Resort for you?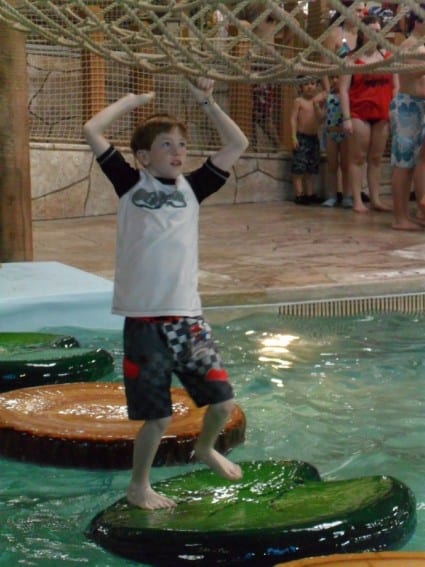 The biggest advantage to a resort is that there is usually plenty to do on property.  You can have a family vacation without having to worry about where to eat, what to do, or what the surrounding area offers which makes planning easy.  I haven't met anyone who doesn't like easy planning!  The disadvantage sometimes comes with the price tag.
Our family recently had the opportunity to beat the winter blahs at Great Wolf Lodge.  While the indoor water park is certainly the biggest draw of the resort, there are lots of activities for everyone to enjoy if you'd like to take a break from the water.   The water park admission is included in your room price and there are some free activities to enjoy throughout your stay.  Additional activities such as the arcade, a children's spa and the ever popular MagiQuest come at additional (and sometimes hefty) fees.
Tips for visiting Great Wolf Lodge:
–Consider staying just one night.  While check-in isn't until 4pm, Great Wolf allows you to come as early as 1pm to enjoy the water park and activities.  You can pre-register upon arrival and the staff will let you know when your room is ready.  On check out day, you need to vacate your room by 11am but are free to stay until 9pm to enjoy the property.
–Take advantage of the in room refrigerator and microwave.  There is plenty of food available in the resort but it is not the most economical choice for a family.  Pack some drinks and snacks or even some sandwich fixings.
–Enjoy the free activities.  Upon check-in you will be provided with a print out of "lodge life" which lists all of the activities available during your stay.   My favorite was the pajama story time which is offered nightly.  We were also treated to a fun magic show which captivated the kids.
–Compromise.  If you want to treat the kids to additional activities, be sure to set your limits.  MagiQuest can be played as a team instead of as individuals which will significantly cut your cost.
Read my full review of the Great Wolf Lodge, Pennsylvania.
Find an indoor water park near you:
PA | NJ | CO | OH | WI | NH | TX | ND | NC | IL | NY | WA | CA | CT | MI | VA | TN | MN | MO
Don't see your area listed?  Be sure to add your favorite water park review to the site! 
Disclosure: The author received a discounted rate in order to complete a review and this post. All opinions are her own.
---
Travel with kids to: CA |CO | DC | FL | HI | IL |MA | NC | NY | OR | PA | TN | TX | VA | WA