Last Updated on
Trekaroo generates revenue from purchases made through links to our partner brands.
Palm Springs, CA is a great family destination year round, however some days can truly push the limits of the thermometer. Keeping cool is a true concern for many families – especially in the summer. Family vacations in the Palm Springs area are very affordable in the summer – when rates are low and rooms are plentiful – explore these tips to make the most out of your family retreat.
Look for current hotel deals in Palm Springs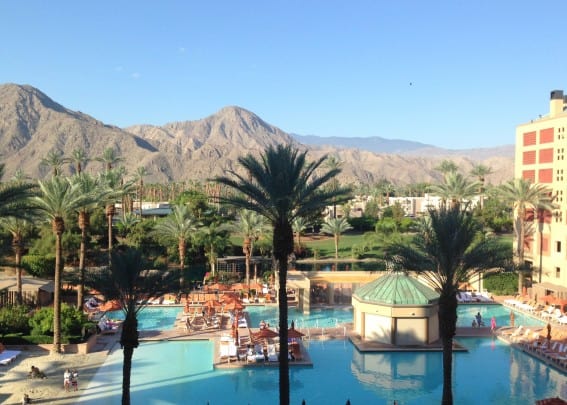 Photo by Elizabeth Bickford
Pools that Save the Day
Hyatt Regency Indian Wells Resort & Spa offers a families-only pool and a Dive-in movie for evening entertainment. Additionally, the Hyatt property has several added water amenities including a slide, water basketball, and a giant water sphere called the Desert Pipe. The Desert Pipe is a unique way to experience a cool down – water is placed in the round clear ball and you jump on in – the sphere rotates at various speeds and you start running like a hamster! Another great on-property pool is located at the Renaissance Indian Wells Resort & Spa, check out the sandy beach entrance or the cooling waterfall for some kid friendly fun! Splashtopia!, a massive water-park located within the Omni Rancho Las Palmas hotel is another best bet!
Wet 'n Wild (formerly Knott's Soak City) is a great alternative to an on-property pool. One great thing about Palm Springs is there are so many options to stay you will always find a great deal – but the pool might be lacking. This is a great opportunity to head to one of the family friendly water parks in Palm Springs even if you just grab a tube and float down the lazy river!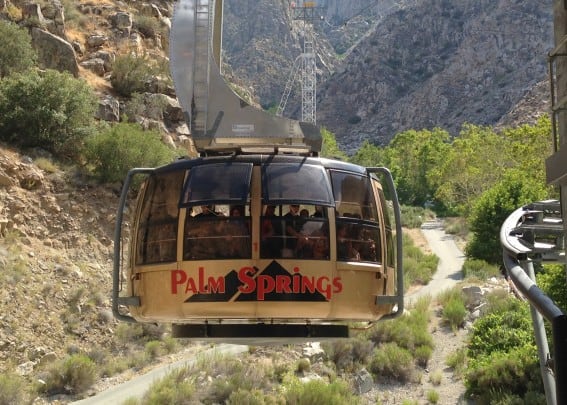 Photo by Elizabeth Bickford
Best Times to Play
Don't let the thermometer scare you away from all you would like to accomplish in the desert – make your itinerary accordingly! Palm Springs and the Coachella Valley have amazing hiking options, if your family plans to hit the trail do so early in the day. Strolls around the city are fine in the evening but its always safer to avoid late afternoon hikes when trails can become dark unexpectedly. For families looking for a light and fun trail to start their day off head to the Tahquitz Canyon trail where you will be rewarded with a gorgeous waterfall at the mid-way point. The more experienced hikers may want to head to the Palm Springs Aerial Tramway – once at tram stop you will encounter great options for hiking to the top or even all the down the mountainside! Once at the top it is much cooler but starting early will ensure a better parking spot which can sometimes create quite a hike itself if you are there at peak hours! Remember to check the park websites before scheduling your hike – you will find hours of operation and any important safety information before leaving the comfort of your hotel room!
Check for hotel availability in Palm Springs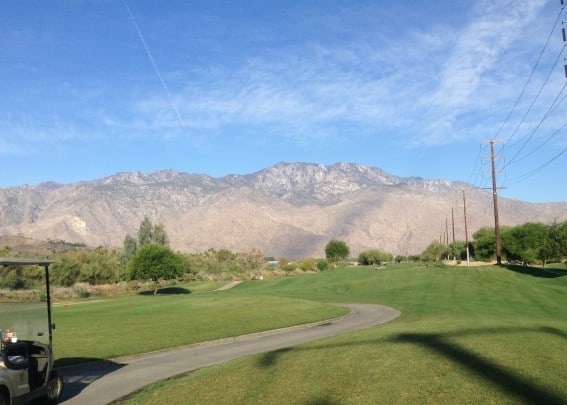 Photo by Elizabeth Bickford
For many people Palm Springs is most well known for its wonderful golf courses! Families can choose from world class PGA courses and well renowned municipal courses. Tahquitz Creek Golf Course is a fabulous option for families with young golfers – early tee times are great for cooler rounds but what is valued most here are their great spots for shade! Indian Wells Golf Resort is one of the most well kept golf resorts year round. With two courses – the Players and the Celebrity course – tee times are usually available and both courses play great! These are also the best courses for keeping cool at any temperature. The resort offers a full-time Snack Carts complete with iced towels insuring you will rarely be wanting for anything!
Families can enjoy the best that the Living Desert has to offer in the evening hours during several times of year – check out their website where you can see when your family can witness an animal health examination. They will have an air conditioned upfront show! This is a great experience for your aspiring veterinarians! While there as a treat, don't miss the Churro Factory for some of the best churro option in SoCal! Yum!
Indoor Escapes for the Family
If you are looking for a collection of activities and food, stop by Westfield Palm Desert! Tourists can enjoy discounts at over 20 restaurants and eateries, including Macy's. Don't forget to ask at checkout or just stop by the concierge desk for a list of participating vendors. This indoor mall is a great place to get out some energy with the kids and a chance to splurge!
Children's Discovery Museum of the Desert is a wonderful place to let imaginations fly free! With over 80 hands on exhibits the entire family is sure to get into the discovery. Check out the calendar of events to best determine when to take your trip to the museum. Special events for toddlers and holidays pop up throughout the year!
Movie Theaters can be a great escape from the outdoor world! There are several large theaters in the Palm Springs area – Century at The River in Ranch Mirage and The Regal Palm Springs are great options! These locations offer food and shopping all near by. The River is also a great center for activities and cultural events. Check out the events calendar for upcoming events to best plan your visit. Movies theaters are also becoming a very popular amenity at desert area hotels. The Renaissance Indian Wells Resort is at the front of that pack. Their new R Theater welcomes guest to join in on a movie – popcorn and drinks are provided and movie times are posted outside the theater.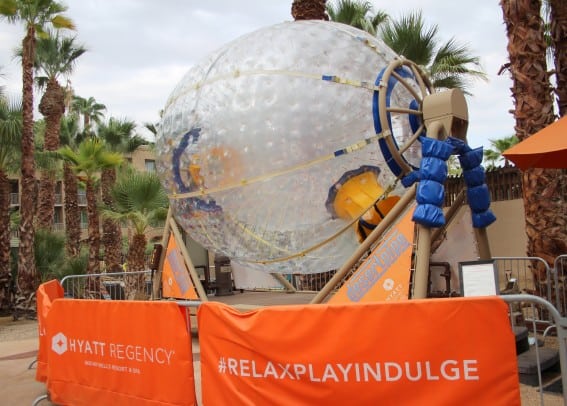 Photo by Elizabeth Bickford
Play it Safe!
Remember, completing an activity on your checklist is never worth over heating the family for! With so many options to keep cool the fun and relaxation never ends in Palm Springs!
Look for the best hotel prices in Palm Springs
For more information on where to eat and play while at Palm Springs check out our All-Age Travel Guide!
Featured photo by: Shutterstock