If I lived in the midwest and had never been to the California coast, I think I would day dream about it often.  I would probably take snippets from different television shows, movies, and Beach Boy songs to create an image  in my head of what I believed a Southern California beach vacation might be like.  It would be a vision filled with palm trees, wide sandy beaches, surfers, and families biking along a coastal path.  For many people who have never been to California, the vision in their head looks alot like Huntington Beach, and their dream resort just may be the Hyatt Regency Huntington Beach Resort and Spa.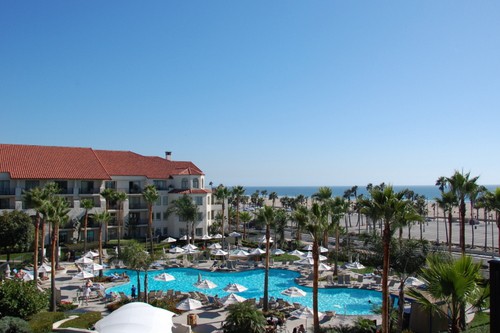 My family recently had the pleasure of staying at the Hyatt Huntington Beach and the opportunity to enjoy a little bit of time being Orange County tourists.  I am always telling friends who are planning a trip to Disneyland that they should find a hotel near the beach so that their kids can see a bit more of what Orange County has to offer beyond the Disney Strip on Harbor Blvd.  Don't get me wrong, I think families should definitely work some Disney time into their vacation schedules, but I believe a day at the beach in between all the theme park madness can make the entire vacation that much more enjoyable.
What makes the Hyatt Huntington Beach so special?  Well besides being directly across from Huntington State Beach, the gorgeous red tiled roofs and Spanish style architecture, and comfortable guest rooms with amazing views of the grounds and ocean beyond, there is the Slyder's Water Playground pool area.  Simply said- it rocks!  Older children (and parent's like me who love acting like a kid) will have a ball sliding down the three different water slides while little ones will feel comfortable playing in the shallow splash pools.  There are cabanas for rent that flank the pools that are perfect for families with younger kids who need naps because they can close up completely to provide privacy and have flat screen tvs which are great for providing some white noise.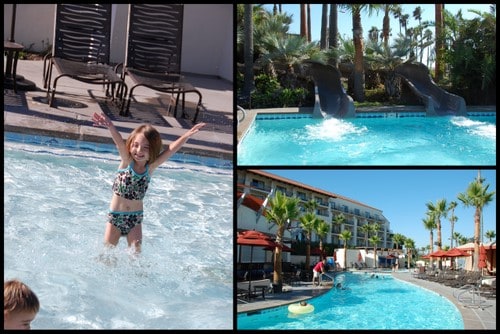 Another fun aspect of the resort is that there are several fire pits located on the property, including at Slyder's, which make for excellent S'mores making stations.  S'mores kits are available at the grocery store on the property and the warm fire is certainly welcome because when the sun goes down, the coast can get chilly.  If you would rather have your S'mores at a bonfire on the beach, Toes on the Nose, the resort's gear and adventure store, can reserve a fire pit for your family and even provide S'mores kits and beach chairs.
Toes on the Nose is a great resource for families visiting Huntington Beach.  They have bicycles, wet suits, surf boards, wet suits, beach chair, umbrellas and even sand toys available for rent.  Its also a great place to book surf and stand up paddle lessons as well as kayak tours.  They even provide a beach butler service which includes a private cabana on the beach with lounge chairs, towel service, chilled water and energy drink delivery, and chilled face and body mist spray!
There are plenty of great dining options on the Hyatt property.  The Californian features classic California cuisine and is a great place to bring the young kids for breakfast or lunch but might be best suited for older children during the evening when the atmosphere is a bit more upscale.  Casual dining in a fun surfer atmosphere can be found at Pete's Sunset Grille.   Two poolside restaurants are open seasonally and offer casual poolside fare along with specialty drinks.
For more details about the resort, read my entire review of the Hyatt Regency Huntington Beach Resort and Spa.

If all this talk of a Hyatt beach/Disney vacation has peaked your interest, then be sure to check out the Hyatt's Explorer Package.  It's great for families looking to escape over spring break or the summer.
With the three night Explore Package, families will enjoy:
Breakfast for two adults and two children under 18
Two-Day Disney Park Hopper Tickets for two adults and two children under 18
A S'mores kit
Valet parking
Two bike rentals one-half day each
Disclosure: My family received a complimentary night at the Hyatt Huntington Beach which included two meals in order to complete this story.  The resort did not ask that I express any particular opinion and everything I have stated regarding the resort is based on my honest opinion.