I have called Washington home for many years. I live in the Rockies now and go through ocean withdrawal, and every winter I am struck by the barren scenery all around me. I had made a few trips back home by myself, so on this trip I decided to share my home state with my son (AKA Tigger). This would be his first flight, and he was so excited. He talked the entire flight. "Look! There's a cloud!" I think he made the crew's day as well. It was so cute.
We flew into Seattle and then drove to the Olympic Peninsula to visit my home town of Ocean Shores. He loved the beach and cold ocean water and had a blast seeing all the deer walking around town without a care in the world.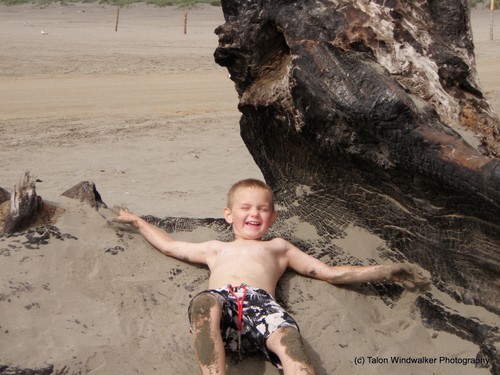 I wanted to show him some of my favorite haunts, and so we headed first to Lake Quinault for some hiking in one of the few temperate rain forests in North America. Surrounded by an orgy of green, a variety of bugs, including the area's infamous banana slugs, dirt and water, what boy wouldn't enjoy this? And adults can easily got lost in its lush tranquility.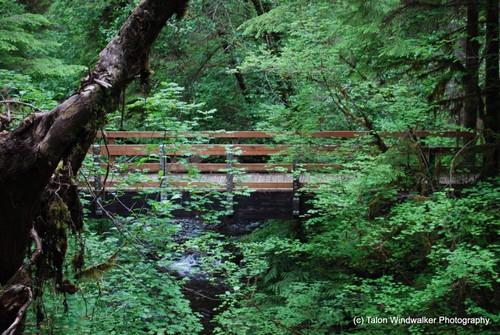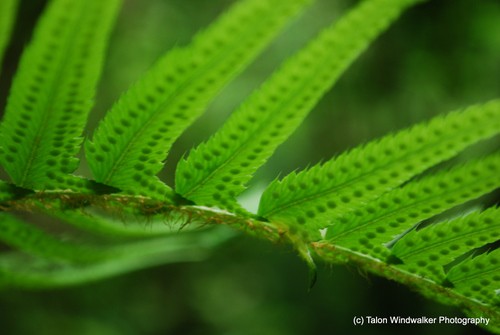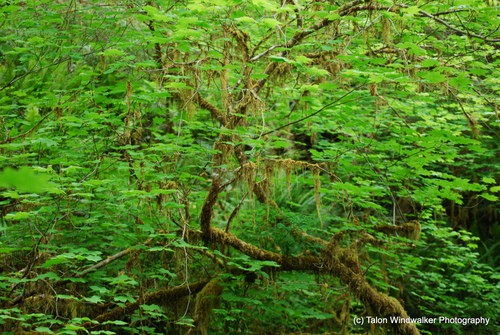 After enjoying a nice hike and grabbing a quick lunch from the general store, we got back into the car and headed to the Quileute Reservation. I had been visiting these beaches since before The Twilight Saga was written. You know you've arrived in Forks when you see all the Twilight references. It was amusing to see how much the popular books and movies have affected this sleepy town. You know you're on tribal land when you see the large sign warning: No vampires beyond this point!
First Beach is located prominently and offers amazing views, a plethora of wildlife (my son got to see his first wild bald eagle here as it flew very close to us), fascinating driftwood that is a dream for any child who loves scrambling over objects, and has a much more relaxed feel than many places like it.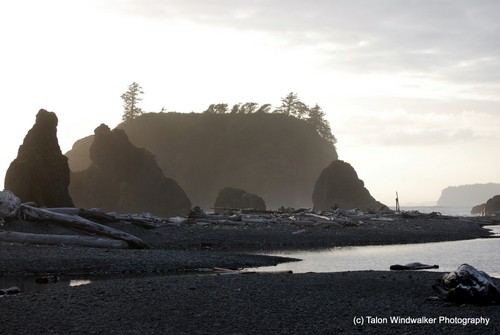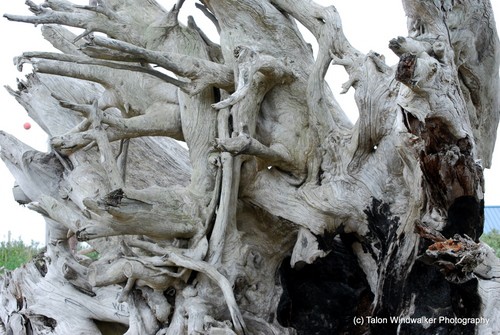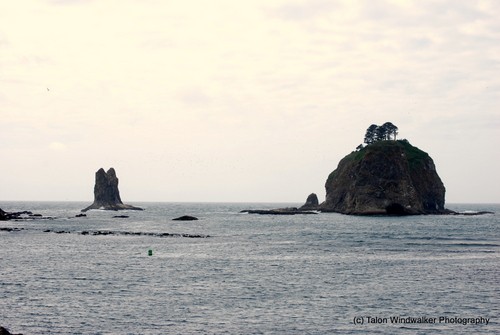 Second Beach is a short drive away and is a bit more open. Third Beach is another short drive, but you have to walk about a mile through beautiful woods and then climb over many logs before getting to the rugged beach. Unfortunately, this climb resulted in an unplanned visit to Forks Hospital when Tigger fell and sustained a head injury. On the fun side though, I can tell you Dr. Cullen has a parking space at the hospital. The ER was uncrowded, staff were friendly, and thankfully Tigger only had a sizable knot. No other injury. But he did, in fact, begin listening to my words of warning for the rest of the trip.
It was then time to head to Olympia for a visit to my home temple to participate in the ordination of some new monks. Since we don't go to a Zen center where we live, this was my son's first exposure to Buddhism outside of our home. Playing with the other kids and catching frogs was much more interesting to him, however. He's 150% boy.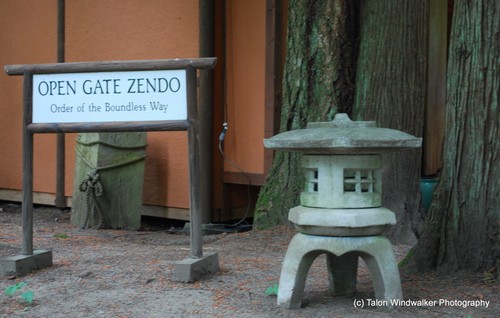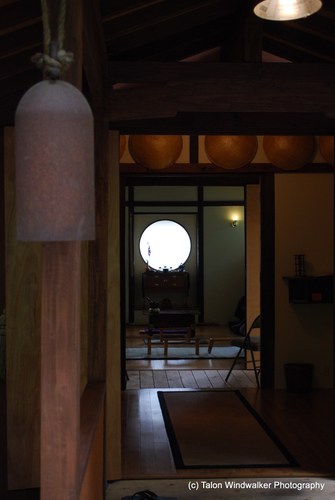 After the ceremony and accompanying celebration, we did the few-hour drive north of Seattle to Anacortes, the gateway to our next destination: the San Juan Islands. The following day was probably the highlight of the trip for Tigger, next to the airplane ride. He got to ride on a ferry. While we waited in line to board, we had a brief discussion about how we were going to take the car on the ferry. Then I realized his confusion. He thought we were traveling by fairy. I think I laughed for 10 minutes solid.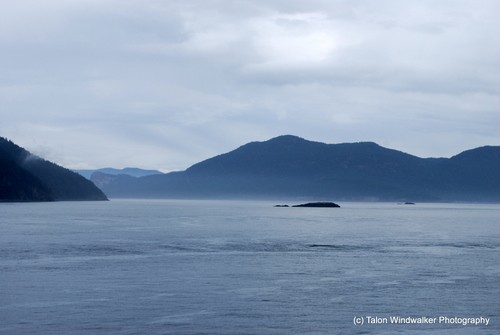 It was a bit too chilly to take a kayak trip, so instead we headed to North America's only whale watching park. We were rewarded by views of a couple of orca pods, minke whales, a harbor seal and many birds. The seal sighting was the most nerve-wracking one for me. I had spotted him just ahead of the pod. I wanted Tigger to see the orcas but didn't want him to see them get a kill. He ducked into a bay and hid among the kelp. The seal and I watched with bated breath as they searched unsuccessfully outside the bay. I let out a deep breath when they proceeded on their hunt away from its hiding spot.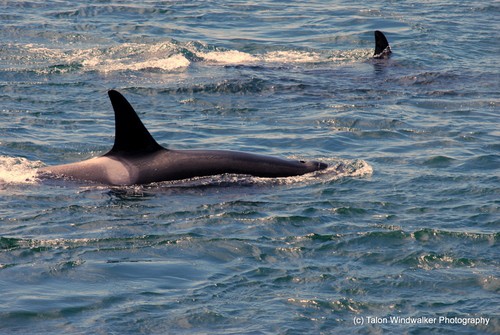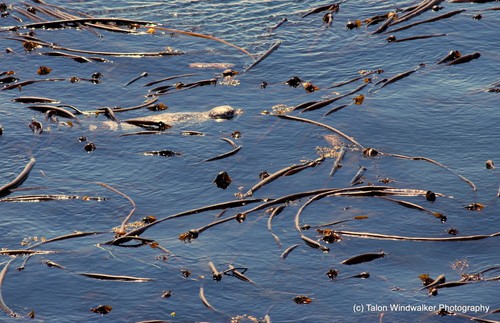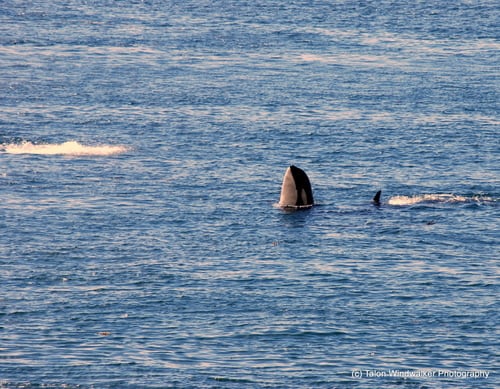 After our weeklong trip, Tigger was ready to move to Washington. I was so happy he loved my home. Seattle is wonderful, but the Evergreen State has so many hidden treasures awaiting exploration. Your kids will love it!
Talon & Tigger (now 9 years old) comprise the Windwalker Duo, known as 1Dad1Kid on Twitter and Facebook. On their blog you will find details of their indefinite round-the-world trip beginning in May 2011. After exploring parts of South America, Europe, Africa, and Asia, they will be settling down in Chiang Mai, Thailand, for about a year as they continue to travel and then will continue living in other countries, unschooling along the way. Talon is also a regular blogger at TravelingDad.com. He hopes that other people, especially families, will be inspired to "Live Without Regrets!"