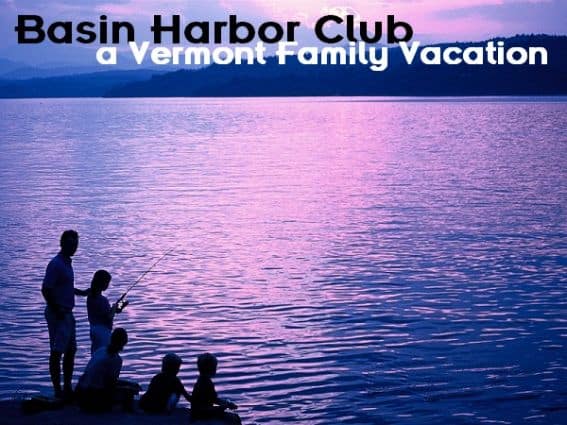 Dana is the founder of FindandGoSeek.net, a hyperlocal destination for families to discover what to do and see in their local communities. She's also the Editorial Director, aka Miss Magpie, of Northern Vermont's Find&GoSeek. When she is not finding fun for her family and yours, she can be found on the ski slopes, hiking with her chocolate lab, or gardening.

What began as a small inn over 100 years ago has evolved to what we now call the Basin Harbor Club—a sprawling resort alongside Vermont's Lake Champlain that many guests return to year after year. We spent a long weekend in June 2012 at this historic lakeside retreat.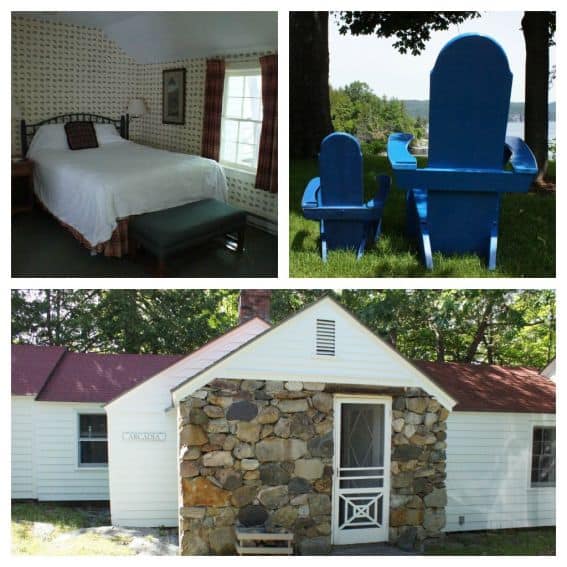 Guests will find 73 cottages sprinkled throughout the property which are perfectly suited for families.  Early designers knew what they were doing as each is perched to give guests beautiful views of Lake Champlain and the Adirondacks from their screened-in porch or deck.  Cottages are simple, yet tastefully decorated.  Ours, Arcadia, had 2 bedrooms, 2 bathrooms, a large living room with a stone fireplace, and a large deck overlooking the lake.  There was also a wet bar area with a refrigerator, coffee maker and sink.  Other accommodation choices are Guest Rooms in one of four buildings.  Summit and Penfield Place have room layouts and suites that are suitable for families as well.
Tip: All of the cottages are pet-friendly. However, keep in mind that your dog must be kept on a leash at all times while on property and is not allowed at the pool or waterfront area. There is a separate doggie beach and plenty of shady hiking trails to take Rover out for nice long walks.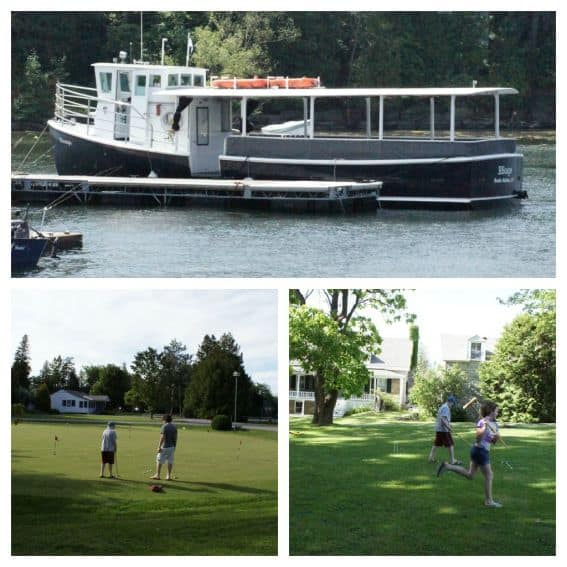 We spent a lot of time together exploring the resort's 700 acres.  Our exploration even prompted a few spontaneous games of lawn croquet and disc golf as we headed to the pool for a dip and a family putting challenge on the practice green.
During the afternoon on some days, you can join the EScape Boat Cruise. This 1.5 hour trip takes you out on the lake on a 45 foot tour boat led by an extremely knowledgeable and affable captain. He shared with us the history of the lake, how it was formed, Basin Harbor's role in the Revolutionary War, and even a quick tour of Otter Creek where we saw ospreys nesting.  This was an excellent way to spend some time on the lake; private sailboats and rentals are also available!
Tip: Plan to do a lot of walking as the resort is spread out.  If you have young kids, I would advise bringing a stroller.  You can certainly drive from place to place; there is always room to park.  Better yet bring bikes or rent them on site.  Plus there are great trails all over the property just begging to be explored.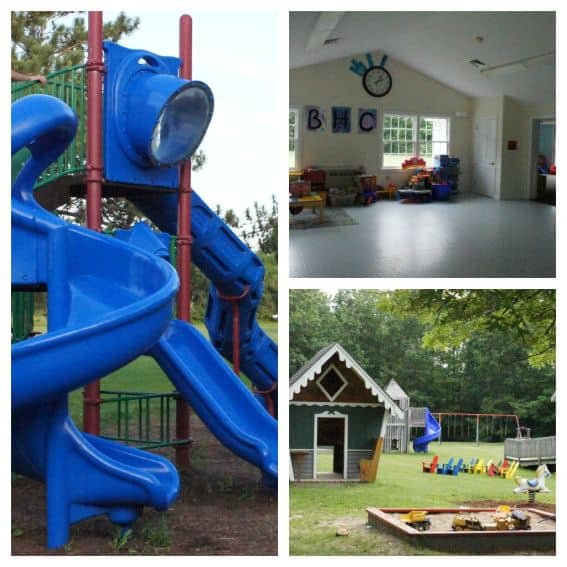 Kids Camp is located at the far end of the Resort near tennis courts.  With multiple play structures, a sandbox, a playhouse, and riding toys, there is certainly plenty to keep them entertained outside.  Inside the bright open space there is one main room, with two smaller rooms used for the younger kids with several cribs and age appropriate toys. Activities change daily with offerings including kid Olympics and hayrides, so be sure to check the schedule.
At some point during your visit, be sure to pop into the Harbor Store.  Inside you will find lots of retro candy, plus healthy snacks like applesauce and hummus.  You can stock up whatever you might need for a day at the beach.  There are also lots of old-fashioned toys perfect to keep little ones occupied at dinner or back in your cottage in the evening as there is no TV.  The Harbor Store is also where you will find creemees – the perfect afternoon treat on a hot summer day.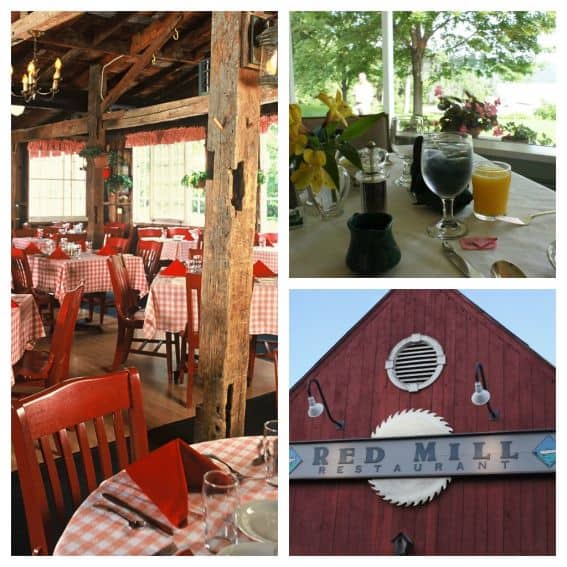 Photo (left) Courtesy of Basin Harbor Club
The first evening we ate at The Red Mill, a casual restaurant located at the entrance to the property. Even if you aren't staying at the Basin Harbor Club, this is a great place to dine.  It has a large playground and a small air strip. Planes can be seen taking off and landing during your meal!  There is plenty to keep the kiddos busy while you eat. An option off property is the 3 Squares Café, located in the heart of in Vergennes. Locals say "the French toast is to die for!"
During the rest of our stay we ate all of our meals in the Main Dining Room or the Ranger Room where we were served buffet style. (Note: Dinner in the Main Dining Room only serves buffet-style on Saturday nights.) Not only was this excellent for our growing teenage son who cannot seem to get enough to eat, but it also offered our children an opportunity to try things that they might not otherwise have eaten.  They felt uninhibited to sample a little of this or a little of that.  Likewise, for a picky eater, it would be almost impossible for him/her not to be able to find something to eat.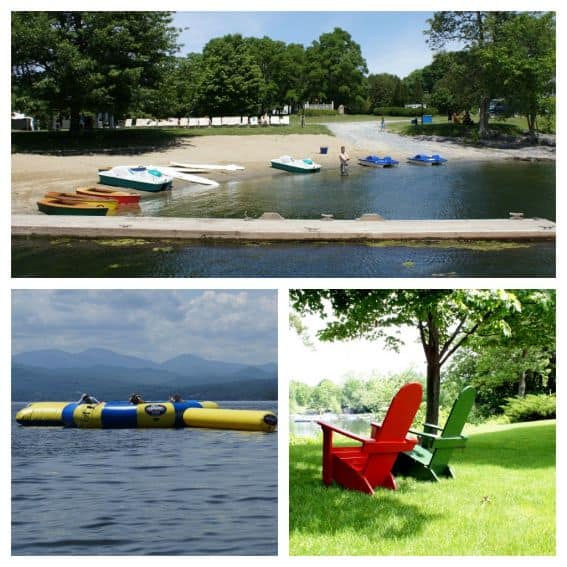 Although a pool with pool toys, diving board, changing rooms, and plenty of shade is available, we spent more time on the lake waterfront  than at the pool.  Our kids enjoyed swimming out to the bungee trampoline, as well as taking out paddleboards, paddleboats, and sunfish sailboats.  They didn't have a chance to fish, water-ski, or tube;  there just wasn't enough time during our short weekend stay. The disc-golf course, shuffleboard, and the nature center are also located nearby.  There is certainly no shortage of family-friendly activities to keep everyone happy.
Located directly across the street from the resort, families will find the Lake Champlain Maritime Museum.  The museum has a large collection of small water craft built over the last 150 years, plus a collection of 300+ of historic shipwrecks in its Nautical Archaeology Center.  Kids will enjoy climbing aboard the 1776 Philadelphia II — a full-sized replica of a working Revolutionary War gunboat. A short day trip for guests could include a visit to Fort Ticonderoga, a National Historic Landmark. In the fall there is even a corn maze.
Although our time was a short 48 hours, we managed to take in a lot of what the Basin Harbor Club has to offer.  But, there is no pressure for families to do it all.  In fact, all over the resort are the famous Basin Harbor Adirondack chairs painted in blue, red, yellow, and green. They beckon you to sit, relax, take in the breathtaking views, and spend time together. Honestly, I can't think of a better place in Vermont to do just that.  This is a place that families will want to return to year after year.
Summer Pricing
Bed and Breakfast rates/night

Historic Guest Room – $310.00
Studio Cottages – $447.00
One Bedrooms – $568.00
Two Bedrooms – $790.00
Three Bedrooms – $1026.00

Bed and Breakfast rates are based on two people per room (2br=4ppl ad 3br=6ppl). Kids under 10 are free.
Any additional persons over 10 are $25.00 per day.
Disclosure: While I was invited to The Basin Harbor Club and they paid for most of my expenses, my review reflects the honest opinions of my experience without outside influence.
---
Travel with kids to: CA |CO | DC| FL | HI | IL |MA | NC | NJ | NY | OR| PA| TN | TX | UT | VA | WA