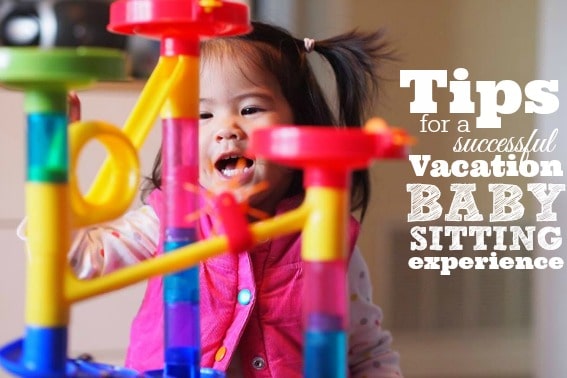 Have you ever looked for babysitting while traveling? As a mom of three, I confess that the idea of leaving my child in a hotel room with a complete stranger had always made me nervous. Truth be told, I never considered such an arrangement until my third child joined our family. Now, we often find ourselves looking for a vacation babysitter whether we're on a ski vacation or planning to go whitewater rafting; there are just some activities our youngest isn't old enough to join in for quite yet. No matter the reason you find yourself in need of a babysitter during your family's travels, leaving children in a hotel room to be watched by a sitter can be a hard thing for parents, as well as the child.
Over the winter holidays, Brennan and I were staying at the Omni La Costa Resort and Spa for an executive retreat we were attending. Fortunately, Omni La Costa Resort and Spa has a Kidtopia kids club that provides childcare for children ages 8 to 12. However, we wanted a babysitter for the evenings when we were attending events.
Questions to Ask When Hiring a Babysitter
There are several things to consider when hiring a babysitter while on vacation. California, along with most states, does not set any standards for temporary childcare services, so it's up to you to find out the following:
Has your childcare provider completed a background check and drug test?
What is the childcare provider trained to do in an emergency? Are they CPR and first aid certified?
What kind of experience does your sitter have caring for your children's ages and in a setting where they have to build a rapport with children quickly? Someone who has worked in a day care setting or summer camp-type program is more likely to be familiar with breaking the ice with kids quickly.
Does the childcare provider have references or reviews written by other parents who have employed their services?
We reached out to Destination Sitters because we knew that their sitters are experienced in watching children at hotels and events throughout California and set the highest standards for background and reference checks. I can't think of a more challenging babysitting assignment than watching children you've never met in an environment that is unfamiliar to the children and not particularly set up for amusing them. I was curious to see how our sitter would do.
When booking childcare services, if your child has any special needs, it's important to convey as much information as possible ahead of time so the right childcare provider will be assigned to your family. If your children have allergies, medical conditions, or special needs have that information ready. Professional babysitting services like Destination Sitters have a special team that is equipped to handle special needs. Withholding any of this information could also put your child's safety at risk. Before your sitter arrives, it's best to have a conversation with them.

What to Tell a Babysitter Before Heading Out
What provisions have you made for your children's meals?
Is the sitter allowed to leave the room with the children, and if so, what are OK places on the hotel grounds that they can visit together?
Does the sitter need to bring any toys or activities to entertain your children? Provide some suggestions of your child's favorite amusements.
How much TV or video game time can your children have? Are there certain shows or channels that are off limits?
What is the usual bedtime routine if your child has to nap or go to bed for the night? Make sure everything is set out and easy to find. Point out where extra clothes and diapers might be found in case there's a spill.
Do you want the sitter to text you at specific intervals to let you know how things are going? Be sure you exchange cellphone numbers and the sitter's cellphone gets reception in your room.
Remind the sitter of any health concerns or allergies your child has and discuss any emergency procedures should something go wrong.
Be sure to check your sitter's identity before leaving your children in their care.
Destination Sitters charges an hourly rate between $22 and $30, depending on the number of children. Each session must be a minimum of four hours. While these rates may seem high depending on what the going rate for a sitter is where you live, I felt it was fair considering Destination Sitters ensures the highest standards for their childcare providers.
All their sitters have had several years of experience working with children; they are background and drug tested, CPR and first aid certified, and references are checked. Destination Sitters also has sitters who are trained to work with children with special needs. All of these standards helped set my mind at ease that our three children would have a successful and safe experience with their sitter.
Our Experience
Our night out without our children went off without a hitch. I called to set up an appointment only three days ahead of time and, Yvonne, the owner, was able to find Ashley to babysit our three kids ages 3-11. Ashley called the day before to introduce herself and get any information ahead of time to help her prepare. We briefly discussed what the kids might enjoy doing during their time together, how they were going to have dinner, and if she needed to bring any games and such.
She already knew the Omni La Costa Resort and Spa had board games we could borrow. She arrived 15 minutes before our set appointment, and took instructions calmly as I bustled around getting everyone situated. Ashley helped the kids pick out what they wanted to eat from the room service menu. I made a few bribes to assure that their night with Ashley would be a blast. Ashley's calm manner set everyone at ease. When we returned, everyone was sound asleep and happy.
For whatever reason you find yourself in need of a child-free day or evening during your travels, finding a service like Destination Sitters that holds itself to the highest standards is a must. Destination Sitters serves families in most of California's major destinations.  Make sure you communicate clearly about all the details so that the hand-off to the sitter is calm and upbeat. When you know you're leaving your children in great hands, it's much easier to enjoy your time away during your travels.
We'd love to hear from you. Have you ever thought of leaving your children with a babysitter while you're on a trip together?
*Disclosure: Destination Sitters was kind enough to provide complimentary babysitting for an evening so we could experience a carefree evening with our fellow Trekaroo teammates.  But as always, these opinions are entirely my own.